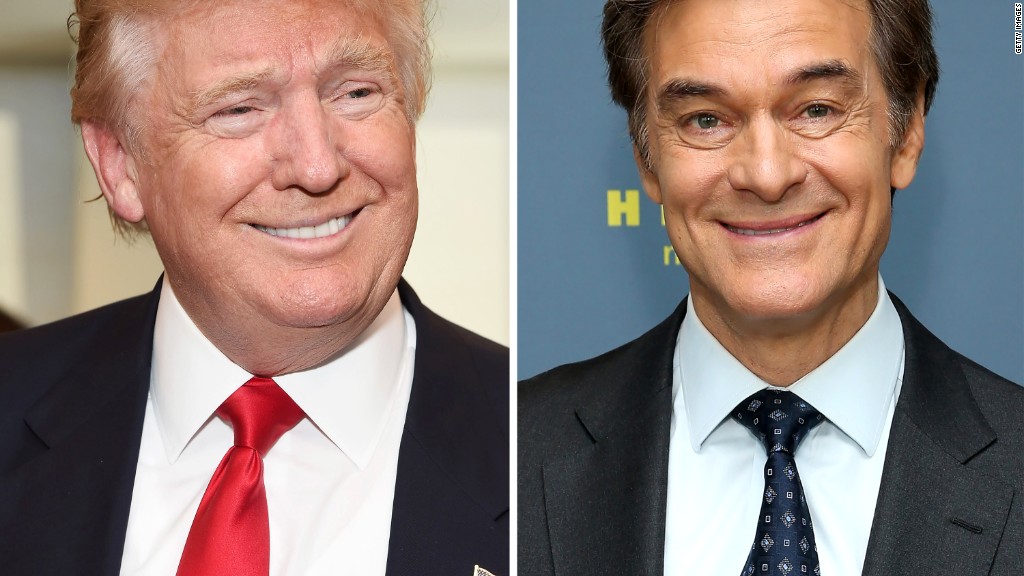 Donald Trump, a master showman, surprised the "Dr. Oz Show" studio audience on Wednesday by revealing the results of a recent physical exam.
The "Oz" episode, taped on Wednesday morning, will air on Thursday. During it, Trump handed Dr. Mehmet Oz a one-page summary of the exam, which was conducted by Dr. Harold N. Bornstein last week. Bornstein is the same hyperbolic doctor who previously said Trump would, if elected, be the healthiest president in history.
The campaign plans to share the information from Bornstein on Thursday. But it began to leak out after the "Oz" taping.
Trump told Oz that he wants to lose about 15 pounds, according to audience members, who also said Oz sounded generally impressed by Trump's health.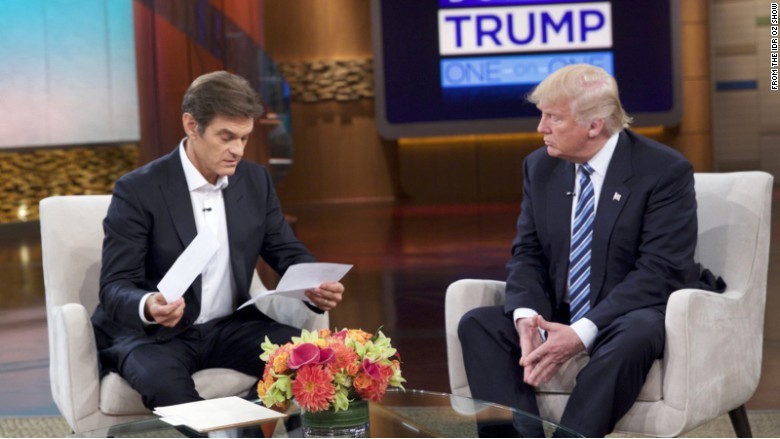 Hillary Clinton's recent health travails only briefly came up during the hour-long taping. Trump repeated what he has said in recent interviews: That he hopes she gets well soon.
The TV appearance gives the appearance of transparency, but the summary by Bornstein will fall far short of experts' calls for detailed information about Trump's health and medical history.
Trump's presentation of the one-page summary was a surprise because Trump campaign aides had said earlier in the day that the exam results would not be shared during the show taping.
Oz told CNN's Dr. Sanjay Gupta that he, too, was surprised.
"Not knowing if we would see Mr. Trump's medical records, I planned to do a full review of systems with Mr. Trump," meaning the GOP nominee's nervous system, cardiovascular health, family medical history, and other aspects of his health.
"I did that as planned when he sat down with me. He answered all my questions," Oz told Gupta in a text message. "We then discussed the need for transparency around both candidates' medical records, at which point he produced a summary letter from his physician based on last week's tests."
A brief clip of Trump's appearance released by the "Dr. Oz Show" Wednesday afternoon shows Oz asking Trump, "If your health is as strong as it seems from your systems, why not share your medical records?"
"Well, I really have no problem in doing it, I have it right here," Trump says. And then, in a classic showman's stroke, he turns to the audience and says, "Should I do it? I don't care, should I do it?" The audience applauds, and Trump hands Oz what he says are two letters regarding the physical.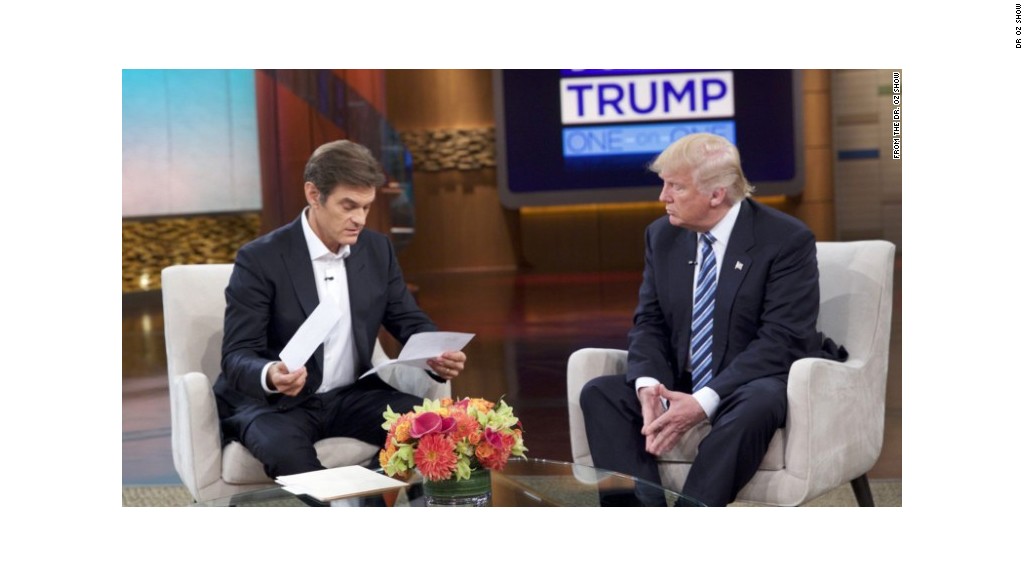 During the hour-long taping, Trump also talked with Oz about his dietary habits and broader health-related issues.
Multiple audience members told CNN that Trump said he does not exercise regularly. But one of them -- Kelly Platt, a pharmacist intern who said she is a Trump supporter -- said Trump told Oz that he is so good at golf he could join the PGA Tour.
According to Platt, Oz said his interpretation of the letter from Bornstein is that Trump has no health issues. Platt said that, according to Oz, Trump's cholesterol has come down to a good level after he was prescribed a Statin drug to lower it -- Oz remarked that only a young person would have a cholesterol level that good, Platt said.
Trump and Oz also discussed political topics that are of interest to the "Dr. Oz Show" audience, like efforts to fight the Zika virus and Trump's new child care policies.
Trump's daughter Ivanka joined him for part of the taping. And Trump took questions from the studio audience.
Trump's daytime TV chat about health and wellness seemed like a savvy political stunt.
The New York Times called it a "match made on TV," describing Oz as a "kindred spirit — a physician who is not only Republican, but also has spent the last decade attracting an enormous following on television."
Indeed, Trump, a former reality TV star, is at home in a setting like "The Dr. Oz Show."
The back-and-forth about whether the candidate would share the physical exam results added to the drama.
Norm Ornstein, a longtime scholar with the conservative American Enterprise Institute and writer who opposes Trump, tweeted on Wednesday afternoon that Trump "is playing you guys" in the media "like a Stradivarius." He called it "pathetic" that the exam results were getting so much attention instead of other Trump-related stories.
The "Oz" appearance was also partly a pitch to female voters. (Daytime TV shows like "Dr. Oz" skew female.)
Trump was booked on the program more than a week ago, which means the plans pre-dated Clinton's recent health scare.
Clinton is taking several days off from campaigning as she recovers from a bout of pneumonia.
Trump has repeatedly called out Clinton's "stamina" in recent months, alluding to long-held questions in conservative media circles about Clinton's health.
But since she stumbled leaving a 9/11 commemoration ceremony on Sunday morning, Trump has been careful not to question Clinton's health directly.
Oz told Kilmeade that he wanted to keep the TV segment focused on Trump and Trump's policies -- "we're not going to be talking about Secretary Clinton, for sure," he said.