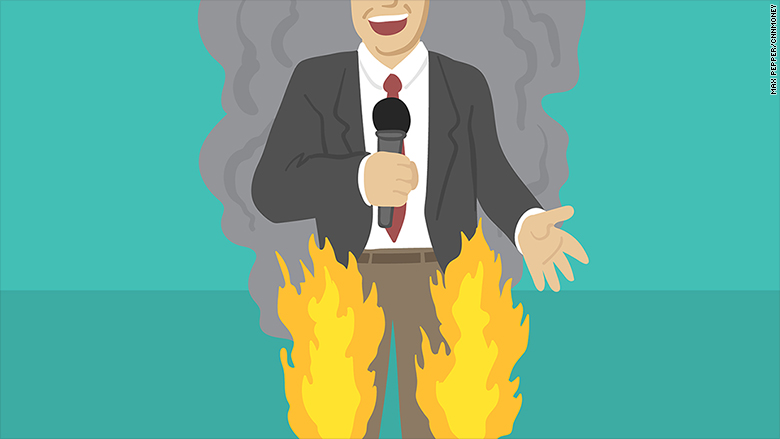 Americans' trust in the media has fallen to an all-time low, according to Gallup.
In a climate of bitter political partisanship, anti-media rhetoric and diversified media options, just 32% of Americans now say they trust the media "to report the news fully, accurately and fairly" -- the lowest level since 1972, when Gallup began polling.
"Now, only about a third of the U.S. has any trust in the Fourth Estate, a stunning development for an institution designed to inform the public," Gallup said in its press release.
While Americans' faith in media has been in decline for over a decade, this year's findings represent a sharp drop from the previous eight years, when between 40 and 45 percent of Americans expressed trust.
The change is largely fueled by the aggressive anti-media rhetoric of Donald Trump and other Republicans, Gallup said.
"With many Republican leaders and conservative pundits saying Hillary Clinton has received overly positive media attention, while Donald Trump has been receiving unfair or negative attention, this may be the prime reason their relatively low trust in the media has evaporated even more," Gallup said in its press release.
"It is also possible that Republicans think less of the media as a result of Trump's sharp criticisms of the press," the release continued. "Republicans who say they have trust in the media has plummeted to 14% from 32% a year ago. This is easily the lowest confidence among Republicans in 20 years."
Meanwhile, Democrats' and independents' trust in the media declined "only marginally, with 51% of Democrats (compared with 55% last year) and 30% of independents (versus 33% last year) expressing trust."
The overall decline in trust may be also fueled by "the explosion of the mass media," Gallup said, attributing that to what it called "lower standards for journalism."
"When opinion-driven writing becomes something like the norm, Americans may be wary of placing trust on the work of media institutions that have less rigorous reporting criteria than in the past," Gallup said.
If there was hope, Gallup said, it was that "as blogs and social media 'mature,' they may improve in the American public's eyes. This could, in turn, elevate Americans' trust and confidence in the mass media as a whole."
Gallup conducted its survey between September 7 and 11 with a random sample of 1,020 adults, aged 18 and older, living in all 50 U.S. states and the District of Columbia.