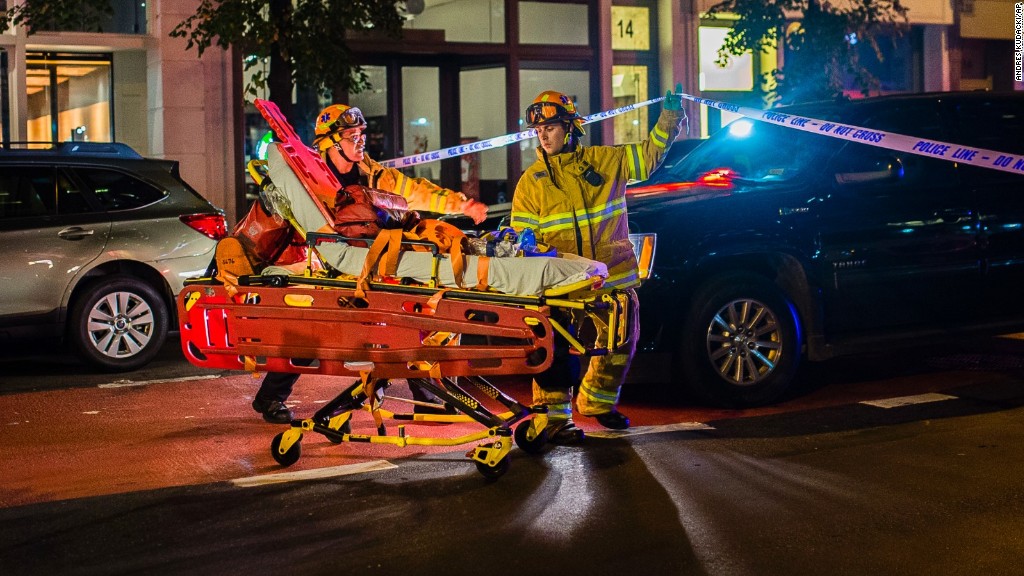 New Yorkers received a rough wake-up call on Monday.
Officials sent out an emergency alert to the smartphones of those in the New York City area just before 8 a.m. on Monday. The message notified people about a man wanted in connection with the explosion that rocked Manhattan's Chelsea neighborhood on Saturday night.
Anyone checking their smartphone saw the same message on the homescreen: "WANTED: Ahmad Khan Rahami, 28-year-old male. See media for pic. Call 9-1-1 if seen."
The jarring alert appears to mark the first time that law enforcement officials have used this approach to notify New Yorkers about a wanted suspect on a mass scale, according to Eric Phillips, press secretary for New York City Mayor Bill de Blasio.
"We activated earlier today a messaging system used by our Office of Emergency Management that allowed us to get information out to all New Yorkers across the board," de Blasio said at a press conference Monday afternoon.
"It had an extraordinary effect," he added.
The decision to issue the unusual alert was made early Monday morning by officials from the New York Police Department, FBI and the Office of Emergency Management, according to J. Peter Donald, a spokesperson for the NYPD.
The alert was sent to "every cellphone in the city using a city tower," Donald told CNNMoney. "In three hours, the person was under arrest. I like how it went."
James O'Neill, New York City's police commissioner, praised the emergency alert system as the "future" during the press conference.
"I think the alerts system is very helpful to the police department and the FBI. It gets everyone involved," O'Neill said. "If we can get everyone in the city engaged to help us keep it safe, this is the future."
Representatives from AT&T (T) and Verizon (VZ) said earlier in the day the alert was sent through the Wireless Emergency Alert system, which is used to send geographically targeted notifications to mobile phones about safety threats and abducted children.
"Pre-authorized national, state or local government authorities may send alerts regarding public safety emergencies, such as evacuation orders or shelter-in-place orders due to severe weather, a terrorist threat or chemical spill," according to an explanation of the service on the Federal Communications Commission website.
The president can also issue alerts to citizens through the emergency system. While carriers may let subscribers block some emergency alerts, there is no option to block presidential alerts.
Those alerts are sent to "participating wireless carriers, which then push the alerts from cell towers to mobile devices in the affected area," according to the website.
Related: New York workers face a tough commute after key rail routes closed
On Monday, the emergency alert was received by an untold number of people in the city, regardless of what carrier or phone they use, whether they signed up for alerts or even whether they have a New York City area code.
The notification jarred some out of bed and rattled others during a morning commute that was already shaping up to be a tough day back at work following the Chelsea explosion.
"On the subway, everyone's phones went off simultaneously w/emergency alert about Ahmad Khan Rahami. Like something out of a dystopian movie," a reporter for Business Insider tweeted.
On the night of the explosion, many received an emergency alert that warned: "Suspicious package: residents on W 27th b/t 6th and 7th Ave stay away from windows."
However, that alert was purely for public safety and restricted to those in the immediate vicinity of the explosion, rather than residents throughout New York City.
While Monday's alert was intended to help authorities conduct their investigation, some criticized it on social media.
"Great way to terrorize a bus full of schoolkids is having all their parents' phones blare a scary alarm they can't do anything about," Anil Dash, an influential tech writer and entrepreneur, posted on Twitter.
"Is there evidence that low-information untargeted push notifications help with any kind of crime?" he added. "Seems they're more optimized for panic."
Three hours after the emergency alert, Rahami was in policy custody.
"So do we get an all-clear alert on our phones now that Ahmad Rahami is in custody?" Philip Gourevich, a staff writer at The New Yorker, wrote on Twitter.
The answer so far appears to be no.