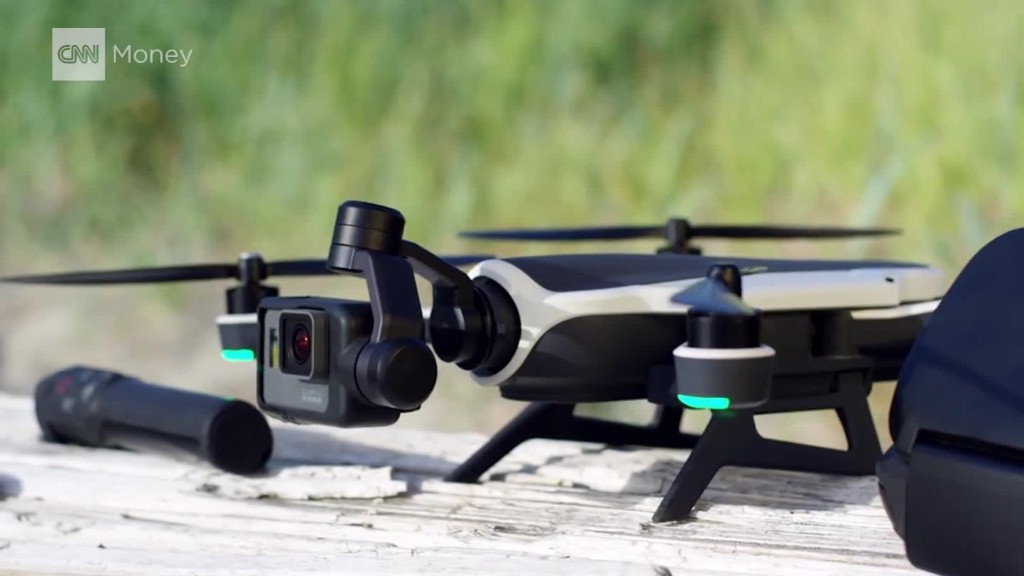 GoPro's latest product is a move in a new direction: Up.
After a year of rumors and teases, the action camera company finally announced its very first drone, the Karma ($800).
The amateur-friendly white and black quadcopter is built for capturing aerial footage using a mounted GoPro (GPRO) camera, which is sold separately.
The drone comes with a handheld controller with a touchscreen and joysticks, and folds up small enough to fit into a backpack. It's light enough so active types can haul it to the top of a mountain before base jumping or take it on an epic bike ride.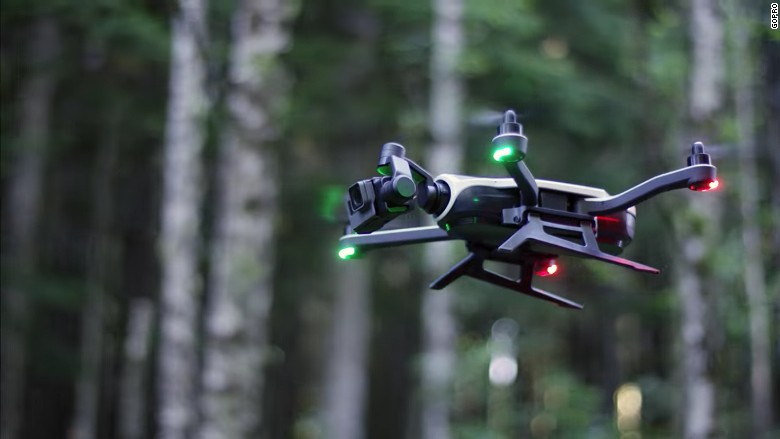 GoPro also introduced the latest versions of its classic camera: The smaller GoPro Hero5 Session ($300), and the Hero5 Black ($400), which comes with GPS and has a new 2-inch touchscreen display. Both have voice controls so you can control them mid-adventure, and are waterproof even without a housing. CEO Nick Woodman made the announcements at a press event near Lake Tahoe, California.
Related: GoPro's Karma drone is finally coming soon
The company, which went public two years ago, is in need of a new hit product. It has struggled with camera sales recently, and the Karma drone's release was delayed from earlier this year. For awhile, GoPro seemed like the only action camera game in town. The company, started by surfers who wanted to record some waves, created a durable tiny camera that could go anywhere.
GoPro benefited from a constant stream of viral content shot on the devices. Some were accidental wins, like the seagull who stole a GoPro and recoded aerial footage. Others were smart business collaborations, such as the Red Bull sponsored stratosphere jump by Felix Baumgartner.
Now, GoPro is going up against less expensive cameras from companies like Sony, Olympus and TomTom. It's also competing against smartphones, which have steadily improved their image and video quality, and become more durable.
The Karma will be available October 23. Meanwhile, the new GoPro Heros5s will go on sale October 2.
GoPro also announced a new cloud subscription service for storing, editing and sharing files shot with the cameras.