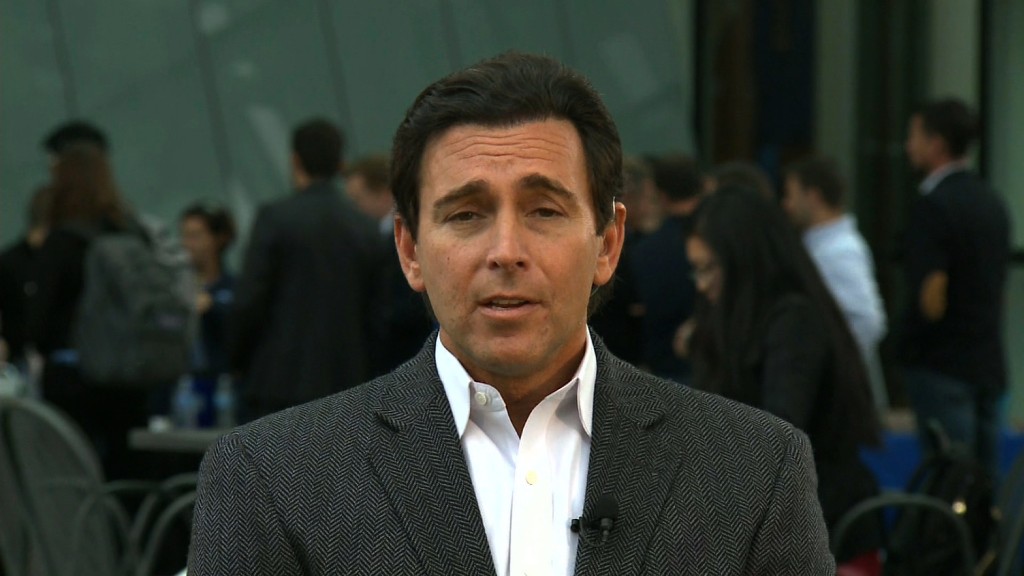 Donald Trump is already hurting Mexico.
Lately, the Mexican currency has been tracking his poll numbers...in the opposite direction. As Trump's poll numbers have improved, the value of Mexico's peso has fallen.
Last week, after some U.S. election polls showed Trump was gaining on Hillary Clinton, the peso declined to an all-time low.
"There is a definite correlation...the idea of Donald Trump's wall and everything else is having an impact on Mexico's peso," says Ihab Salib, head of international fixed income at Federated Investors.
The peso's plunge is a reflection of investors' fears that the relationship between Mexico and the United States -- political and economic -- could be ruptured if Trump moves to the White House.
So far this year, the peso is down 12% against the dollar. Nearly a year ago, one dollar equaled about 16.5 pesos. Now a dollar is worth 19.6 pesos.
Related: America imports A LOT from Mexico
Trump kicked off his campaign last year with anti-Mexican rhetoric and has not let up. He has said he would "entirely renegotiate" or "terminate" NAFTA, the free trade deal between Canada, Mexico and America. He has also threatened to put a 35% tariff on some goods, such as Ford cars that are made in Mexico and sold in the United States.
Since NAFTA became law, investment and exports between both countries has shot up. About 80% of Mexico's exports come to the U.S.
However, manufacturing jobs have been lost in the U.S. since NAFTA. It's also the reason why Trump's anti-Mexico rhetoric appeals to voters in the manufacturing belt of America and why Mexico is worried about a Trump presidency.
"U.S. political risk is being passed onto Mexico," says Chris Wilson, deputy director of the Mexico Institute, a research group based in Washington. "That directly gets directly priced into the value of a currency."
Not all experts say Trump has a hold on the peso. It's unlikely he will be able to make all his Mexico-related campaign promises come true, argues Win Thin, head of emerging market currency strategy at Brown Brothers Harriman.
"For now, we downplay the 'Trump Effect' on Mexico," says Thin. He sees Mexico's sluggish economy playing a more influential role on the peso's performance.
Related: Ford fact checks Trump on Mexico comments
Other factors are affecting Mexico's currency. Its economy contracted in the second quarter for the first time in three years. Manufacturing in Mexico is down compared to last year, the government announced spending cuts this summer and the price of oil, its chief commodity, remain low.
The Federal Reserve's plans to raise interest rates also tends to deter investment in developing countries like Mexico. And Pena Nieto's approval rating is also the lowest ever of any Mexican president since polling began in 1995.
Still, other countries dealing with headwinds have seen their currency rise against the dollar this year after severe declines in 2015. Brazil's real is up 21% against the dollar this year and South Africa's rand has gained 10% over that time frame.
However, Mexico's peso has gone the other way as the country warily eyes the U.S. Presidential election.