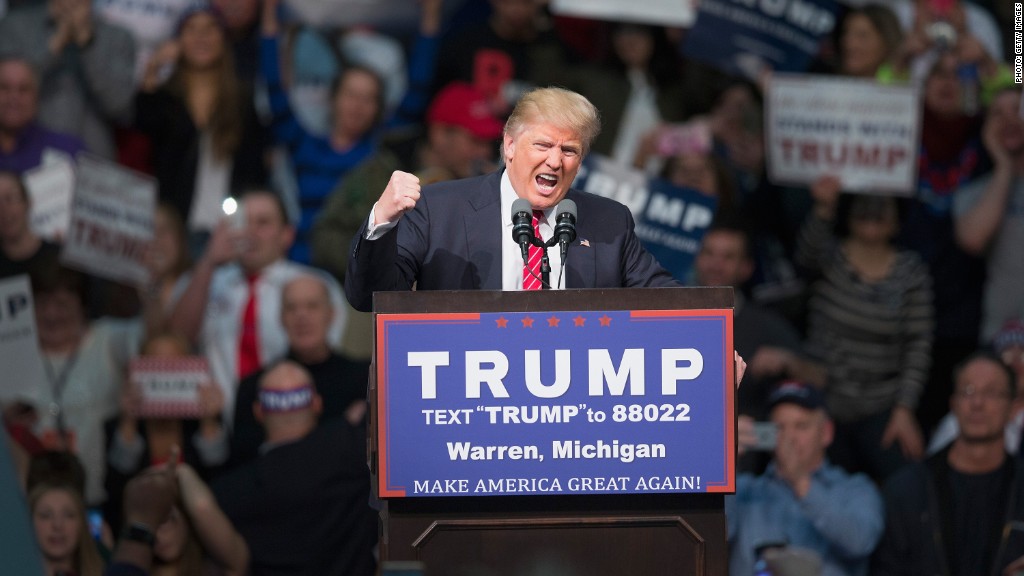 Donald Trump refuses to release his personal tax returns.
Every presidential nominee from both parties has done it for the past four decades, and there are loud calls from pundits and even Republican leaders such as House Speaker Paul Ryan for Trump to release them.
Now his supporters are joining the chorus.
"I don't know what the hold-up is," said Wayne Kemp, a retiree and Trump supporter in Orlando, Florida.
CNNMoney spoke with almost 70 voters in the key swing states of Ohio and Florida in recent days for a "Your money, Your vote" special airing on CNN on October 15. Trump is virtually tied with rival Hillary Clinton in polls in these states. Over and over again, voters solidly backing Trump or leaning toward him said they think Trump should release his tax returns.
"I think we should see that before November," said Cendi Newberry of Waverly, Ohio. An independent, she plans to vote for Trump but says she won't make a "wholehearted commitment" until she sees what happens in the news in the coming weeks.
Every other Democratic and Republican candidate for president has released his or her personal tax returns since 1976. Trump's own running mate Mike Pence has made 10 years of his tax returns public.
Related: Why Trump owes it to voters to release his tax returns
The big questions marks
Without releasing his tax returns, Trump leaves a lot of questions unanswered about his wealth, his tax rate, his charitable donations and where he gets his funding for his real estate deals.
Trump claims he can't because he's under audit by the Internal Revenue Service. Tax experts don't buy it.
The law does not prevent anyone from releasing their tax returns under audit. Furthermore, Trump's campaign confirmed to CNN that the GOP candidate is not under audit for 2008 or earlier. Trump could release those returns. But so far, he has not.
"That he shouldn't have done," Bill Stanley of southern Ohio told CNNMoney when asked about Trump holding back on releasing the returns. Stanley voted for President Obama but is throwing his support to Trump this year.
Last week, Donald Trump, Jr. added to the controversy by telling the Pittsburgh Tribune-Review that his father's tax returns were too complicated for regular people to understand.
"Because he's got a 12,000-page tax return, that would create ... financial auditors out of every person in the country asking questions that would detract from (his father's) main message," Trump, Jr. said Wednesday.
Related: Dear Trump and Clinton: Here's what swing voters want
'It's concerning' to voters
Many Americans supporting Trump this election are in awe of Trump's business career. They don't think the tax returns would alter their opinion of Trump's success, but they told CNNMoney that they generally think releasing the returns is the right thing to do.
"It's concerning" that Trump hasn't released anything, said Bob Stonaker, a retiree and Trump supporter in Sarasota, Florida, although he added it probably won't be "a deal maker or breaker."
Sixty-two percent of Republican voters want to see Trump release his tax returns, according to a Quinnipiac University poll in August (91% of Democrats and 66% of Independents say the same thing).
Related: LinkedIn cofounder pledges to donate up to $5 million if Trump releases tax returns
Warren Buffett challenges Trump
Prominent American billionaires like investor Warren Buffett and LinkedIn (LNKD) founder Reid Hoffman have personally challenged Trump to release his tax returns. Buffett, who is also under audit by the IRS, said he's happy to meet with Trump so they can exchange tax returns (Buffett is an outspoken Clinton supporter). Hoffman recently vowed to donate $5 million to charity if Trump releases his returns.
Clinton's tax returns from 2007 to 2015 are available for download on her campaign website. Her running mate Tim Kaine has done the same, going back to 2006.