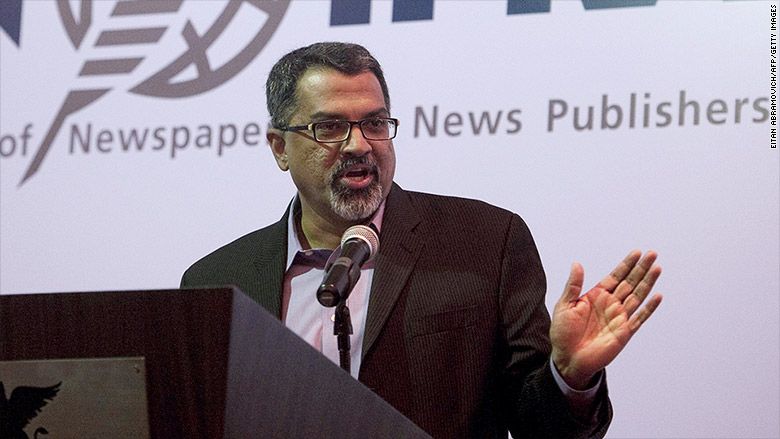 Raju Narisetti is the new CEO of the Gawker-less Gawker Media Group, which is being renamed the Gizmodo Media Group.
Narisetti is effectively taking over for Nick Denton, who founded Gawker Media and ran it for over a decade.
Narisetti is currently the senior vice president of strategy at News Corp, the Murdoch family's print and digital media company. He brings both journalistic expertise and digital media understanding to the job.
He will move to Gizmodo Media Group -- named for Gawker's tech blog Gizmodo -- in late October.
Last month Univision acquired all of Gawker Media's web sites with the exception of Gawker.com. The flagship blog has been embroiled in bitter litigation with Hulk Hogan over a 2012 post about a sex tape. The litigation has been financed by billionaire tech entrepreneur Peter Thiel.
Related: Gawker.com's subdued finale
The legal battle forced Gawker Media and Denton into bankruptcy earlier this year. Univision won an auction for the company last month.
The Gawker-less company is made up of six titles: Gizmodo, Deadspin, Jezebel, Jalopnik, Kotaku and Lifehacker.
Denton launched Gizmodo before Gawker, making the new name fitting, though it was the spirit of Gawker that had animated the company as a whole.
"As part of Univision, we will now be more ambitious in deepening, broadening and sensibly scaling the passionate digital communities" the sites have attracted, "by offering accurate, responsible, edgy and engaging journalism, as well as through relevant, related content and commerce," Narisetti said in a statement.
Staffers will surely parse his use of the words "responsible" and "edgy."
Gawker loyalists have questioned whether the new owner will have the stomach for the kind of risk-taking in both writing and reporting that Denton supported.
Isaac Lee, the head of news, digital, and entertainment at Univision, recently met with former Gawker writer J.K. Trotter, now of Gizmodo, who told Lee that some staffers are "angry" about the acquisition and skeptical of Univision's commitment to the brands.
When the acquisition was being finalized, Univision executives decided to delete six posts from Gawker Media sites that were "the subject of ongoing litigation."
Lee told Trotter that "Univision is willing to commit that, if we do fearless but also rigorous journalism that meets the standard that we have to meet, we will never delete those posts."
In a statement on Wednesday, Lee praised Narisetti as a "rare combination, someone who comes with a very strong background in journalism, became a leader in digital media on three continents, and went on to develop new businesses for a global company."
Narisetti will report to both Lee and Felipe Holguin, the president and COO of the Fusion Media Group, a division of Univision.