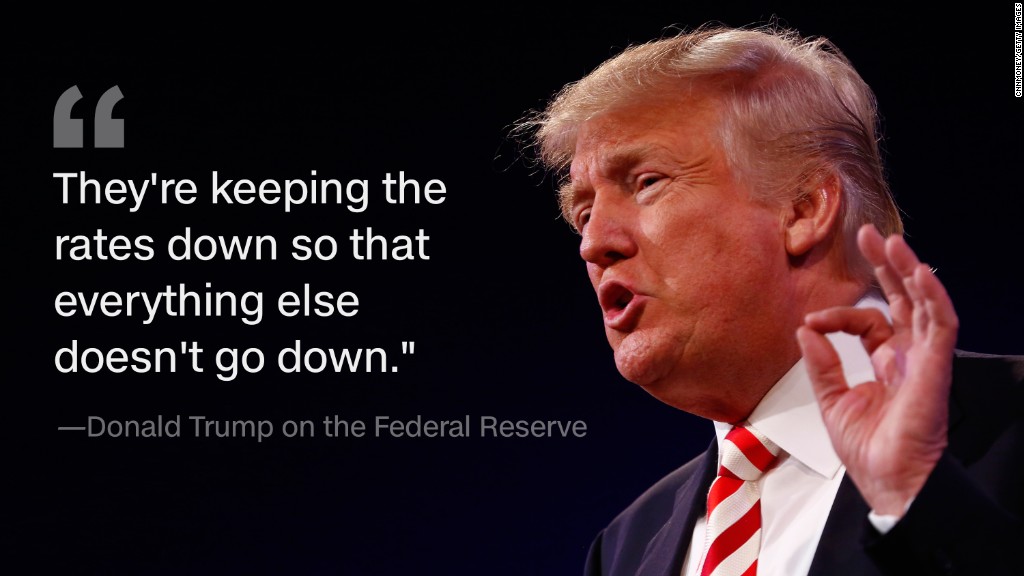 Janet Yellen has a message for Donald Trump: Stop badmouthing the Federal Reserve.
Trump has accused the Fed -- and specifically Yellen -- of keeping interest rates at super low levels (barely above zero) to help President Obama and Hillary Clinton look better at handling the economy.
Fed chair Yellen said that's absolutely not true in a press conference Wednesday.
"We do not discuss politics at our meetings, and we do not take politics into account in our decisions," Yellen said.
Yellen was speaking just after the central bank announced, yet again, it would not raise interest rates.
In a passionate defense of the Fed, Yellen said the central bank is "not politically compromised" and that she was giving her personal "commitment to the American people" that she vows "to lead an institution that's not political."
Trump has bashed the Fed for months for artificially propping up the economy. Just last week, he said Yellen should be "ashamed of herself" for keeping interest rates low and creating a "false stock market."
Related: Trump supporters want his tax returns released
Yellen has a very different view of the economy.
"We're generally pleased with how the U.S. economy is doing," she said, although the Fed did cut its forecast for growth this year from 2% to 1.8%.
Yellen never mentioned Trump by name during the press conference. "I'm not going to get involved in commenting on the election," she said.
Trump has gone as far as to say he wants to see audit the Fed in his first 100 days in the White House and "replace" Yellen. The Fed is already audited. Minutes of Fed meetings are also made public after five years. Yellen, who has been involved with the Fed since the late 1970s, said she's never been in a Fed meeting where politics was discussed.
"I can assure you, you will not find any sign the Fed is politically motivated when the transcripts are released," she said.
Congress and President Woodrow Wilson created the Federal Reserve as an independent agency in 1913. Its goals are to foster maximum employment and keep prices stable.