For members of Alpha Tau Omega, brotherhood comes with a unique perk: Text therapy.
The national fraternity is partnering with startup Talkspace to make sure that all of its members can seek help on-demand from licensed therapists if they choose to.
Talkspace, which is four years old, bills itself as a easy, inexpensive alternative to traditional therapy.
People are paired with a therapist and can send unlimited text messages 24/7 at a weekly rate of $32. But brothers at ATO will get three free months of the service and can continue to use it at cost. (ATO is paying a discounted rate for each member who signs up but did not disclose the exact pricing.)
This partnership comes amid concerns about the availability of mental health resources on college campuses.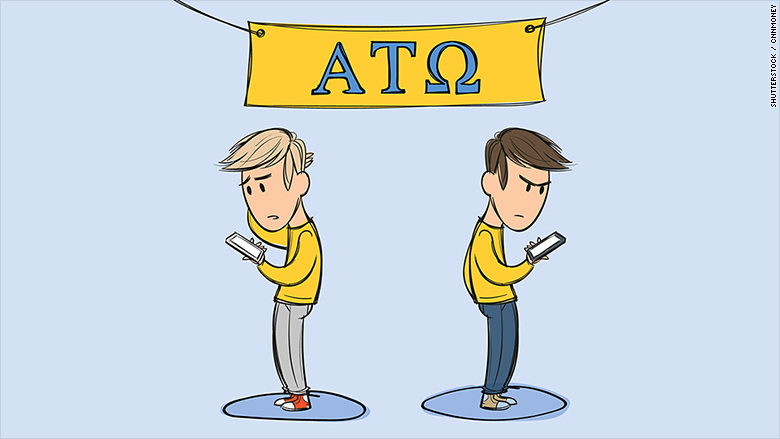 Many colleges are so strapped for resources that students have to wait weeks before they're able to see a counselor. Some schools, like the University of California system, have responded with concrete plans to beef up its staff. Anxiety and depression are the top reasons college students seek help.
"Anxiety is predominant [among college students]. Around social stuff, personal identity, 'Where do I fit in in this new social circle?'" Katherine Glick, a therapist who works with Talkspace, told CNNMoney. "There's also anxiety about performance -- people who are perfectionists driving to do 100% all the time."
Related: Meet the 78-year-old Crisis Text Line counselor
And there are more people in need of mental health counseling than just those who seek help.
"The stigma is dangerous. Because of stigma, people prefer to suffer in silence," said Talkspace cofounder Roni Frank at the Future of Therapy conference earlier this year. "Mental health is not a sexy topic."
According to Wynn Smiley, CEO of Alpha Tau Omega National Fraternity, ATO approached Talkspace about the partnership after a staff member brought the startup to his attention.
The topic of mental health hits close to home for ATO, which has 140 chapters around the country and some 10,000 undergraduate members.
"Over the years, we've had some members who've committed suicide," Smiley told CNNMoney. "Those [instances] raised concern about ongoing mental health issues."
Related: Stressed or in love? This bracelet can figure it out
Glick noted that it's especially valuable for the fraternity to address mental health, since it can be more difficult for men to seek help.
"Having emotional issues in general is frowned upon in our society based on traditional gender roles," she said.
Austin Haines, ATO chapter president at the University of Florida, agreed.
"In a frat setting, it's probably rare for a guy to speak up," said Haines, 21. "It's very likely that someone in the fraternity is struggling with their mental health."