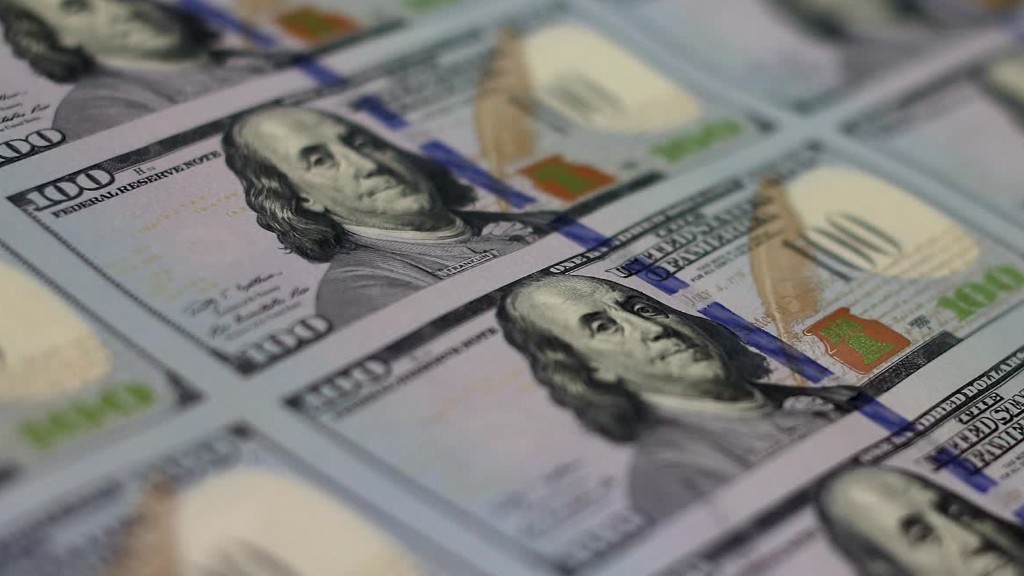 Wall Street has been on a solid run this week, but it could all fall apart Friday.
Here are the five things you need to know before the opening bell rings in New York:
1. Stocks and oil sink: U.S. stock futures are slipping and European markets are declining by about 0.5%.
Traders are selling as oil prices come under pressure. U.S. crude futures are down about 1.7% at $45.50 a barrel.
Oil prices and stocks have been closely correlated over the last year or so. And oil is moving based on expectations about what may happen at an OPEC meeting in Algeria next week. Oil producers are talking again about whether to freeze production.
Asian markets closed out the week with mixed results -- Chinese and Japanese markets slipped, while the main Australian index surged by 1%.
2. Following the Fed: A number of Federal Reserve members are expected to speak today at public events, and Minneapolis Fed President Neel Kashkari is holding an open Twitter (TWTR) forum where people are being encouraged to #AskNeel questions.
Patrick Harker, Dennis Lockhart, and Loretta Mester are all speaking at a conference hosted by the Federal Reserve Bank of Philadelphia.
"With the Federal Reserve so riven by disagreements [over interest rate hikes], the potential for entertaining debate has increased. However, the potential for market confusion also increases," noted Paul Donovan, global chief economist at UBS Wealth Management.
On Wednesday, the Fed opted to keep interest rates steady, but there was dissent in the ranks, with three Fed members out of 12 voting for a hike.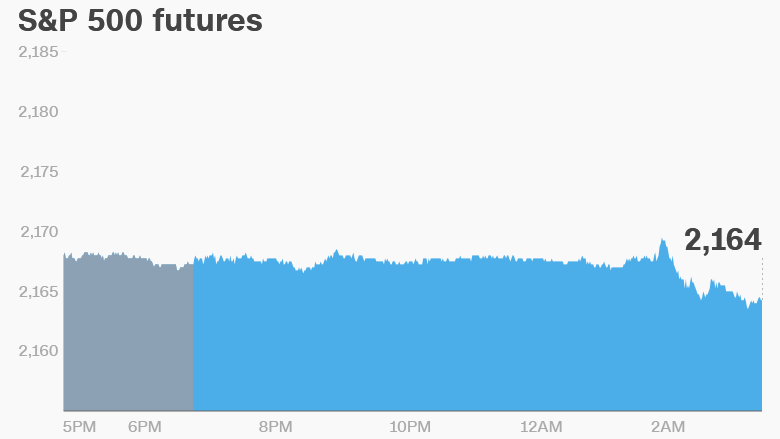 Related: Maybe Yellen should run for president
3. Market movers -- Yahoo, Facebook: Shares in Yahoo (YHOO) and Facebook (FB) are both declining by about 2% premarket.
Investors are unimpressed after Yahoo announced a massive data breach Thursday that affects at least 500 million accounts.
And Facebook stock is slumping after the Wall Street Journal reported that the social media company "vastly overestimated average viewing time for video ads on its platform for two years."
Facebook said in a statement that there was an error with a video metric calculation, but it has since been fixed.
"It did not impact billing, and we have notified our partners ... This metric is one of many our partners use to assess their video campaigns."
4. Stocks on the radar: Finish Line (FINL) is reporting quarterly results ahead of the open.
Marriott International (MAR) announced its multi-billion dollar purchase of Starwood Hotels is now a done deal. The company beat out rival Chinese firm Anbang to make the acquisition.
5. Weekly market recap: The Dow Jones industrial average, S&P 500 and Nasdaq had a quiet day on Monday but then posted significant rallies from Tuesday, leading the Nasdaq to hit an all-time high yesterday. The Dow and S&P hit record highs just over a month ago.