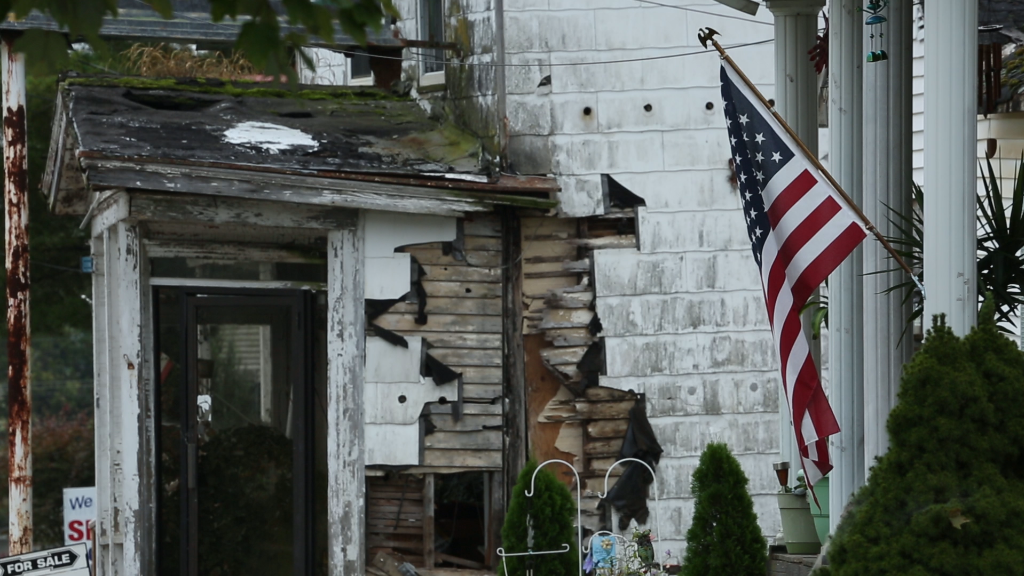 American voters are unhappy.
They don't like either options for President: Hillary Clinton or Donald Trump. Many dub this presidential election the ultimate choice between "the lesser of two evils."
That exact phrase -- "lesser of two evils" -- was repeated over and over again when voters talked to CNNMoney as part of a tour in September in the swing states of Florida and Ohio. And that was before the vicious second debate and the release of the bombshell 2005 "Access Hollywood" tape.
"Honestly, I feel like this election is finding the lesser of two evils," said Michelle, who works in financial services and lives in the key swing area of Tampa, Florida. "I think there's concern on both sides."
Michelle, who is white, didn't want to give her last name. She is leaning toward Trump because she's fed up with Washington. The refrain came up up with voters leaning toward Clinton and even those who remain undecided.
"You have to choose the least of the two evils," said Margaret DeBellottee-Torres, an African-American job coach in Tampa, Florida, who just shook her head when asked about the election. "I'm looking at Hillary. I think of the two candidates that she's the less of the two evils."
Related: Working class whites blame Washington
It's like the movie 'Idiocracy'
It didn't matter if a voter was young or old, male or female, a city dweller or surbubanite, a union worker, student, retired, unemployed or in a lucrative job. The frustration over Election 2016 is just about everywhere, according to what CNNMoney heard on the road and what Pew found in a recent poll.
CNNMoney spoke with almost 70 voters in the key swing states of Florida and Ohio for a "Your Money, Your Vote" TV special that will air in October 15.
Some used more choice language in describing their distaste for the choices.
"I think it [this election] looks a lot like the movie 'Idicoracy,'" said Bruce Davis, an undecided voter in southern Ohio who works in the energy industry. "I'm not sure I can vote for either candidate at this point."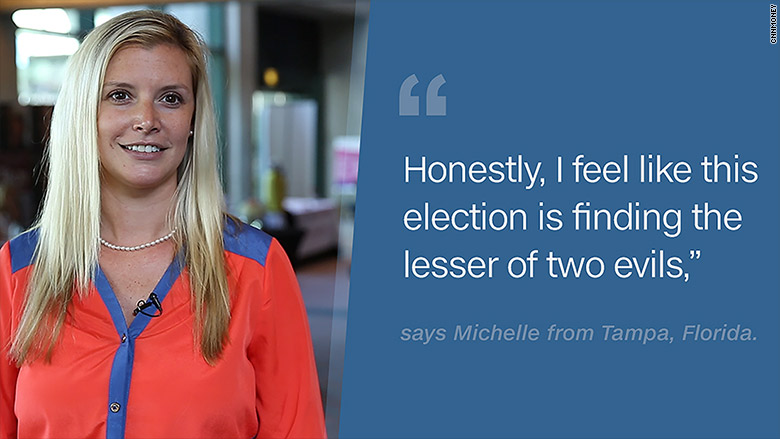 Related: Dear Trump and Clinton: Here's what swing voters want
Fear that voters will stay home
While polls have shown for months that voters strongly dislike both Clinton and Trump (both have around 60% unfavorable ratings), a key question is whether a critical mass of voters will simply stay home. And if so, which candidate will that hurt more?
Elise Agosto is one of those voters who is so upset she might not turn up to the polls on Election Day. Agosto is Puerto Rican and lives in Florida near Disney World.
"As of right now, I don't want to go and vote because I'm not sure why I should vote for either of them," Agosto told CNNMoney.
Clinton is counting on the Hispanic vote, especially among Puerto Ricans who have fled the crisis on their island for better opportunities in Florida.
"If I would give my vote for Hillary Clinton, I would do it just because I need to vote for someone," said Agosto.
Related: Trump supporters want his tax returns released
Some voters opting for Gary Johnson
Another factor is the third party candidates, especially Libertarian Gary Johnson, who might get the vote of people who don't want to decide between the two.
"Really, at the end of the day, it comes down to am I going to sleep well knowing that I voted for one or the other," said Dan Mizener, a forklift and equipment salesman in Cleveland, Ohio.
Ohio is one of the states that Trump did not win during Republican primaries. Republican Governor John Kasich beat him in the Buckeye state. It's well known that some "Kasich Republicans" don't think they can stomach voting for Trump.
Mizener usually votes Republican, but he can't imagine voting for Trump either. That's why he's moving over to the Johnson camp. He's not alone. Johnson has been polling just shy of 10% nationally, according to CNN's poll of polls.
The final issue is what, if anything, all of this will mean for the economy. Consumer spending drives the vast majority -- nearly 70% -- of the U.S. economy. At the moment, most signs indicate Americans are still spending, but if they close their wallets out of frustration -- or fear -- over what's ahead from this election, it could cause an economic downturn. That would be even more reason for discontent.