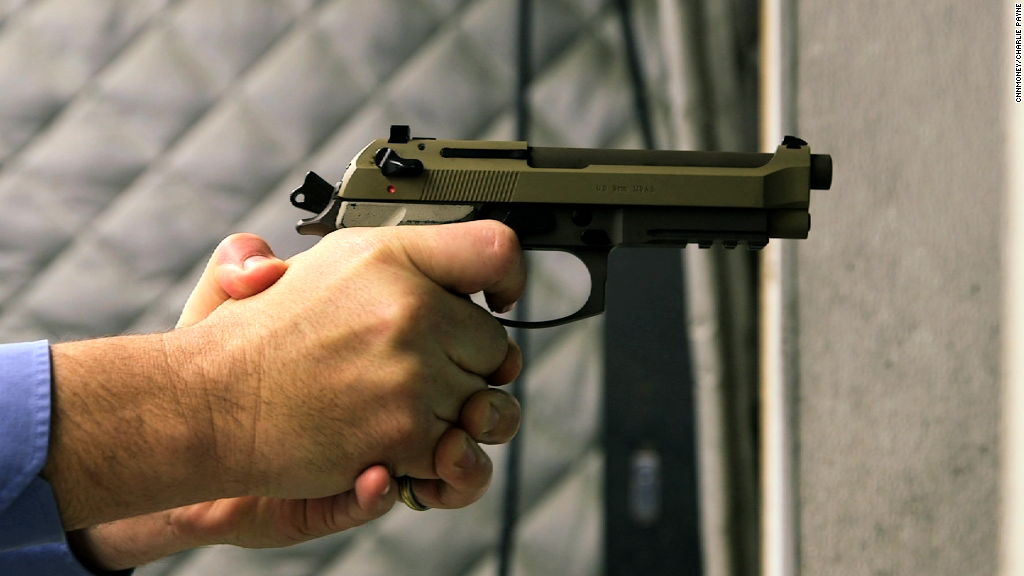 Smith & Wesson has lost a bid to supply the Army with its next standard-issue pistol.
The Army opened bidding two years ago for a possible replacement for the Beretta M9A1 semiautomatic, its standard-issue sidearm since 1985. It's carried by officers, special forces and some soldiers.
Smith & Wesson entered the race and partnered with General Dynamics (GD), a company better known for jets, tanks and submarines than small arms but with a lot of experience with government contracts.
But in an SEC filing late Friday, Smith & Wesson said it had been notified by the Army that it would not advance to the next phase of bidding. Smith & Wesson (SWHC) stock was down 5% at the start of trading Monday.
Related: U.S. Army wants a new gun
It's not clear whether the Army has settled on a winner. It did not respond to a message from CNNMoney.
Smith & Wesson offers a variety of guns under its M&P brand, including semiautomatic pistols like the type sought by the Army. But the company did not specify what it offered. The Army's request called for as many as 700,000 pistols but did not specify the caliber, the magazine capacity or other details.
Beretta, a 500-year-old Italian company that has made guns in the United States since 1987, is the only other company that has publicly acknowledged participating in the bid. Beretta did not respond to CNNMoney on Monday.
Related: The Army gun: My 'Lethal Weapon' moment
Beretta proposed supplying the Army with an upgraded model of the M9 called the M9A3. Its magazine can hold two extra bullets, for a total of 17. The M9A3 is also tailored for the desert. It's the color of sand and designed to prevent jamming in sandy conditions.
The contract could be lucrative and long-lasting. Beretta has sold at least 600,000 of its M9 pistols to the Army over the past 30 years. The previous supplier was Colt, which had provided sidearms to the Army since the 19th century. Colt's M1911 semiautomatic pistol was standard issue through both World Wars and up to 1985.