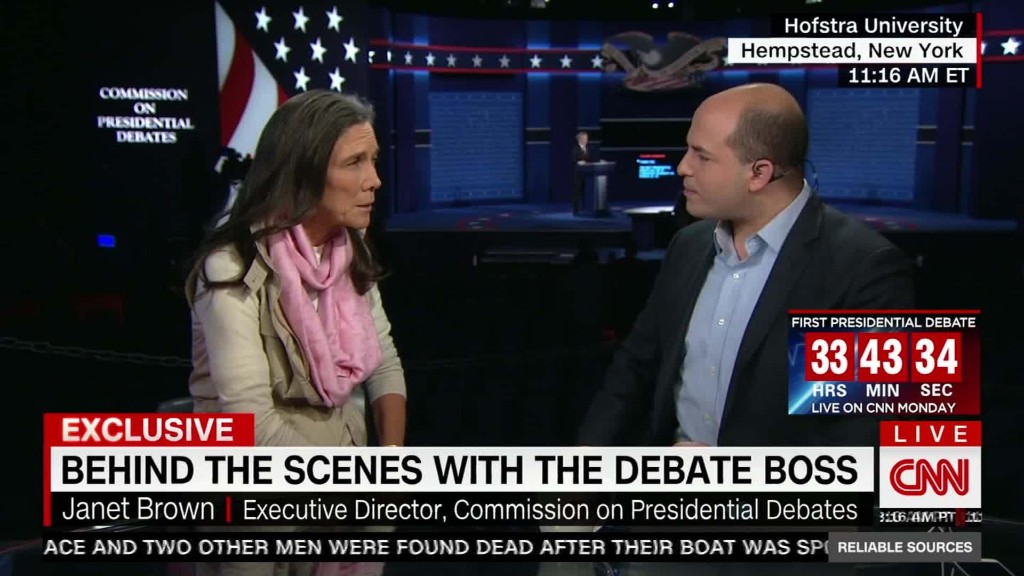 In an alternative reality, Donald Trump would be sitting on the sidelines right now, refusing to step foot on the debate stage.
After all, Trump boycotted one of the Republican primary debates in January. The Commission on Presidential Debates, organizers of the general election debates, had braced itself for similar drama.
But the road to Hofstra University Monday night, and the first debate between Trump and Hillary Clinton, was surprisingly smooth. Trump never publicly threatened to skip the event. Even in private, there were no blow-up fights involving the Trump or Clinton campaigns, according to sources on both sides.
There are always lengthy, sometimes stressful negotiations between the campaigns and the commission. But this year, "I'm happy to say that there is agreement on almost everything. It's been very productive," the commission's executive director, Janet Brown, said.
In past years, the two campaigns have signed an agreement, also known as a "memorandum of understanding," specifying the big and small details of the debate, everything from stage logistics (lighting, podium heights, and so on) to the exact role of the moderator.
But this year, the campaigns opted not to sign a debate agreement, according to two people with knowledge of the matter.
Yes, there were differences of opinion, particularly in August before the moderators were determined. But there were no outstanding disputes.
Both sides agreed to relatively lenient moderating guidelines, giving Lester Holt fifteen minutes of time to lead back-and-forth discussions.
"The rules are much more wide open than they have been in previous years and in previous election cycles -- meaning that the candidates can now can speak directly to each other, and can question each other," former moderator Jim Lehrer said on CNN's "Reliable Sources."
Trump campaign lawyer Don McGahn and Marc Elias, the general counsel for Clinton's campaign, led the debate-related negotiations.
NBC was first to report that the campaigns chose not to sign an agreement.
One of the agreements from 2012 was leaked to Mark Halperin.
The Obama and Romney campaigns signed that memorandum -- which stated, among other things, that Candy Crowley, the moderator of the town hall debate, would "not ask follow-up questions or comment on either the questions asked by the audience or the answers of the candidates during the debate or otherwise intervene in the debate except to acknowledge the questioners from the audience or enforce the time limits."
That did not pan out: Towards the end of the debate, Crowley -- who had not signed the agreement -- fact-checked Mitt Romney when he asserted that President Obama had failed to label the Benghazi attacks as an act of terrorism.
This time around, there's no agreement at all -- perhaps symbolic of an election year that has established a new playbook for presidential politics.