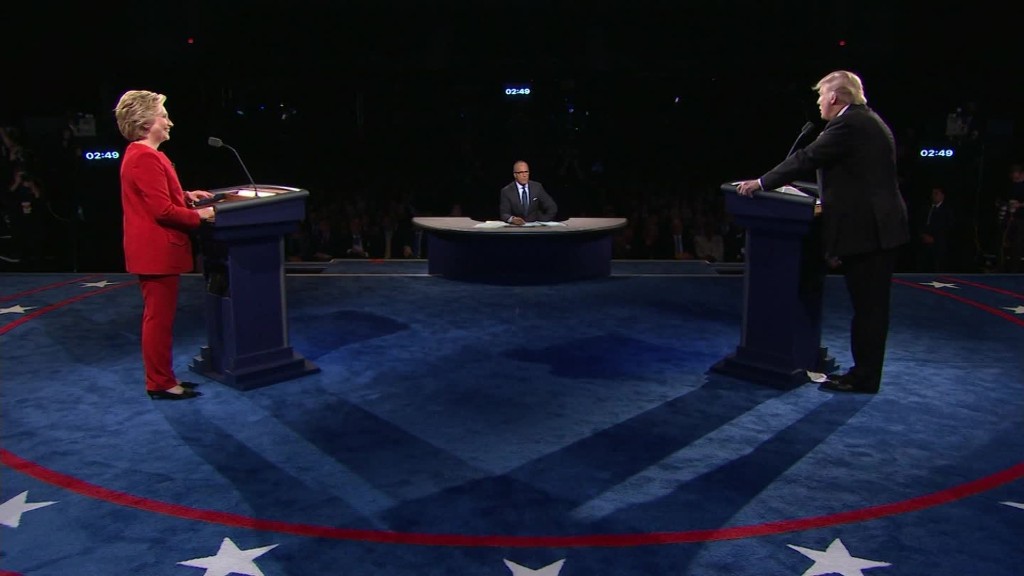 The Department of Justice said last month that it planned to eventually stop using private prisons. Now, Hillary Clinton wants all states to follow suit.
It caused the stocks of two leading publicly traded jail owners to tank on Tuesday. Corrections Corp. of America (CXW) plunged nearly 8% Tuesday. GEO Group (GEO) fell 4%.
Both stocks have been hit hard this year due to worries about the eventual loss of federal funding -- and concerns that states may also end the use of private correctional facilities.
Clinton expressed strong support for ending the private prison system during the presidential debate with Donald Trump on Monday night.
"I'm glad that we're ending private prisons in the federal system," she said. "I want to see them ended in the state system. You shouldn't have a profit motivation to fill prison cells with young Americans."
Related: DOJ to end use of private prisons
Trump did not comment about private prisons during the debate.
This isn't the first time Clinton has called for the end of private prisons though. In a tweet last October, she wrote that "protecting public safety" shouldn't be "left to unaccountable corporations."
Both stocks dipped that day following her tweet. (If Clinton wins, will the next season of "Orange is the New Black" deal with the collapse of Litchfield owner MCC? What's that old "Law and Order" tag line? Ripped from the headlines?)
But the outlook for both companies has gotten considerably worse since then.
Moody's downgraded the credit ratings of Corrections Corp. and GEO Group last month in the wake of the DOJ news. Other Wall Street analysts are growing increasingly sour on the business of incarceration as well.
Earnings estimates for the two companies have been drastically cut in the past two months. Analysts now expect both sales and profits for Corrections Corp. and GEO Group to fall in 2017.
Some activist investors have also taken a stand against the private prison companies as well.
Related: Hillary Clinton's tweets about prison reforms don't go far enough
The Institute of Sisters of Mercy of the Americas, an international religious order, has actually bought the stocks with the hopes of reforming the companies.
And the University of California sold Corrections Corp. and GEO Group late last year following complaints from black students.
But a spokesperson for GEO Group said Tuesday that "we are and have always been a partner with the government as well as the communities we serve, working every day to be a part of the solution to society's correctional needs."
The spokesperson added that "our profit motivation has not and will never compromise what we believe. We are most effective and at our best when those we care for re-enter society as productive and employable citizens."
Steven Owen, a spokesman for Corrections Corp. of America, said that it must "respectfully disagree" with Clinton's remarks and added that "this is a political season, and we all recognize that rhetoric can get heated."
Owen said that ending the use of private prison contracts will lead to more prison overcrowding and higher costs.
"We hope that when the dust settles after the election that policymakers will come together and focus on real solutions," Owen added.