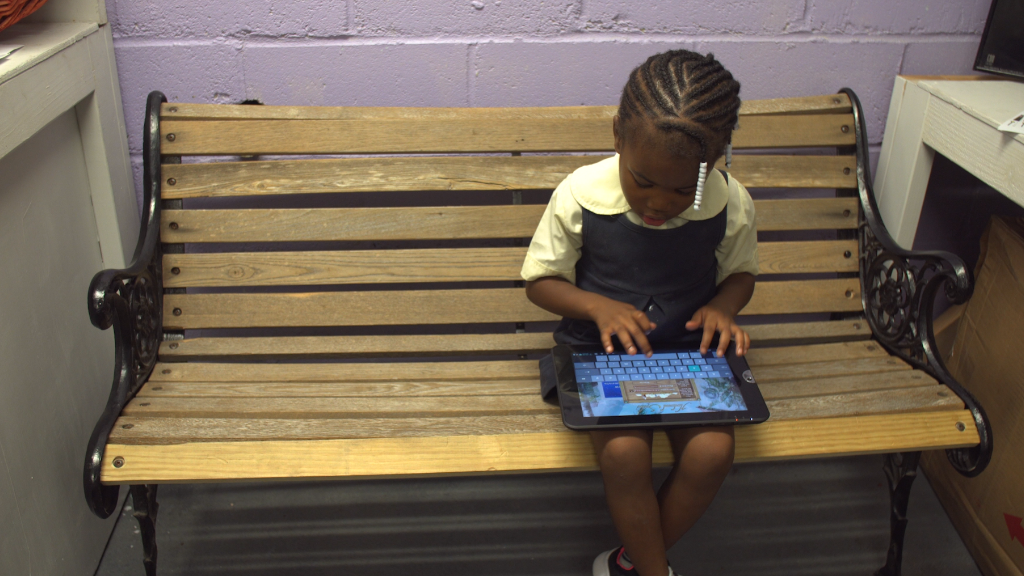 Laundry Matters in Charleston, South Carolina looks like a traditional laundromat with aisles of washers and dryers. But hidden in the back is something surprising: a classroom.
Every Tuesday since March, the backroom of this nondescript laundromat has held free after-school computer science classes for neighborhood kids.
The program, called CodeON -- short for Coding in Our Neighborhoods -- brings basic tech education to kids ages 8 to 10 in one underserved community in Charleston's Eastside.
"Charleston has pockets of neglected neighborhoods where families are seriously struggling," said Carolyn Finch, one of the founders of CodeON.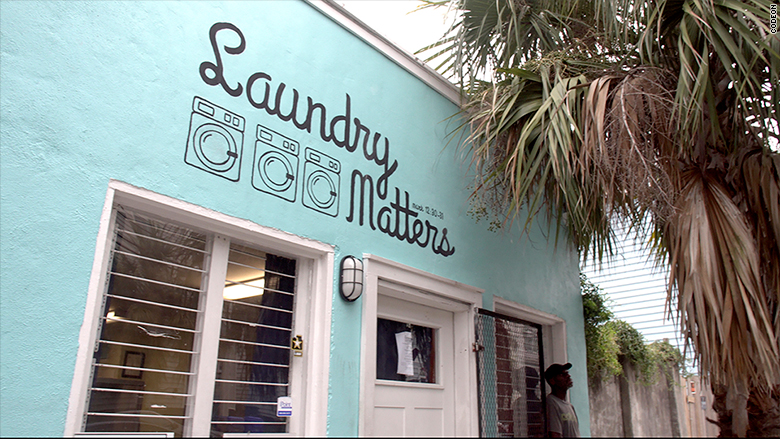 These neighborhoods are beset by poverty and unemployment, schools are marred by poor performance grades and plagued by low attendance.
"We're taking computer education to these areas because we know these families can't afford to bring their kids to us," Finch said. "We're doing it by giving them access to basic tech skills that will better prepare them for their future in college or in a job."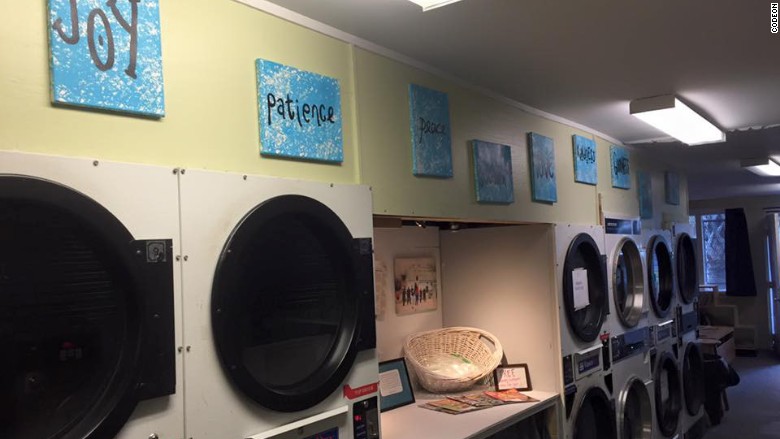 Related: Newsela is using journalism to make kids read better
The program hosts classes in facilities that residents already know as a way to establish trust in the neighborhood.
For example, Laundry Matters on Reid Street -- a long-standing local fixture -- was the only laundry facility within walking distance for residents. Although it almost went out of business last year, a local Christian group renovated and turned it into a quasi-community center.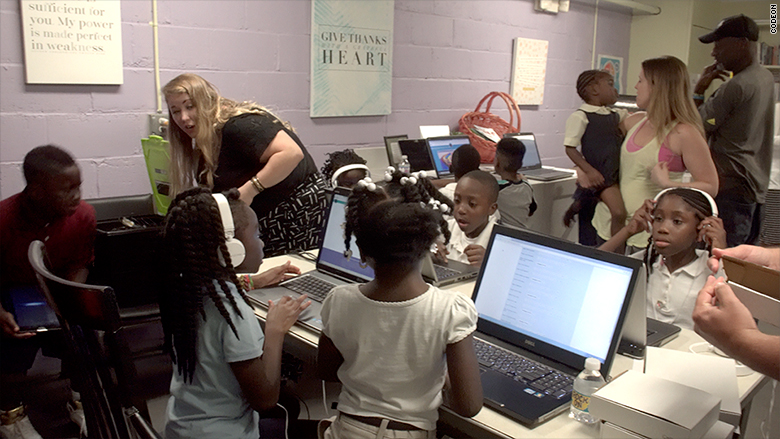 It also offers Bible study classes and free laundry service for the homeless.
"It seemed like a natural fit for hosting computer classes," said Finch.
Related: Baltimore is paying kids to code
CodeON's laundromat classes include about a dozen students. The hardware -- laptops, tablets and Wi-Fi routers -- are donated by tech companies in Charleston, and lessons are focused around how to use the equipment and learning to code.
Most of the volunteers have jobs with tech firms, holding positions as developers, engineers, project managers and marketers.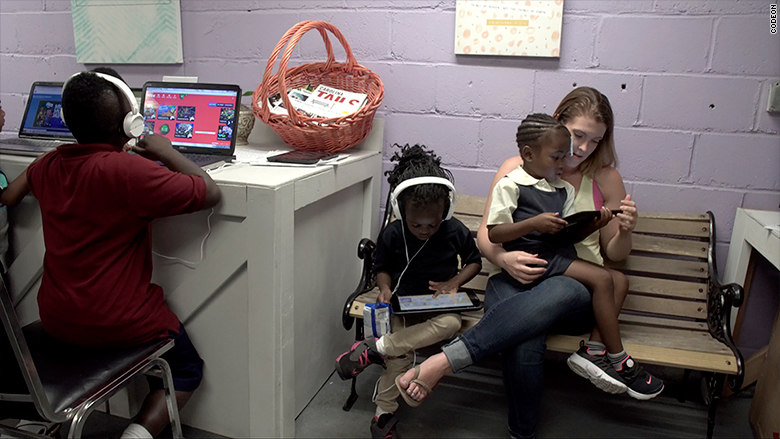 Local resident Edward Jackson's children -- daughter D'Essence, 12, and son Edward Jr, 13 -- are among those who attend CodeON classes.
"Our community was so broken down that it's easy for kids here to get bored and go astray," said Jackson, a mechanic who's currently unemployed. "This [CodeON] program is a blessing."
Jackson's son wants to become a technician, while his daughter wants to work with computers when she's older.
"I wish we had the [program] when they were younger," he said.
To outsiders, Charleston is best known for its iconic downtown. There you'll find numerous quaint historic homes, restaurants serving southern cooking and a burgeoning tech scene.
On the outskirts, however, are underprivileged neighborhoods still facing significant challenges. The Eastside neighborhood is in the middle of a transition as more startups and young working adults move into the historically black community.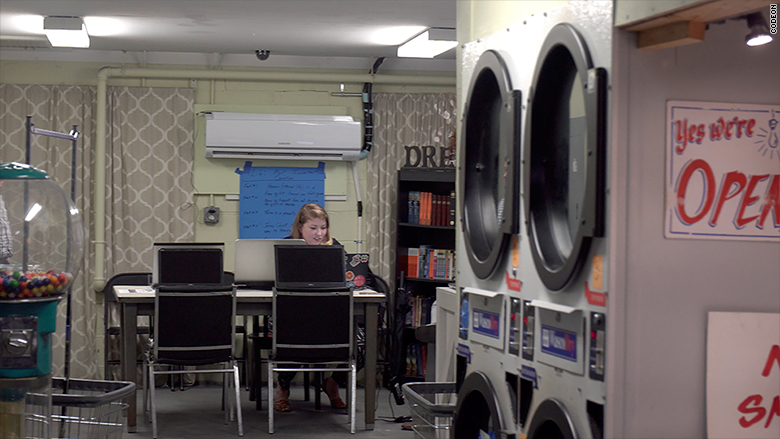 At the same time, many of its long-term residents have been left behind. Although the federal poverty threshold for a family of four is an annual income of $24,257, about 74% of families in the Eastside live at or below double that threshold, equating to about $48,500 each year, according to the latest data from the government.
Meanwhile, about 24% of residents ages 25 and older have less than a 12th grade education.
Related: Why Mark Zuckerberg is betting millions on this Indian teacher
CodeON program, which launched just six months ago with a pilot in Laundry Matters, is already having an impact.
"We have students who come just once and others who return every week," said Nina Magnesson, one of its organizers.
Magnesson and Finch met through Charleston Women in Tech, a support and mentoring group for women with tech jobs founded by Finch. The group has 1,200 members; CodeON was an initiative that was born out of this group.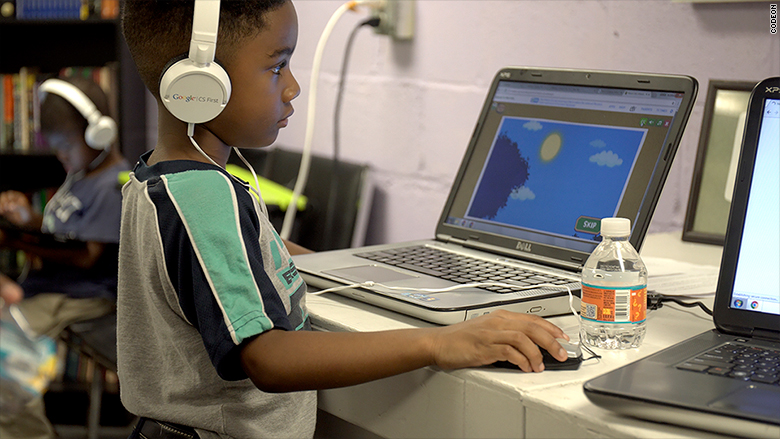 "The best thing tech companies can do is to give back, especially when there are kids who aren't even aware of the digital economy because they don't get time in front of a computer," said Magnesson.
The goal is to expand the CodeON model across the city and eventually, nationwide. The founders also want to open CodeON programs in local foster homes and churches by offering 24/7 access to computer labs. It's also in talks with Goodwill to explore a partnership.
"Our goal is to break down socio-economic barriers that are keeping so many kids away from technology and future life opportunities," said Magnesson.