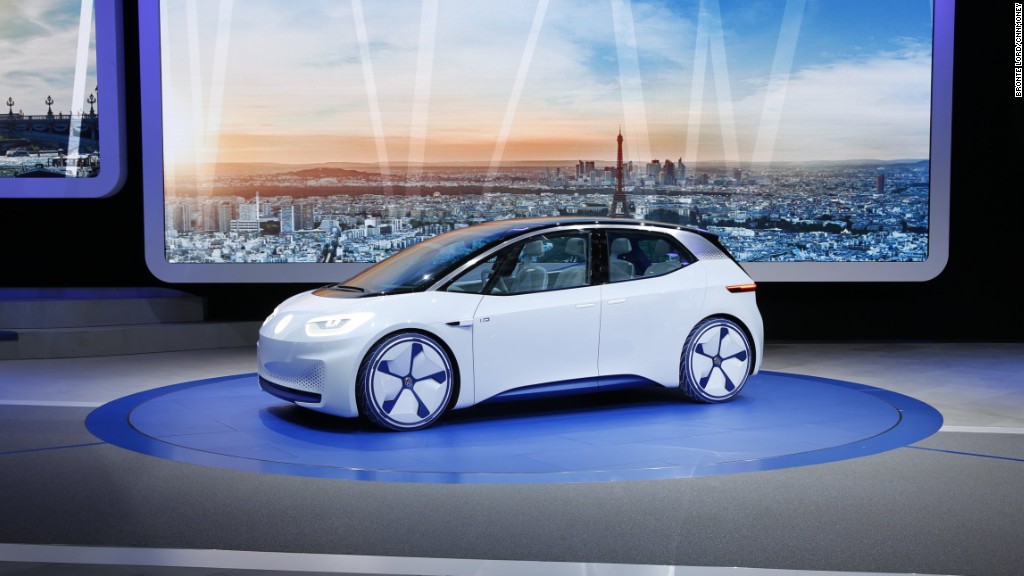 Volkswagen unveiled a new long-range electric car Tuesday in Paris, and, in terms of cost and range, it's miles ahead of anything coming to market soon.
The car, called the I.D., is expected to cost less than $30,000, which is less than both the Tesla Model 3 and the Chevrolet Bolt. It will have much longer range, and it could go up to about 375 miles on a single charge, the automaker said at a presentation ahead of the Paris Motor Show.
The catch: It won't go on sale until 2020, and there's no telling how much competitors' electric cars will have improved by then.
The Chevrolet Bolt, which goes on sale at the end of this year, has a starting price of $37,500, before U.S. government tax breaks, and a driving range of 238 miles. The Tesla Model 3 is expected to go on sale in late 2017 with a starting price of $35,000 and a driving range of 215 miles.
But before comparing the I.D. to the Tesla and Bolt, it should be noted that there are different methods to calculate the range of an electric car. It's not clear what method VW used.
Related: Meet the new Chevy Bolt
Since the I.D. doesn't have a bulky internal combustion engine, designers were able to maximize interior space. While it's is about the same size as a VW Golf compact car on the outside, it's as roomy inside as the mid-sized VW Passat, according to Volkswagen.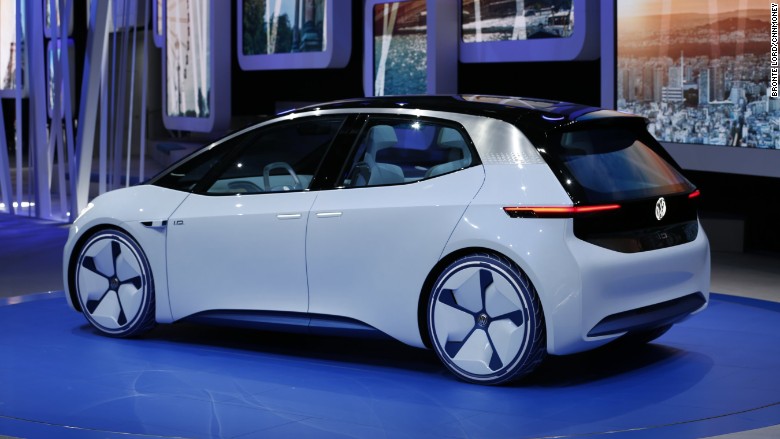 The concept car VW unveiled in Paris, with super-thin blue tires and a light-up VW insignia, conveys some idea of what the I.D. will ultimately look like. VW executives said the I.D. will cost roughly the same as a "well-equipped VW Golf diesel." That puts the car's price at a little less than $30,000 in the U.S., before government tax breaks. (The Golf diesel isn't currently on sale because environmental regulators discovered VW installed software that allowed some Volkswagen models to evade emissions rules. VW is still working on resolving that case.)
Related: Tesla reveals its $35,000 car for the masses
When the I.D. goes on sale it won't be self-driving. It will be loaded with all of the hardware necessary to convert it to an autonomous vehicle, though, such as sensors and various computers, said VW Group board member Jurgen Stockmann. Full self-driving capability will come later with software updates that can be downloaded wirelessly.
The Volkswagen Group (VLKAF), which owns the Volkswagen, Audi and Porsche brands, has aggressive plans for electric vehicles. It expects to have 20 electric or plug-in cars on the market before the I.D. goes on sale.
Volkswagen already has two electric cars in its own line up, the e-Golf and e-Up, but both of are also available with gas and diesel engines. The I.D. has been engineered to be produced only as an electric car.