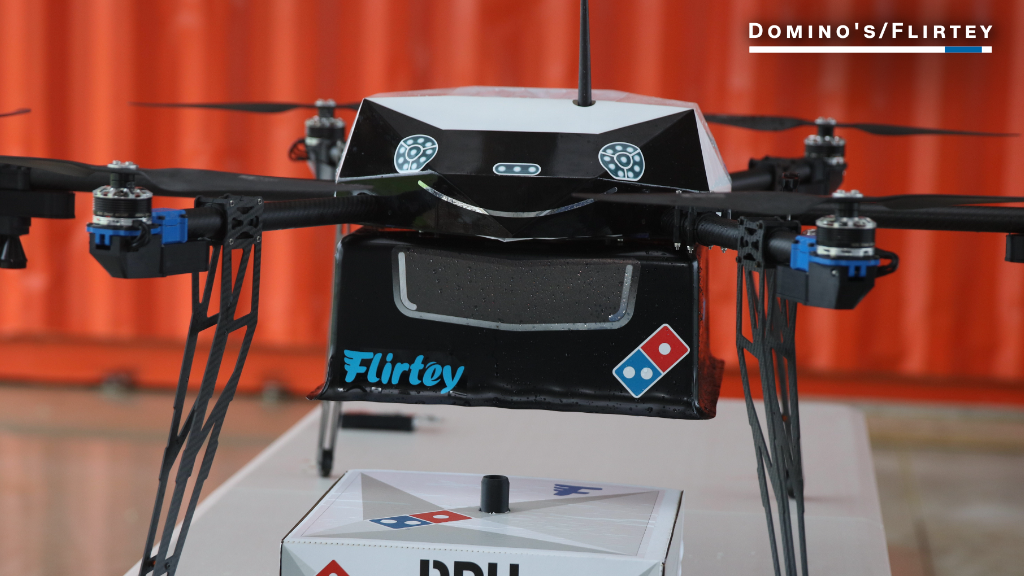 Leave it to Silicon Valley to innovate pizza deliveries.
Zume Pizza, a startup in Mountain View, California, is known for using a fleet of robots in the kitchen to speed up the pizza making process. But now, the company is outfitting its pizza delivery truck with 56 ovens programmed to make pies en route to customers.
"The average delivery time for pizza delivery is 45 minutes," said Julia Collins, cofounder of Zume Pizza. "By cooking pizza on the go, we don't have to use chemicals to preserve its shelf life as it sits in a cardboard box in the backseat of a car."
After a customer places an order online or via the Zume Pizza app, the request comes into its central kitchen at its headquarters. There, robots and a few humans on staff prep the pizza pie, including the dough and toppings.
Each robot has a name and a designated duty. Pepe and John dispense sauce onto pies, while Marta spreads the sauce.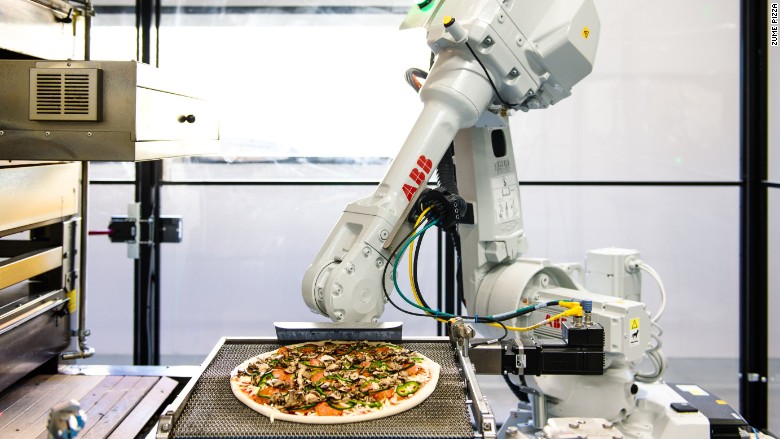 Each pizza is partially baked for 90 seconds in an 800-degree oven. Bruno the robot is in charge of putting the pies into oven.
The partially baked pie is then loaded into one of the mobile ovens in the truck. Vincencio, a new robot that joins the robot fleet later this year, will take over the task of loading and reloading the pies into the truck's ovens.
When the truck is four minutes away from its destination, an oven containing the order will turn on to fully bake the pie. It takes 3 minutes and 30 seconds to cook, and 30 seconds to cool down.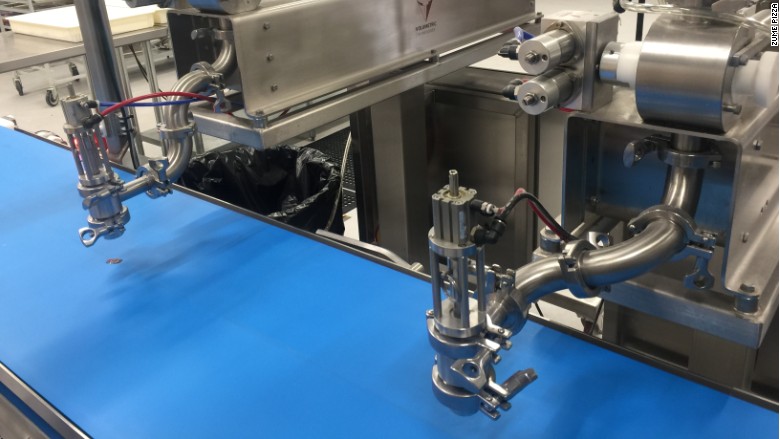 The truck itself is staffed with two employees: the driver who makes the deliveries and a person in the back that helps with boxing.
After an oven is finished with the baking, a staffer will move it to the truck's self-cleaning pizza cutter, which divides the pie into eight slices. He or she then puts the product into a decomposable box made from sugarcane fiber (this helps to keep the pizza crisp).
The entire system is cashless -- no tips accepted.
Related: Levi's Stadium, home of 49ers, unveils rooftop farm
Buzz around Zume Pizza, which started making deliveries in April, has attracted loyal customers from nearby businesses like Google (GOOGL) and Stanford Business School. Collins said the goal is not only to cut costs and deliver better pizza faster but to also take on the $40 billion pizza industry.
"About 40% of [the market] is controlled by Domino's, Pizza Hut, Papa John's and Little Ceasars," said Collins. "I argue it's not as good as pizza you get at your favorite restaurant."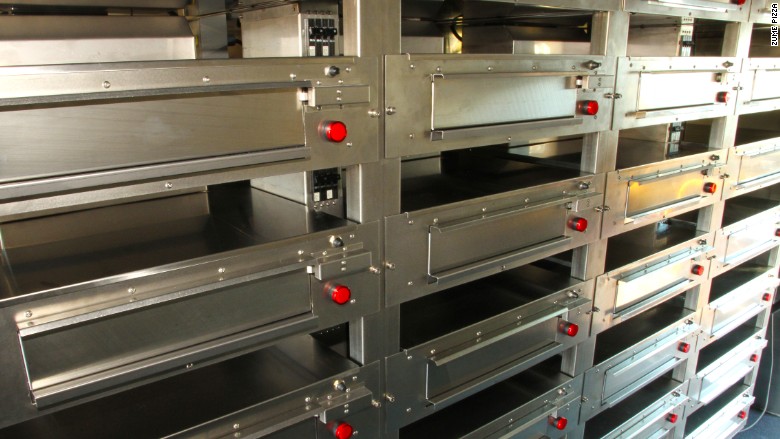 Zume Pizza is serving up pizzas made from local and fresh ingredients. Its menu has 20 creative options, including gluten-free choices. Pizzas, which come in one size with eight slices, are priced between $14 to $19.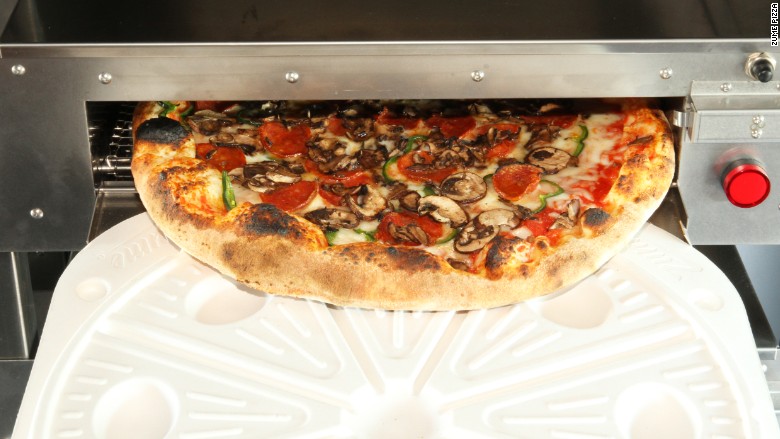 Because the technology has streamlined the business, it's able to afford higher-quality and fresher ingredients and offer its 50 employees vision and dental care insurance, as well as subsidized health insurance.
Related: Yes, you can totally 3D print using beer, coffee and hemp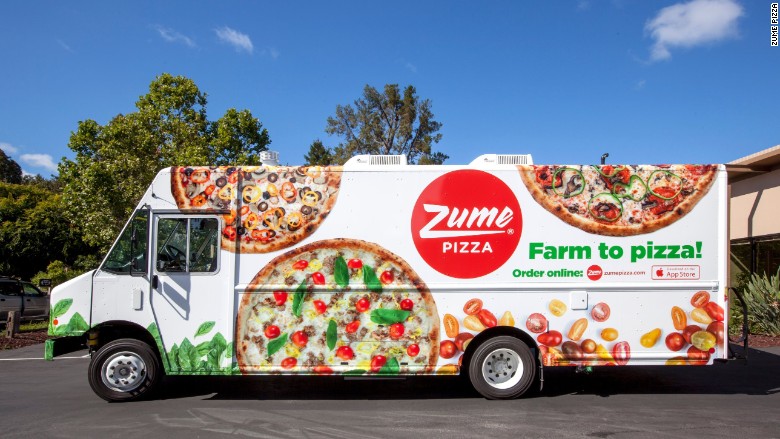 Zume Pizza received a patent for its bake-on-the way technology back in March. It hopes to expand into more markets soon.
"We're starting with pizza, but we believe the technology can be applied to other food offerings, too."