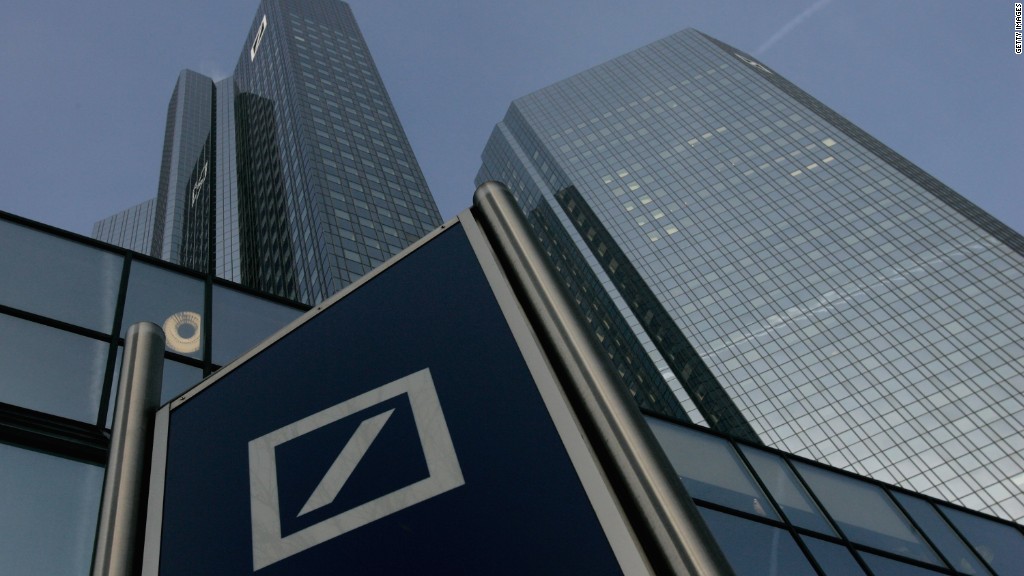 Hear that whooshing noise? That's the sound of Deutsche Bank investors breathing a huge sigh of relief after the lender's stock went on a wild ride on Friday.
The shares plummeted more than 8% in early trading to a record low after reports that 10 hedge fund clients had reduced their dealings with Germany's biggest bank, fueling anxiety about the bank's finances.
But the stock erased those losses after CEO John Cryan wrote to staffers and said that worries over the bank's financial health have been overstated.
Shares received another boost and closed up 6% after a report claimed that Deutsche Bank had reached a deal to settle legal claims in the U.S. for a smaller amount than expected.
Investors had been worried about whether the bank would be able to afford the looming U.S. fine for trading in toxic mortgages a decade ago.
Earlier on Friday, Deutsche Bank (DB) said in a statement that its financial position was stable.
"Our trading clients are amongst the world's most sophisticated investors. We are confident that the vast majority of them have a full understanding of our stable financial position," a spokesman said.
While the bank's response reassured investors, its shares have still declined by around 50% this year.
Related: The world's riskiest bank is in trouble
Deutsche Bank, which has $2 trillion of assets on its books, has suffered a series of body blows.
It has spent billions settling charges that it manipulated global interest rates and rigged foreign exchange rates; its margins have disappeared due to record low interest rates and the cost of new regulations; and it has been slammed with a $14 billion demand from the U.S. Justice Department over its role in the global financial crisis.
Deutsche Bank said this month it "has no intent to settle these potential civil claims anywhere near the number cited."
AFP reported Friday that the total fine would be just $5.4 billion. A bank spokesman declined to comment.
Related: Does Deutsche Bank need a bailout?
Investors have been asking whether the bank will need a bailout.
German media reported earlier this week that Chancellor Angela Merkel's government was considering ways of rescuing Deutsche Bank.
Related: Qatar losing billions on Deutsche Bank investment
The government denied those reports, and Deutsche Bank said it had never asked Merkel for help.
The bank added that it is not currently considering asking investors for more cash, saying it was determined to deal with the challenges it faces on its own.