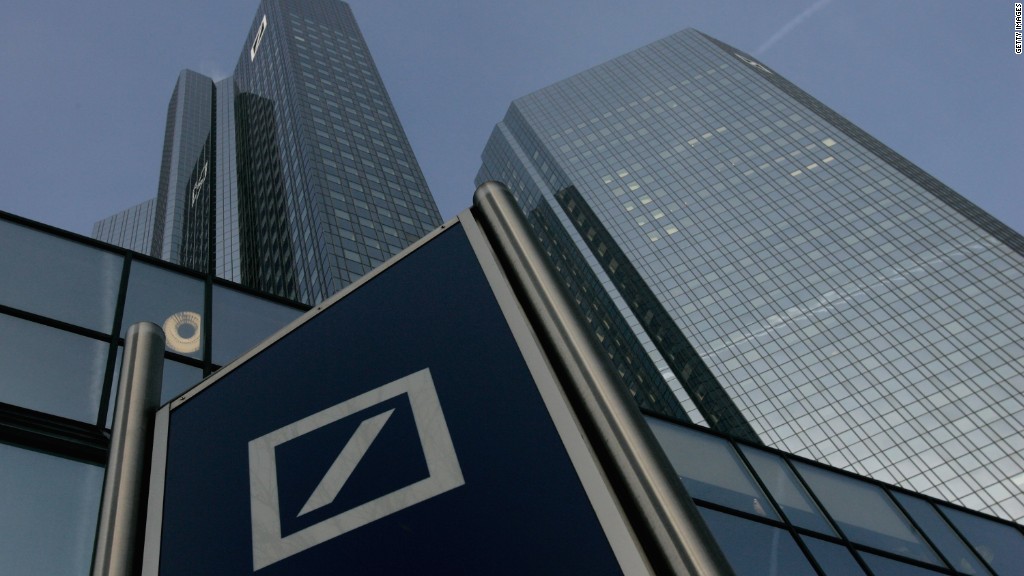 1. Deutsche Bank slumps: Shares in Germany's biggest lender slumped about 5% after reports indicated that 10 hedge fund clients are reducing their dealings with the bank. The stock had lost more than 8% in early trade, when it hit a new record low.
The action by the hedge funds, first reported by Bloomberg, is fueling anxiety about the bank's financial health. Investors also worry whether it can afford a looming U.S. fine for trading in toxic mortgages a decade ago.
Deutsche said in a statement that its financial position was stable and that its trading clients were sophisticated enough to understand that.
2. Markets pulled lower: Deutsche Bank's woes triggered hefty losses for European banks more broadly, pulling the region's main market indexes lower. Germany's DAX was down 1.3%, France's CAC 40 shed 1.6% and London's FTSE 100 fell 1.2%.
Other big bank stocks taking a hit included Italy's biggest bank, Unicredit (UNCFF), France's Credit Agricole (CRARY) and Barclays (BCS) in the U.K.
U.S. stock futures are also moving lower.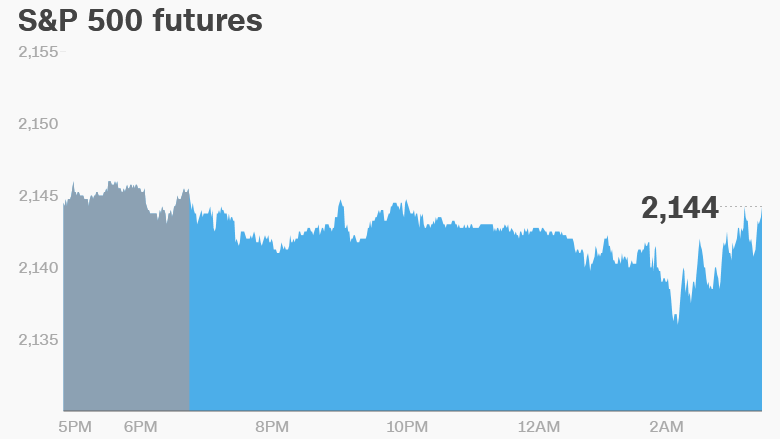 3. U.K. services robust: Data for July suggest the U.K. economy was more resilient in the wake of the June Brexit vote than many had predicted. Services activity, which accounts for nearly 80% of British GDP, rose 0.4% from June to July.
"[There is] no evidence of a significant impact of the outcome of the EU referendum on July's services output figures," the Office of National Statistics said.
4. Earnings and economics: McCormick (MKC) will report ahead of the open.
At 8:30 a.m. ET, the Bureau of Economic Analysis will release its latest report on Americans' personal income and spending, as well as consumer spending -- a key measure of inflation.
5. Thursday market recap: The Dow Jones industrial average was down 1%, while the S&P 500 and the Nasdaq each shed 0.9%.
6. Coming next week:
Monday - Starbucks wage hike; Motor vehicles sales report
Tuesday - Vice presidential debate; Google announcement
Wednesday - International trade report; Petroleum status report
Thursday - Weekly jobless claims
Friday - September jobs report