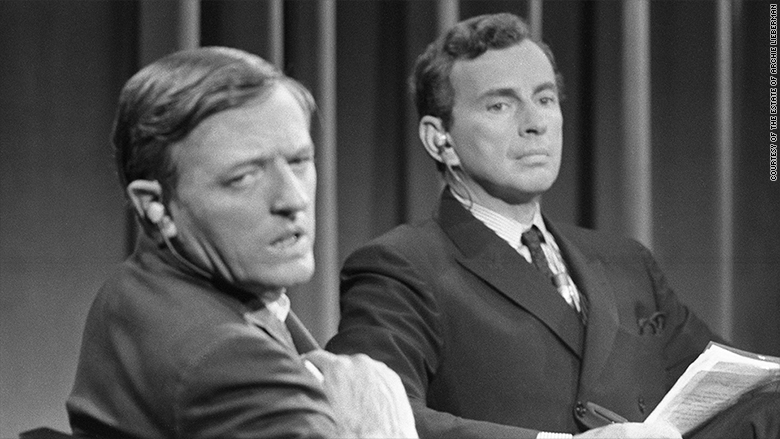 Few experiments have more acutely signaled the news media's future than the 1968 televised debates between William F. Buckley Jr. and Gore Vidal, a larger significance captured beautifully by "Best of Enemies," an Independent Lens documentary airing on PBS.
As the 90-minute documentary (which received a brief theatrical run last year) makes clear, the ratings boost ABC enjoyed from those debates cast a long shadow. The third-place network by a mile, ABC News decided to spice up its political convention coverage that tumultuous year by having Buckley, the journalistic titan of the right, face off against the liberal author Vidal.
Almost mirror images of each other, the two traded insults and barbs in the same patrician tones, talked over each other and generally previewed how television would help transform politics into theater and entertainment.
The verbal fireworks served as a model for programs like "Crossfire," "60 Minutes'" "Point/Counterpoint" segment and the heated exchanges that now regularly occur (and are most likely to go viral) on cable news.
During the most memorable of their 10 encounters, Vidal referred to Buckley as a "Crypto-Nazi," causing Buckley to lose his temper, calling him a "queer" and threatening to "sock you in the goddamn face." As executives and historians recall, the exchange set off panic in ABC's newsroom over such words being voiced on air.
Related: Frontline soberly profiles Clinton, Trump in 'The Choice'
That public lapse in composure haunted Buckley, with his and Vidal's written thoughts and recollections expressed via readings by Kelsey Grammer and John Lithgow, respectively.
Observers note that both men were extremely savvy about the power of television at a time when other intellectuals generally weren't. Yet if there was an element of performance and showbiz in these joint appearances (Vidal scripted some zingers in advance), neither had to fake their hostility toward the other, which was genuine and lingered long after that summer.
The debates are presented like a boxing match, and the punches flew in both directions. Vidal dismissively dubbed Buckley's National Review "your little magazine," while Buckley sniffed that "anything complicated confuses Mr. Vidal" and accused him of being "feline."
"Argument is sugar and the rest of us are flies," Richard Wald, a former news executive at NBC and ABC, says in the film, while journalist Eric Alterman describes the debates as "a harbinger of our future."
For anyone watching TV in the midst of the current election cycle, it's pretty clear that in terms of what Buckley versus Vidal helped bring about, that future is now.
"Best of Enemies" airs October 3 at 9 p.m. on PBS.