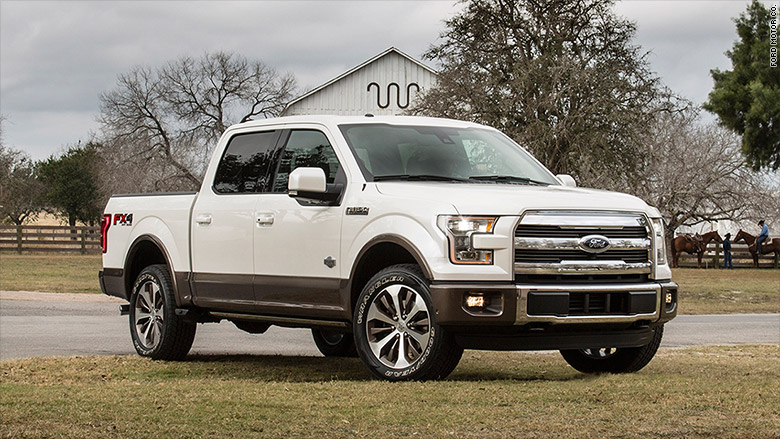 Federal safety regulators are investigating whether to greatly expand a recall of Ford F-150s for brake failure.
At least 25 owners of model year 2015 and 2016 Ford F-150 trucks have reported sudden brake failures.
The investigation follows a recall for the same problem, announced last May, of 225,000 model year 2013 and 2014 F-150 pickups with Ford's turbocharged 3.5-liter EcoBoost engine. The trucks involved in this new investigation have that same engine.
In the May recall, the problem was due to an internal brake fluid leak which caused a loss of brake pressure. When that happened, drivers would be alerted by warning chimes, messages and warning lights. There could also be a loss of front brake function and, consequently, longer stopping distances.
Related - Ford fact-checks Trump: We will be here forever
Now, according to the National Highway Traffic Safety Administration, some drivers of 2015 trucks have complained of similar issues, with greatly reduced brake function along with warning lights and tones. Some drivers of 2016 trucks have also complained of brake problems but without any warning lights or tones.
NHTSA investigators are looking into the problem to see if the recall Ford announced in May should be expanded to include the 2015 and 2016 model years trucks. If so, as many as 228,000 trucks could be added to the recall, more than doubling its scope. Until the investigation is completed, though, it's still not clear if any of those will be added to the recall.
Ford (F) will cooperate with NHTSA the investigation, spokesman Mike Levine said.
"We continuously evaluate our processes for potential improvements, and when the data indicates a safety recall is needed, we move quickly on behalf of our customers," he said.