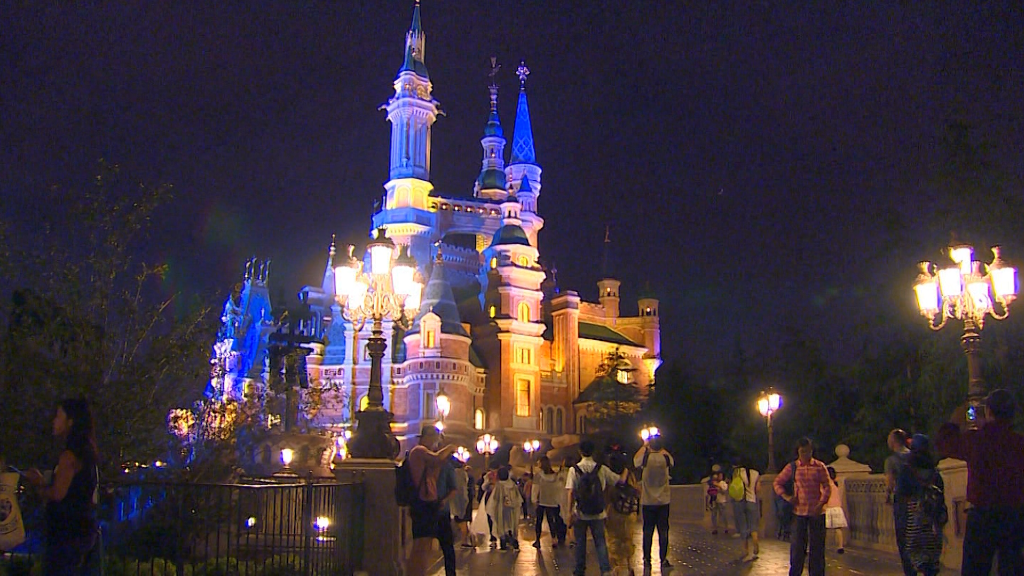 Disney's biggest ever foreign investment is having a tough time living up to some analysts' expectations.
The U.S. entertainment giant opened its $5.5 billion Shanghai resort in June with a ceremony blending trademark Disney razzmatazz with speeches from top Chinese officials.
More than three months on, Disney (DIS) says all is rosy. But the mega theme park hasn't been a blockbuster hit with China's cost-conscious consumers.
"It seems like the level of interest the Chinese have in the park has been waning a little bit," said Richard Huang, China entertainment industry analyst for Nomura.
Chinese media have carried several reports of complaints about long waits for popular rides and expensive food and drinks.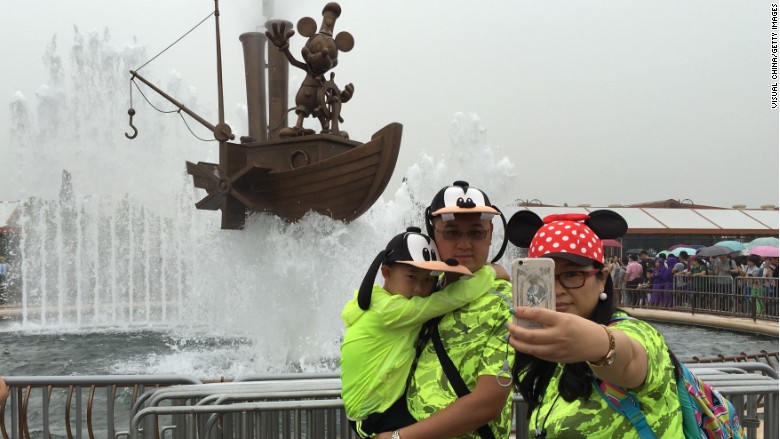 Shanghai Disney, which was 17 years in the making, has averaged around 20,000 visitors a day since its grand opening, Huang estimates. That adds up to about 7.3 million a year, less than half the 15 million Nomura and other experts had forecast.
It would also leave Shanghai lagging way behind similar Disney parks in California and Tokyo, which drew in 18.3 million and 16.6 million visitors respectively last year, according to the Themed Entertainment Association.
Disney said in a statement that such speculation about attendance at the Shanghai park is "meritless."
"Our financial results during the first 100+ days of operation have exceeded our expectations, and guest feedback has been extremely strong, establishing a solid foundation upon which to grow," said Bob Chapek, chairman of Walt Disney Parks and Resorts.
Early days
Disney has declined to give any specific numbers on how Shanghai's visitors are stacking up compared with its forecasts. CEO Bob Iger said in August that well over a million people had passed through its gates since the opening. And he was upbeat when speaking to investors in late September.
"It delivered more in the first 100 days than most parks that we've opened," he said.
Related: Disney CEO says China is tough but a 'great opportunity'
Analysts say huge theme parks can take a while to ramp up, and China offers particular challenges.
"It's only been open for about a quarter. China is a complicated market -- I didn't think Disney would get it right straight away," Huang said.
Some of the complaints from customers have focused on the lines for top attractions such as the Tron ride.
Three rides in seven hours
"The queues were almost unbearable for me, I had to wait for every single ride," Shao Mingsheng, a 45-year old who traveled from Beijing to visit the park last week, told CNNMoney. "It's been over seven hours and I only got to get on three of them, even with an express pass."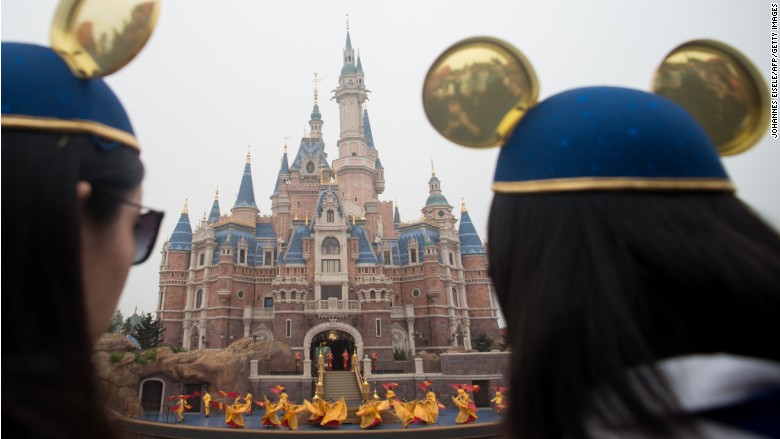 Other visitors CNNMoney spoke to last week said the lines weren't as bad as they had feared. Chinese media have reported waits of more than two hours for popular rides at the park.
"That's not something a lot of Chinese people are mentally prepared for," Nomura's Huang said, adding that he expected Chinese tourists, like their counterparts elsewhere, to get more used to extended waits for the big attractions.
Related: Just how big is Disney's new Shanghai resort?
And impatience over access to rides isn't prompting people to leave the park.
"They're staying a lot longer per visit than we ever expected ... by almost two hours," Iger said.
Longer visits in theory mean more time for customers to spend money on drinks, snacks and Disney merchandise. But not everyone is happy about the prices.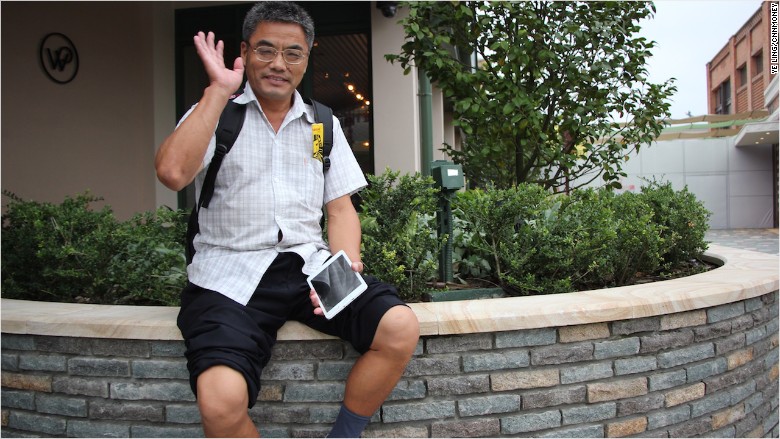 "The food is too expensive," said Shi Guanglin, 53, after visiting the park with family members. Chinese media have complained about pricey pork buns. Shanghai Disney says basic adult meals cost less than 100 yuan ($15).
Guest satisfaction surveys show "people love this park," Iger said last month.
Disney can afford to charge more than other theme parks in China because of the superior quality of its attractions and the dazzling array of characters and movies it can draw on, according to Huang.
'We want to smash them'
But that hasn't stopped one big rival with deep pockets from taking a dig at Mickey Mouse and friends.
China's richest man, Wang Jianlin, has repeatedly bashed Shanghai Disney this year, suggesting that the U.S. company's stars are past their prime (despite some of them apparently popping up at one of his own entertainment complexes).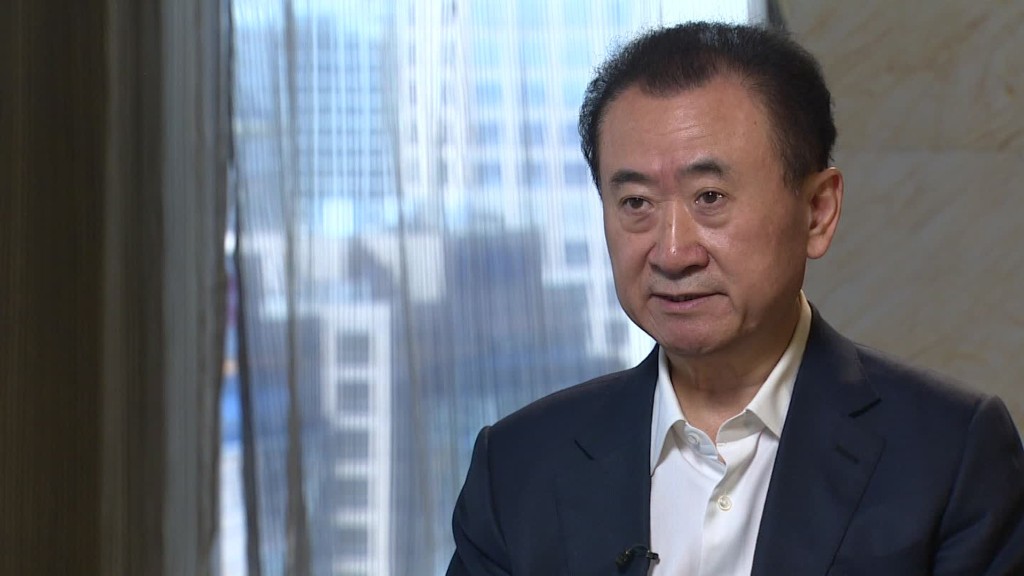 "We want to smash them," Wang told CNNMoney last week. "We are launching multiple projects at the same time to encircle Disney."
But Huang said the parks being developed by Wang's Dalian Wanda Group were aimed at residents of smaller, less affluent cities who wouldn't be interested in going to Disney anyway.
Related: This Chinese tycoon wants to conquer the entertainment world
"It's not the same kind of experience," he said. "It would be like comparing Six Flags with Disney." Six Flags, once owned by CNN parent Time Warner (TWX), operates 18 regional theme and water parks across North America.
Shanghai Disney tickets cost 499 yuan ($75) on peak days and 370 yuan ($55) the rest of the time. That's cheaper than other Disney parks around the world, but roughly double the price of a Wanda park that opened about 350 miles southwest of Shanghai in May.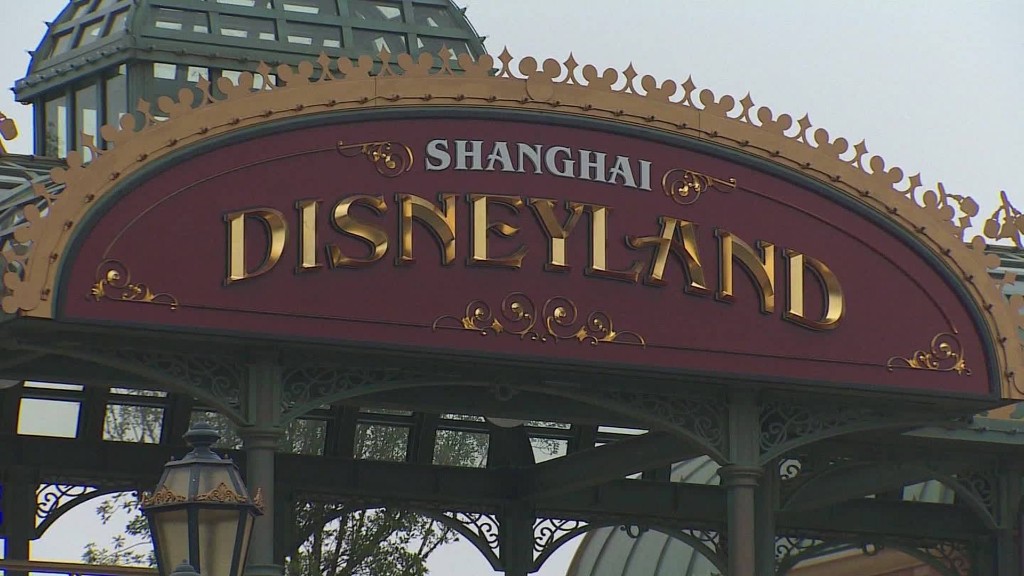 Unlike the U.S. and Japan, China doesn't have any mega theme parks that draw more than 10 million visitors a year. The country's biggest is Chimelong Ocean Kingdom in the southern province of Guangdong, which brought in 7.5 million people last year.
And China's economic growth and expanding middle class mean there's likely to be room for plenty more parks, such as Comcast (CCV)'s Universal Studios that's planned for Beijing.
-- Ye Ling, Serenitie Wang and Nanlin Fang contributed to this report.