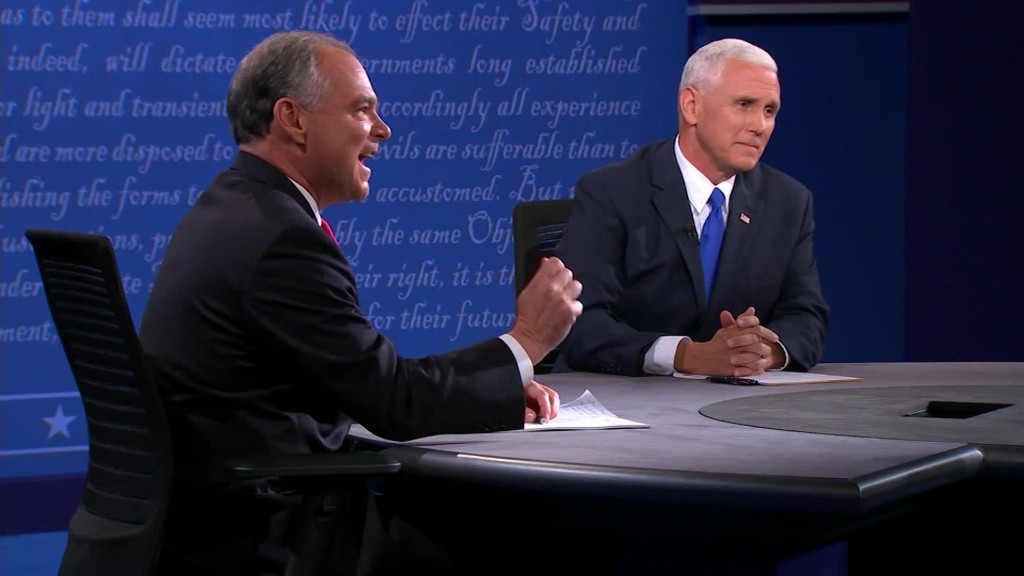 Tuesday night's vice presidential debate drew a much smaller audience than the VP debates in 2012 and 2008.
About 37.2 million people tuned in to the nine television channels that carried the debate live, according to Nielsen.
An unknown number of others streamed the debate on the web in ways that aren't counted by Nielsen.
No one expected the running mate debate to come anywhere close to last week's Donald Trump-Hillary Clinton match-up. About 84 million tuned in to that debate via TV, making it the most-watched debate in American history.
But it may be considered disappointing that Tuesday's Mike Pence-Tim Kaine debate did not match past VP totals.
The 2012 VP debate, between Joe Biden and Paul Ryan, averaged 51.4 million viewers.
The Biden-Sarah Palin debate in 2008 ranks as the most-watched VP debate ever, with 69.9 million viewers, largely attributed to curiosity about Palin.
The 2004 Dick Cheney-John Edwards match-up drew 43.5 million.
To find a lower-rated VP debate than Tuesday, you have to go back to 2000, when 28.5 million people watched Cheney and Joe Lieberman debate.
Political analysts noted that the two running mates aren't as well known as past V.P. contenders like Biden. This may have dampened overall interest in the debate.
Still, the combined audience of 37 million is a huge number for any single event on TV -- even bigger than this year's Academy Awards. It was a high-profile opportunity for both candidates, and the media consensus was that Pence prevailed.
Early overnight ratings suggested a total audience surpassing 40 million viewers. But more detailed data later in the day showed a drop-off in the 10 p.m. hour -- during the debate's last half-hour -- that dragged down the overall average.
This suggests some viewers were turned off by the back-and-forth between the two candidates.
Trump-Clinton, on the other hand, had a steadier audience from start to finish.
NBC had the biggest audience during the V.P. debate, with about 7 million viewers; CBS was second with 6.5 million viewers. CBS News anchor Elaine Quijano was the moderator.
ABC and Fox News averaged 6.1 million, CNN averaged 4.2 million, MSNBC averaged 3.1 million, the Fox broadcast network averaged 2.2 million, and PBS averaged 1.4 million.
The debate audience skewed older, with only 3.4 million of the 37.1 million viewers coming from the 18- to 34-year-old demographic -- the millennials Clinton and Kaine are courting.
About 12.4 million of the viewers were in the 25- to 54-year-old demo.
Nielsen's ratings do not count live streaming. Pence-Kaine reached hundreds of thousands of people via live streaming, but the concurrent viewership on YouTube was just a fraction of what it was for Trump-Clinton last week.
Unlike in 2012, the debate was not shown on the country's two biggest Spanish language networks, Univision and Telemundo. This absence further diminished the total viewership of the debate.