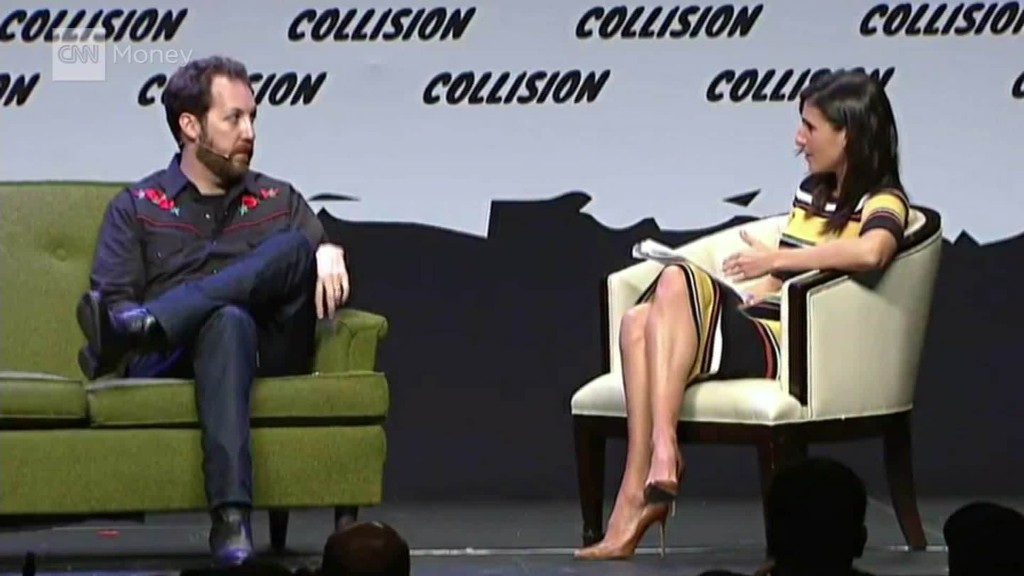 Does anyone want to buy Twitter? Maybe someone will make a Price is Right-esque sympathy bid of $1?
Twitter (TWTR) stock plunged nearly 20% in early reading Thursday after the influential tech news site Re/code reported that Google owner Alphabet (GOOGL), which had been viewed as the most likely Twitter acquirer, is not going to bid for the company.
Twitter chairman Omid Kordestani used to work for Alphabet. And many experts believed an Alphabet deal for Twitter would complement YouTube and help make Google more competitive against Facebook (FB) and Snapchat in the social media world.
Re/code said that two other rumored suitors, Disney (DIS) and Apple (AAPL), are apparently not interested in buying Twitter either.
Representatives from Twitter, Alphabet, Disney and Apple were not immediately available for comment.
Related: Disney-Twitter may make sense. But investors hate it
Before Thursday's huge plunge, Twitter's stock had soared more than 80% from all-time lows it hit earlier this year, mainly due to hopes (and prayers) that it will be bought.
So what's next for Twitter? Software company Salesforce (CRM) may still be interested. In fact, shares of Salesforce plummeted Wednesday on fears it may get involved in a costly bidding war for Twitter.
Salesforce is widely believed to want a presence in social media. The company was interested in buying LinkedIn (LNKD), but Microsoft (MSFT) wound up making a bid for it earlier this year.
CEO Marc Benioff is an avid tweeter. Benioff cryptically alluded to the Twitter takeover talk on Wednesday as well. Speaking at his company's Dreamforce customer event, Benioff said that Salesforce looks at a lot of companies.
Related: Salesforce pushes regulators to look at Microsoft-LinkedIn deal
But Wall Street isn't sure that a Salesforce-Twitter tie-up makes any sense.
Jefferies analyst John DiFucci wrote in a report Thursday morning that it was "unclear" why Salesforce would want Twitter and warned that adding more debt to buy it would hurt Salesforce's stock.
Twitter shareholders Steve Ballmer and Saudi Prince Alwaleed bin Talal have also been cited in Twitter takeover rumors. So have big Silicon Valley investors Marc Andreessen and Silver Lake.
But Twitter may be running out of potential dance partners. The question is, can Twitter survive by going alone?
Many investors have grown increasingly frustrated by the stagnant user growth at Twitter. Some worry that the company, at best, is a niche service -- which is why it would be better off as a private company or part of a larger tech or media firm.
Twitter CEO Jack Dorsey has also been criticized by some for not having his full attention on Twitter. Dorsey is also CEO of Square (SQ), a payments technology company that went public last year.
But Twitter has impressed users lately with its livestreams of the recent presidential debates and big sporting events, such as Thursday Night Football.
Today is Thursday. The Arizona Cardinals take on the San Francisco 49ers in Santa Clara -- not far from Twitter's headquarters. So maybe people should be watching the livestream to see if Dorsey and Benioff are sitting together.
--CNNMoney's Jethro Mullen contributed to this report