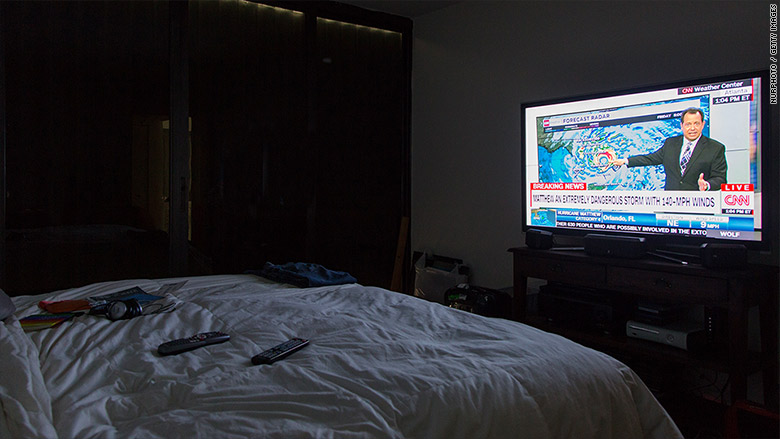 Television reporters in parts of Florida about to be hit by Hurricane Matthew are working to get the best possible information to the communities they serve. And then they're heeding their own advice and getting off the beach.
Wind-whipped live shots are a staple of hurricane coverage, but some TV crews will be vacating vulnerable barrier islands as the storm approaches. That is a rarity in hurricane coverage, and a testament to the expected severity of Matthew.
"We don't want to have our crews trapped," said Alan Mason, the VP in charge of two 24-hour news channels in Florida. "No story is worth getting hurt."
Related: What it's like in Hurricane Matthew's path
But Florida's media outlets are still working furiously to ensure that they can get vital information to viewers in danger for as long as the storm lasts. Station managers expect widespread power outages. So broadcasters from Miami to Jacksonville are arranging for local radio stations to simulcast their coverage.
Local meteorologists are also harnessing Facebook and Twitter to reach people who may not be able to tune in. In many cases, the experts are answering specific questions from viewers about expected conditions.
On Wednesday and Thursday local stations deployed dozens of crews up and down the East Coast of Florida. Virtually all of the major stations in the affected area are now broadcasting news 24/7.
"We're not trying to scare people, but we're letting them know that this is the real deal," said Glenn Richards, chief meteorologist at WOFL, Fox's station in Orlando.
Richards emphasized that his part of Florida has not seen a Category 4 hurricane in many decades. That means his viewers literally do not know what to expect.
The nonstop live coverage highlights the enduring importance of local media. If overreactive, obsessive weather coverage is a symbol of local TV at its worst, coverage of a legitimately serious storm like Matthew is local TV at its best.
"This is why local TV will be alive forever and ever — because this is how the information has to get out," Richards said.
At stations like WOFL, staffers are working in 12-hour shifts. Offices are being converted to makeshift bedrooms. Food, water and batteries are being stockpiled.
Ryan Phillips, the morning meteorologist at WTVJ, NBC's station in Miami, said he has slept just 11 hours in the past three days. Thankfully, he said, "there's been plenty of lead time" for Matthew, and a "consistent message across the board" about the potential dangers.
Further north in Orlando, the Sentinel's TV critic Hal Boedeker said the stations "are stressing how dire this could be -- hurricane winds in downtown Orlando." With several days of coverage ahead of time, "no one could say they weren't warned," Boedeker said.
"There's a special bond that develops, a special trust that develops between the meteorologist and the viewer," said Mike Clay, the chief meteorologist at Bay News 9, a local news channel based in Tampa.
Bay News 9 and its sister channel in Orlando, News 13, have 17 crews deployed to cover the storm. Clay said some of them will pull back from barrier islands -- which are especially vulnerable to storm surge -- before the height of the storm.
"We don't want water keeping any of our crews from having an escape route," Clay said.
Plans are always subject to change, but other stations are taking similar approaches. If journalists are at undue risk, "they don't do anybody any good at that point," Richards, of WOFL in Orlando, said.
Lloyd Bucher, the general manager of WPTV in West Palm Beach, said the station has roughly 20 crews deployed, most of them working 12 hours on, 12 hours off. "We're putting them up in safe hotels or evacuation centers," Bucher said.
While "we're news junkies by nature" and "we have an obligation to the market" to cover the hurricane, Bucher said, "our crews out in the field must counterbalance that with their own safety."