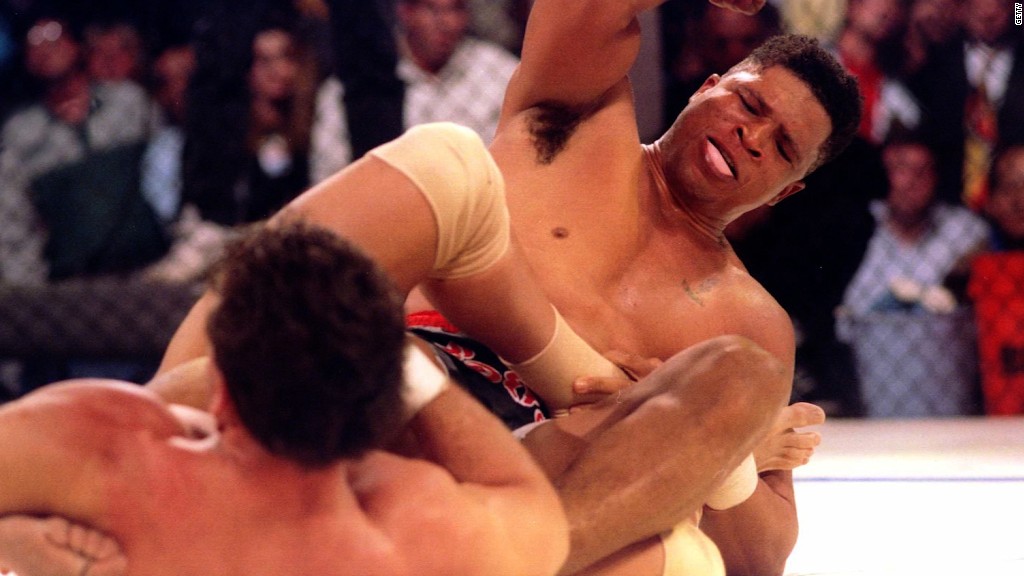 The sport of mixed martial arts is having a knock out year.
First, its pro league, UFC, sold for $4 billion in July -- one of the biggest deals in the history of pro sports.
Then several celebrities, including Serena Williams and Tom Brady, invested in the sport.
Now Alliance MMA, a developmental league that helps fighters get into UFC, is going public, the first company in the sport to do so.
(In 2006, the International Fight League was acquired by a publicly traded company. It folded two years later.)
"There's no other way to invest in MMA other than through our venture," said Alliance MMA Chairman and CEO Paul Danner.
The company will close its initial public offering and start trading at $4.50 a share on Thursday. It plans to generate revenue in three ways -- through fights, sponsors and a newly acquired video production company.
Related: UFC owners turn $2 million into $4 billion
The sport of MMA is estimated to have roughly 300 million fans worldwide. It has attracted large broadcast and pay-per-view audiences as well as big name sponsors.
It's also now legal in all 50 states -- New York was the last adopter in March. The state's first pro MMA event, UFC 205, is scheduled for November 12 at Madison Square Garden.
"We're not trying to compete with UFC -- we understand where we fit in the food chain," Danner said. "We want to be able to showcase the best talent and help them get into UFC."
Related: Ronda Rousey is the UFC's Muhammad Ali
Alliance MMA, which was founded in 2015, will bring together lots of smaller local fights and events. That's part of the reason it decided to go public -- to appeal to fight promoters who own their own small businesses.
"Now we can tell promoters 'Look, we value your private company and will give you cash and stock in ours,'" Danner said. "There's less loss of power for them and more involvement."
The league hopes to put on over 125 events a year under the Alliance MMA name.
"We want to be the premier developmental league," Danner said. "We want to ratchet up the level of professionalism, get involved in fighter management and help athletes understand what their career choices are."
Alliance MMA will also oversee a video platform, GoFightLive!, and an electronic ticketing site, CageTix.com.
It plans to use the ticketing site to generate analytics about its fans, such as the number of women that attend its events.
According to Danner, the average audience seems to be split about 60/40 men to women and skews young.