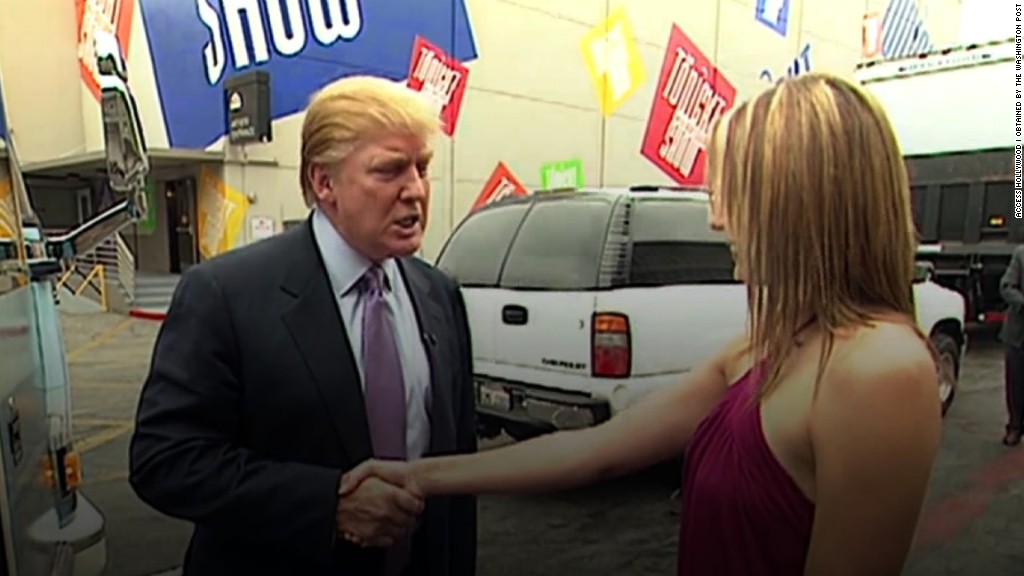 "Today" show co-host Billy Bush says he is "embarrassed and ashamed" about his vulgar chat with Donald Trump on a 2005 videotape that was revealed on Friday.
"It's no excuse, but this happened eleven years ago -- I was younger, less mature, and acted foolishly in playing along. I'm very sorry," Bush said in a statement.
Before the statement was released by NBC, angry comments piled up on Bush's Facebook page from viewers who were disgusted by the contents of the tape. On it, Trump brags in graphic terms about being able to grope women "when you're a star" and Bush jokes about it.
The "Today" show Facebook page was also overtaken by hundreds of critical comments. Some viewers said they want Bush to be suspended or fired.
NBC News had no immediate comment on that, either.
Related: 'SNL' takes on the Trump-Bush tape
But one "Today" show source called the situation "brutal."
And downright strange -- since Billy Bush is a cousin of George W. and Jeb Bush.
"Imagine if Billy Bush had remembered his talk with Donald Trump in time to help cousin Jeb," entertainment web site The Wrap opined on Friday night.
Bush recently became a co-host of the 9 a.m. hour of "Today," NBC's highly profitable morning show. He regularly appears during other hours of the four-hour broadcast, which has a predominantly female audience.
As the controversy over the tape erupted on Friday afternoon, Anthony Quintano, who formerly ran the "Today" show's social media efforts, pointed out that "a majority of the 'Today' show production staff is female" and said it "won't go over well internally to keep Billy Bush around."
It is hard to picture Bush sitting around the "Today" show table on Monday morning, chatting about Sunday night's presidential debate, given that Trump's taped comments are sure to be part of the debate.
NBC executives may conclude that his role is untenable through election day.
Or they may choose to ride out the controversy. Bush is a brand-new addition to the morning show, representing a big bet by NBC for the future of the franchise.
And he issued a deeply apologetic statement within a few hours.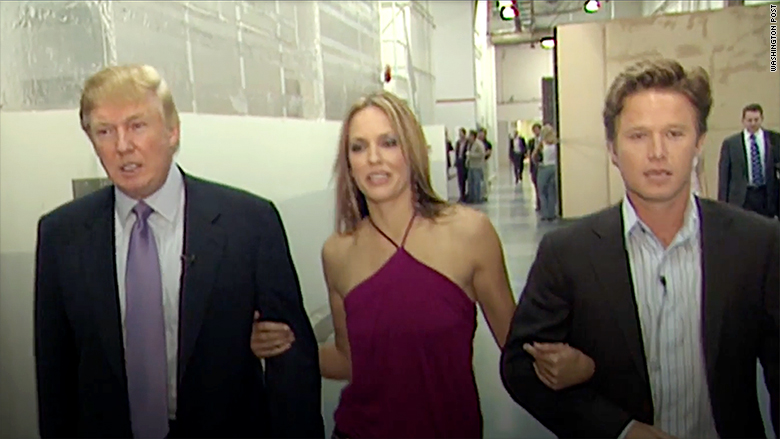 Related: Trump bragged on hot mic about being able to grope women
Back in 2005, when Bush's conversation with Trump took place, Bush was a co-host of "Access Hollywood," the entertainment newsmagazine owned by NBC.
Trump was a colleague of sorts -- he was the star of NBC's prime time reality show "The Apprentice."
The two men were together to promote Trump's appearance on an NBC soap opera.
Bush joked around with Trump and seemingly enabled his sexist comments. At one point he urged a female actress to give Trump a hug.
In a statement, Trump said the comments were "locker room banter" and said, "I apologize if anyone was offended."
The video was not broadcast by NBC at the time it was taped. But it was archived at "Access Hollywood."
According to NBC sources, "Access Hollywood" was working on its own story this week about the tape, but as of Friday the story "wasn't quite finalized."
Somehow -- it is unclear how -- David Fahrenthold of The Washington Post came into possession of a copy, and published it on Friday afternoon.
Related: How the shocking hot mic tape was unearthed
A spokeswoman for "Access" had no immediate comment about why the tape did not surface sooner.
"Access" aired its own report about the tape on Friday night.