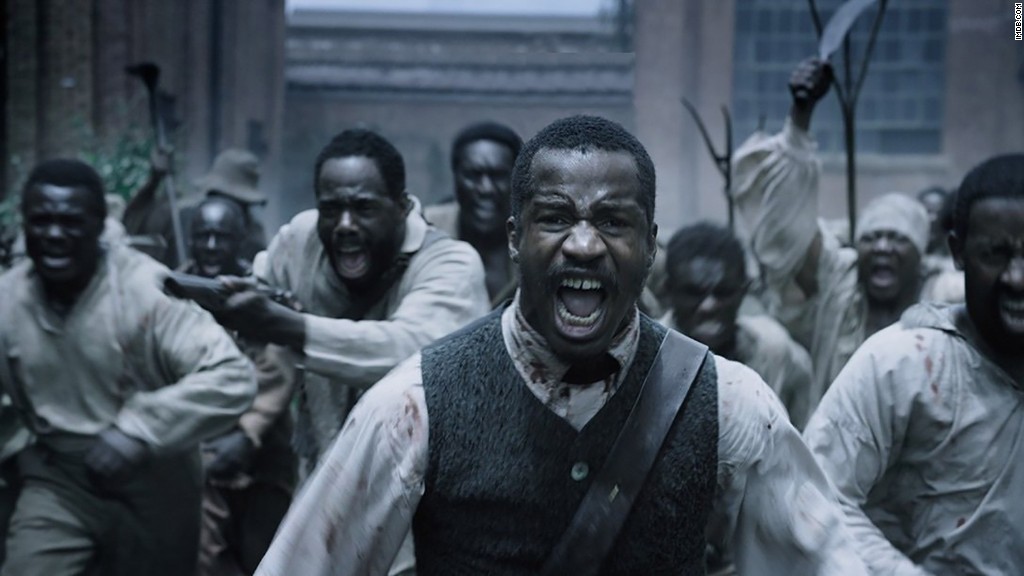 "The Birth of a Nation" is a much talked about film that few people have had a chance to see. That changes Friday when the period drama hits theaters nationwide.
The Fox Searchlight film, about Nat Turner's 1831 slave rebellion, will screen in 2100 theaters. That makes the release one of the largest Fox Searchlight has ever had, according to Frank Rodriguez, head of distribution for the studio. As perspective, "12 Years a Slave," another acclaimed film about slavery, opened wide in roughly 1100 theaters to a $6.6 million weekend in 2014.
"We will be in a good mix of art houses, mainstream multiplexes, African-American theaters and upscale suburban complexes," Rodriquez said. "We are in virtually every major and medium sized market in North America."
"The Birth of a Nation" is projected for roughly a $10 million box office weekend, according to industry analysts. Fox Searchlight is estimating a more conservative $7 million opening weekend.
Oscar buzz for the film has been growing since Fox Searchlight bought its distribution rights for a record $17.5 million at January's Sundance Film Festival.
Yet over the summer, talk of award season potential for "The Birth of a Nation" shifted to the personal history of the film's director and star, Nate Parker
Parker and his co-writer on the film, Jean Celestin, were charged with rape in 1999 while they were students at Penn State University. Parker was acquitted. Celestin was convicted, but it was later overturned on appeal.
Variety revealed in August that Parker's accuser had committed suicide in 2012.
Whether the controversy hurts the film's opening this weekend is difficult to gauge.
"It's almost impossible to quantify the effect of the personal life controversies of filmmakers on the box office of their movies," said Paul Dergarabedian, senior media analyst at comScore. "As with any movie, it comes down to the quality of the film and maybe that can change the conversation."
The success of a prestige film like "The Birth of a Nation" isn't measured by a big opening weekend at the box office, according to Shawn Robbins, senior analyst at Boxoffice.com.
"It can help sometimes, but it certainly isn't a requirement," Robbins said. "'The Artist' is a good example of a film that never found a large mainstream audience, but it was the darling of film industry voters five years ago."
Another hurdle for the film's box office this weekend -- and ultimately its run to Oscars -- might be its reviews.
The film has garnered a 77% score on review site Rotten Tomatoes. While this may be a solid score for more mainstream films, it's on the light side for a film looking to make waves this award season.
Hurricane Matthew could also keep moviegoers away from theaters in a big way.
"Severe weather in the southeast is a big factor for all movies in the marketplace this weekend," Dergarabedian said.