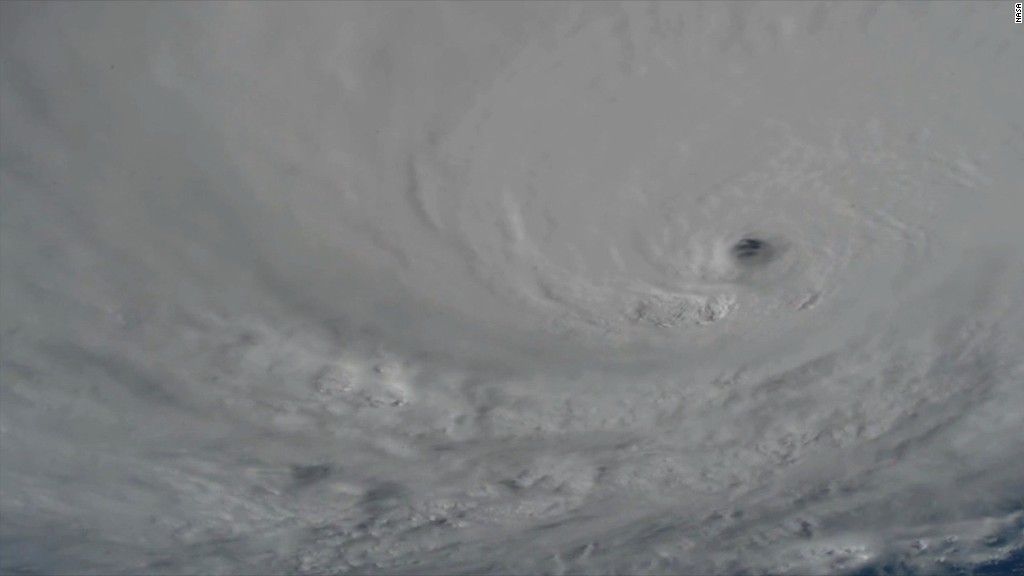 The Atlantic Ocean, not Hurricane Matthew's 100 mph wind gusts, is the most serious threat to the Kennedy Space Center on Friday.
Matthew could bring a storm surge of 10 feet, which could put much of the space center's property being under salt water.
Many of the space center's key launch pads are within 500 yards of the ocean. Even if there isn't severe flooding, the storm could cause additional erosion damage to the beach that separates the launch pads from the ocean. NASA said that erosion has already reduced the width of that beach by about 200 feet since the space center opened in 1961.
"I spoke to the head of the Kennedy Space Center, former astronaut Bob Cabana. They're all buttoned down. But he's worried about the erosion," Sen. Bill Nelson, a Florida Democrat, told CNN early Friday.
Related: Hurricane Matthew - Worst is yet to come
Launch pads 39A and 39B at the space center are about a quarter-mile from the Atlantic Ocean, separated by a sand dunes and the narrow beach.
Launch Pad 39A was used for the Apollo moon missions and Space Shuttle launches. It was recently leased to SpaceX, which plans to have a launch from that pad by the end of November.
Pad 39B is slated to be used for NASA's new Space Launch System and Orion spacecraft. Both are being developed to fly to Mars in the next decade.
Related: Hurricane Matthew may be more of most expensive storms in U.S. history
When the eye of Hurricane Matthew passed just offshore of the space center early Friday morning, it brought sustained winds of 90 mph and gusts of 107 mph as it passed. Cameras on the property didn't show any immediate damage from the wind, according to NASA spokespeople, but it will take some time to do close-up inspections.
The launch pads were designed to survive winds of that speed. Preparations for the storm were completed Wednesday when any loose equipment or other items on the property were stowed away and antennas were lowered.
Related: Disney closes theme parks as Hurricane Matthew batters Florida
NASA is very concerned with the risk to its facilities posed by rising sea levels associated with climate change. The agency said between half to two-thirds of its $32 billion worth of laboratories, launch pads, airfields, testing facilities, data centers, and other infrastructure at risk from rising sea levels.
"NASA coastal centers that are already at risk of flooding are virtually certain to become more vulnerable in the future," said a report from the agency issued two years ago. "NASA has an awful lot of people and property in harm's way."