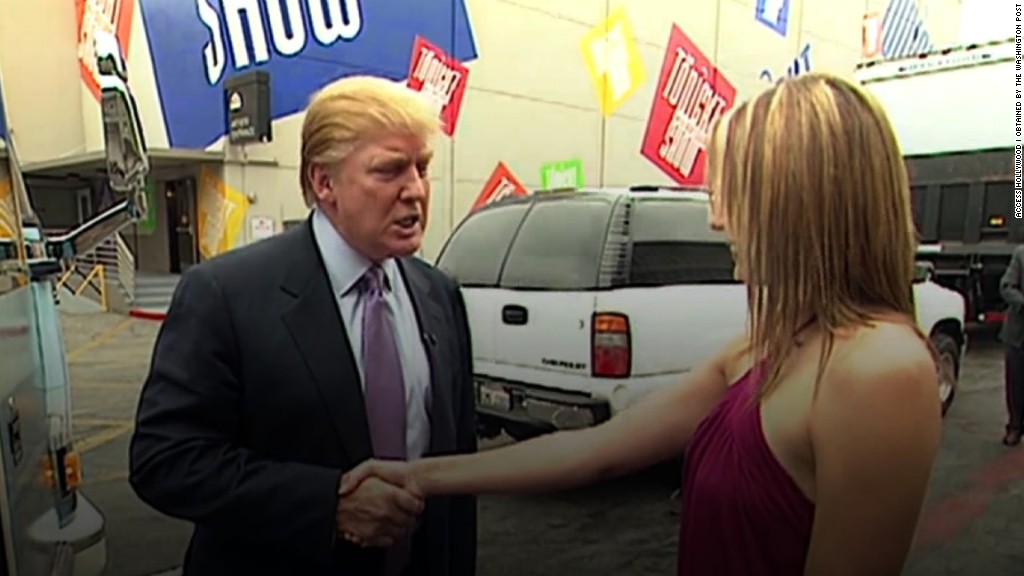 Is he really...? Yes. Billy Bush is a member of that Bush family.
His father, Jonathan Bush, is a banker and GOP donor who is the brother of former President George H.W. Bush. That means Billy Bush is a cousin to former President George W. Bush, as well as failed 2016 presidential nominee Jeb Bush.
For the moment, however, Billy Bush is only one thing: the other voice on the 2005 "hot mic" video obtained by The Washington Post that has dropped like a bomb into the presidential race.
Bush is heard prodding GOP nominee Donald Trump through a series of vile and degrading comments about women, while adding a few demeaning comments of his own.
Related: 'SNL' takes on the Trump-Bush tape
Of course, there is deep irony that a member of the Bush family played an unwitting, yet central, role in the worst crisis of Trump's campaign.
Trump's hostile takeover of the Republican Party usurped the Bush family and their effort to re-establish control over the GOP establishment. Jeb Bush, with his $100 million war chest, started the 2016 race as the favorite.
Trump eviscerated the Bush campaign. He hammered his rival as "low energy" and "weak on immigration" -- a symbol of the party establishment that Trump's angry supporters abhor.
After the election, Jeb Bush emerged as a prominent critic of Trump and said he would not vote for the Republican nominee. On Friday night, he joined the chorus of Republicans condemning Trump's "reprehensible comments."
But Jeb Bush had nothing to say publicly about his cousin, the other voice on the videotape.
Related: How the shocking Trump tape was exposed
Billy Bush is not a politician. He spent more than a decade hosting "Access Hollywood," and he co-hosted spinoff "Access Live" for about six of those years.
He also hosted the Miss USA and Miss Universe pageants from 2003 to 2005. Both pageants -- which have been the source of other Trump controversies -- were owned by Trump at the time.
In August, Bush left "Access" and joined the on-air crew of "Today," NBC's highly profitable morning show.
Soon after, Bush was in the center another viral video -- one of him and Today show co-host Al Roker aruging over whether Olympic swimmer Ryan Lochte only "embellished" his account of a gas station robbery.
Bush is 44, and married with three daughters. His first first media gig was hosting a D.C. morning radio show called "Billy Bush and the Bush League." He starred in a 2013 documentary about rhinos, called "Chasing Rhinos with Billy Bush."
He told the New York Times in 2005 that he would "never" try to leverage his famous relatives. ''Roger Clinton tried to use his brother to promote himself and his career,'' Bush said. ''I'd never do that.''
Now he's very famous on his own.
On Friday, Bush quickly apologized for his role in the Trump video. "I was younger, less mature, and acted foolishly in playing along. I'm very sorry," he said in a statement.
The next steps for Bush aren't clear. On "Today," he is co-host of the 9 a.m. hour and regularly appears during other hours of the four-hour broadcast. The show has a predominantly female audience.
Bush's Facebook page and the "Today" show's page are full of angry comments. Some viewers say they want Bush to be suspended or fired. NBC News is not commenting.
In August, the "Today" show website wrote a story welcoming Bush to the team: "And we can't wait to see what the future holds now that he'll be with us every morning."
-- CNNMoney's Brian Stelter contributed to this report.