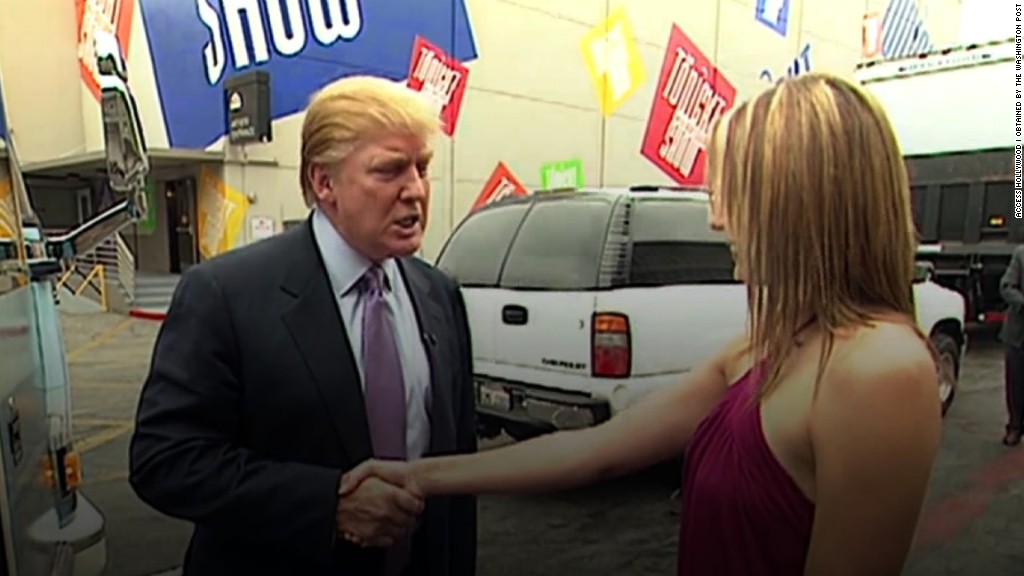 1. Who leaked the "Access Hollywood" tape to the Washington Post? Why?
The NBC entertainment show was working on a story about the tape. But the story was not going to air until next week at the earliest. So did an NBC staffer leak the tape to Post reporter David Fahrenthold to influence Sunday's debate? Or perhaps to ensure the tape wouldn't get covered up or glossed over by NBC?
Read special edition of Reliable Sources newsletter
Fahrenthold, who has distinguished himself this year by covering Trump's spotty record of charitable giving, is understandably declining to say anything about his source. But his story came together swiftly as the result of an unsolicited tip. He received a phone call about the tape around 11 a.m. on Friday; watched it; called NBC; called the Trump campaign; and published a story at 4 p.m.
2. What would have happened if the Post had not published the tape?
According to two NBC sources, "Access Hollywood" was readying its own story, and the network's news division was planning to publish a follow up right afterward. Some media analysts are having a hard time believing that. At a minimum, NBC kept the tape a secret for several days. Taking the bigger picture view, NBC had possession of the tape ever since 2005.
As New York University journalism professor Jay Rosen asked in a tweet on Saturday: "Simple question for NBC News: When were you planning to tell us?"
NBC News has declined to comment.
3. Why did Trump come out with a tape of his own?
The day's second shocking video was Trump's direct-to-camera statement, which the campaign recorded on Friday evening and released early Saturday morning. Maggie Haberman of The New York Times reported that advisers "cautioned against holding a news conference, something that had been discussed, because it could become unwieldy and spin out of his control. They realized they needed to address the issue quickly," so the video was produced.
4. What advice, if any, is Roger Ailes giving Trump?
Former Fox News chairman Roger Ailes is one of the conservative media figures who has been informally advising Trump in recent months. Ailes, who lost his job at Fox News after allegations of sexual harassment, has been advising Republican presidents and candidates for decades. What does he think Trump should do right now?
5. Are Anderson Cooper and Martha Raddatz adjusting the plan for Sunday's presidential debate?
Yes. The moderators and their producers are discussing how to incorporate this weekend's storyline, according to a person close to the process.
But the people involved in debate prep are tight lipped. And because the debate is a town hall format, it is unclear if the questions about this topic will come from uncommitted voters or from the moderators themselves. Trump ended his apology video by saying "see you at the debate on Sunday."
6. Will Billy Bush be back on the "Today" show on Monday? Is his brand permanently damaged?
Angry comments are piling up on Bush's Facebook page -- and on the "Today" show's page. Some viewers say they want Bush to be suspended or fired. But as of now, Bush has not been disciplined, and there is no plan to bench him, according to a senior source. He is scheduled to be back on "Today" on Monday. But is that really tenable? Can he sit around the table on Monday morning, hours after the debate? For now, his bosses think so.
7. Are there other tapes?
Maybe the better question is: How many more tapes exist? Even if "Access Hollywood" has no other video that could be damaging to Trump's campaign, the producers of "The Apprentice" almost certainly do. Mark Burnett, whose production company owns the show, has not responded to requests for comment.
8. Was Friday the turning point in the presidential election? Or are media types once again overreacting to a Trump controversy?
This question is best left to the historians.