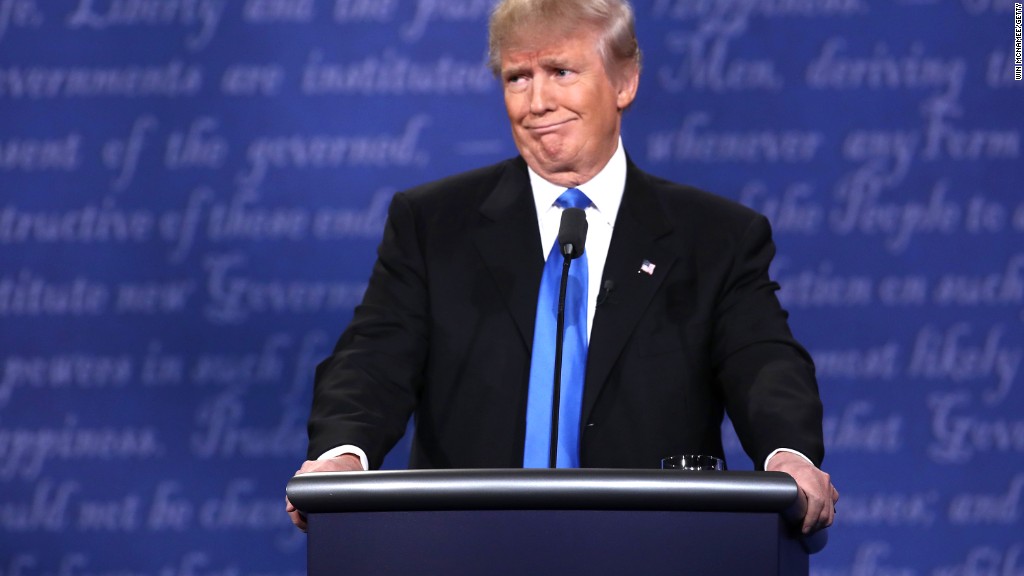 The first set of questions at Sunday night's presidential debate will be about Donald Trump's vulgar comments on a newly published 2005 videotape, and the fallout from it.
And Hillary Clinton will get the first question.
Moderators Anderson Cooper of CNN and Martha Raddatz of ABC have adjusted their plan for the debate in light of the Trump tape, sources told CNNMoney.
While everything is subject to change until air time, an ABC source said -- perhaps confirming the obvious -- that Trump and Clinton will both be prompted to address the matter.
A coin toss by the Commission on Presidential Debates determined that Clinton will speak first.
While the debates are hosted by the commission, not the television networks, Raddatz and Cooper have been in debate prep with producers from their respective networks.
The gender dynamics -- a man and a woman moderating together while another man and woman face off in a town hall format -- will be unmissable.
Rudy Giuliani, one of Trump's top advisors, said on CNN's "State of the Union" that Trump will "probably" apologize for the tape again when he is on stage Sunday night.
Forty town-hall participants were selected by Gallup. They will also be sitting on stage. The participants are described as "uncommitted voters."
The participants submitted their questions to the moderators on Sunday morning, which means they have had time to include questions about the Trump tape; the ensuing crisis within the Republican party; and Trump's response, which included invoking Bill Clinton's past infidelity.
Raddatz and Cooper are meeting on Sunday morning to sort through the questions and come up with a final plan for the 90-minute debate.
The commission says the co-moderators have sole discretion about which participants to call on.
The co-moderators will ask followup questions and facilitate conversation between the two candidates.
Related: How the town halls are created
One of the goals, according to two sources, is to involve the town hall participants as much as possible. "This is the peoples' debate," one of the sources said.
The sources spoke on condition of anonymity because the debate prep process is tightly controlled and limited to a small circle of people.
Cooper and Raddatz have declined interview requests in the run-up to the debate. NBC's Lester Holt adopted the same no-interviews approach before he moderated the first presidential debate of the season on September 26.
Another one of the moderators' goals is to include topics that were not covered during the first debate, plus campaign storylines -- like the Trump tape fallout -- that have happened since then.