This is how someone goes from being a low-level bank employee to running an international enterprise now singled out by the U.S. government as one of the world's most illicit criminal organizations.
It started more than 20 years ago when a young Canadian banker stumbled upon a golden opportunity.
The bank she worked for had shut down the accounts of a number of direct marketing clients because of the suspicious ways they were making their money.
Rather than staying at her banking job, Rosanne Dronsfield (now Day) used her connections to create an entirely new payment processing business that would cater to clients like these and help them access bank accounts wherever they wanted to do business.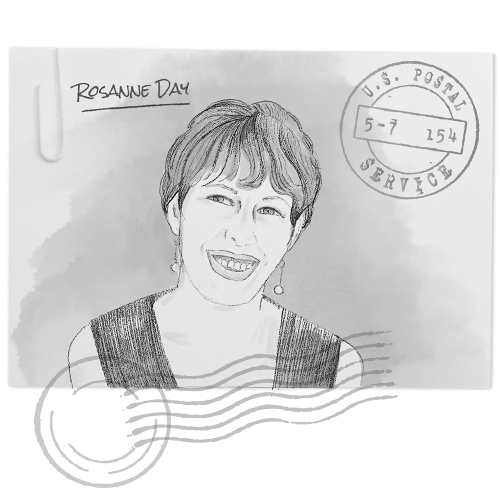 Now known as PacNet Services Ltd., what started as a tiny Vancouver operation in 1994 would morph into a global powerhouse with operations and subsidiaries in more than a dozen countries -- helping scammers get their hands on millions of dollars from mainly elderly victims.
This story, as told to CNNMoney by multiple sources close to PacNet (who all say they heard it from Day herself), suggests how the company's very business model was rooted in helping the unsavory clients that banks want nothing to do with. (PacNet insists the company was "not created to cater to high risk clients" and was instead formed by Day and others to "provide payment processing services to the international mail order industry.")
Until recently, life was good for PacNet and its executives.
What do you know about PacNet? Email us
Day, founder and president, enjoyed multiple homes -- including a multimillion-dollar Vancouver house and a vacation property on a sparsely-populated island off the coast. The firm sponsored fancy annual gatherings at ski resorts and a floating yacht hotel in Gibraltar. It even operated a private plane, to ferry executives -- and, the government claims, batches of money -- from country to country.
But now, this little-known Canadian company -- along with a group of 12 top executives and directors, and more than 20 subsidiaries and related businesses -- is the first of its kind to be designated a "transnational criminal organization." This lands it on a U.S. government blacklist previously made up of only the world's most dangerous drug cartels, gangs and organized crime rings.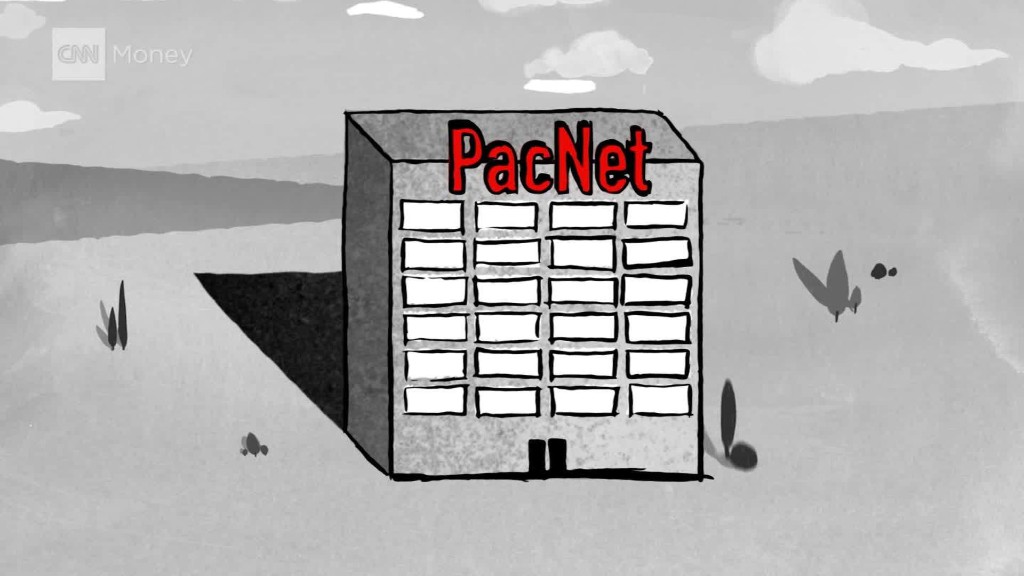 In a post on its website, PacNet said it "absolutely and categorically" rejects the allegations against it and that it will "vigorously defend" itself. And PacNet said it "works diligently to avoid working with companies that are operating fraudulently and takes its compliance efforts and responsibilities to conduct its operations ethically, responsibly, and legally very seriously."
As part of the action against it, however, the U.S. government says PacNet has knowingly facilitated money laundering and mail fraud for decades -- using secret bank accounts, moving bundles of money by plane and lying to customs officials. As a result, it is seizing PacNet funds held in the United States and has banned PacNet and its network from doing business in the country.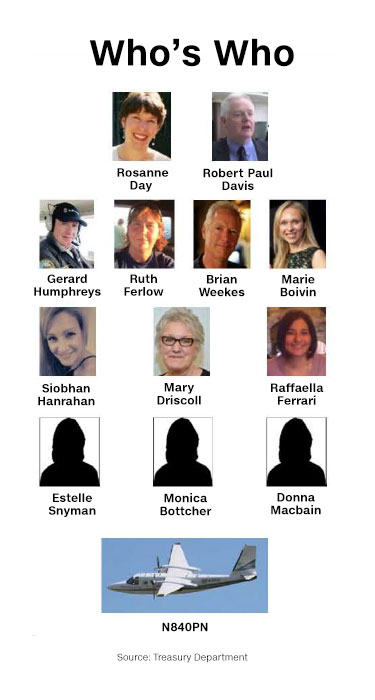 And the government's crackdown has already had sweeping effects. Many banks outside the United States have also shut down or frozen PacNet accounts. And with this financial lifeline cut off, CNNMoney has learned that the company is shutting down operations around the world, leaving employees out of work and the company's clients scrambling.
We happened to be looking into PacNet at the very same time the government was building its case. And through our months-long investigation, we found that PacNet had profited from global mail fraud for years -- depositing payments for an alarming number of unethical and flat-out criminal schemes.
Many of the schemes that have relied on PacNet to process payments have followed a similar pattern: sending out letters that trick elderly consumers into thinking they've won the lottery or found a psychic savior.
And in the wake of the government's crackdown, we've uncovered even more sources and new government documents that paint a picture of a company intent on deception.
Secret bank accounts
In some cases, PacNet resorted to unorthodox methods in order to access the financial system on behalf of its clients.
When banks refused to do business with the payment processor, for example, the U.S. government says PacNet used an obscure company called Indian River (UK) Ltd., as a front.
"[Rosanne Day] has instructed subordinates to route transactions through the PacNet entity, Indian River (UK), to hide the affiliation of the transactions with PacNet Services Limited and avoid the potential rejection of the payments by financial institutions," the Treasury Department said in a statement.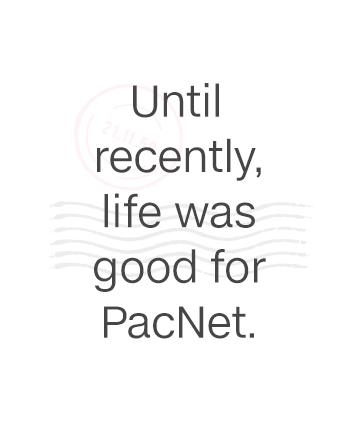 One time, for example, when a PacNet client wanted to send money through a particular bank that had previously refused to do business with PacNet, the government says "Day responded asking the client to wire money to an account in the name of 'Indian River UK Ltd' at another bank in London, and 'therefore, please do not mention PacNet on the transfer at all.'"
Despite Day's comments, PacNet claims that it has never hidden its affiliation with Indian River from banks.
This name wasn't new to us. In our reporting, we had stumbled across a business filing for Indian River (UK) Ltd., which listed PacNet as the only shareholder and PacNet manager Ruth Ferlow (Day's sister) as a director. Oddly enough, we also found a firm with the same name that had previously been registered to a man who claimed the company imported and distributed Russian weapons. This business was dissolved in 2011, the year before the company with the same name was registered by PacNet executives.
We couldn't determine whether this weapons company was related to PacNet at all, and PacNet said there is no connection between the two businesses.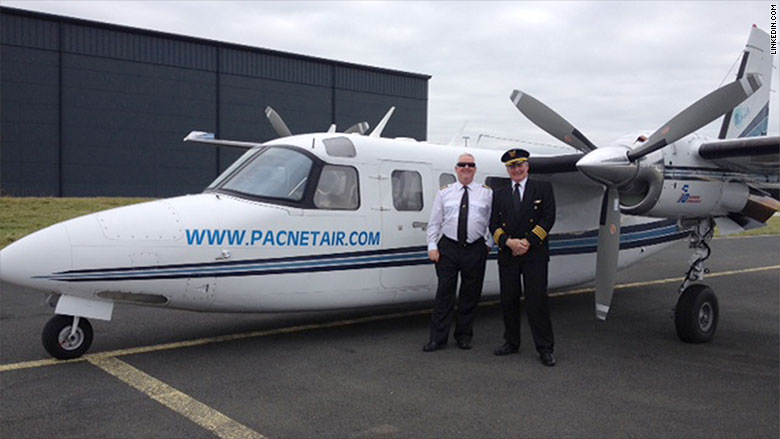 We also found a business registered in India with a similar name, "River Digital India Private Limited," which lists PacNet executive Paul Davis and PacNet pilot Gerard Humphreys (both added to the government's blacklist, along with Day and Ferlow) as directors. In a post in an online forum, one customer of a business using PacNet said they received payments from this Indian company instead of PacNet itself.
While PacNet has an Indian subsidiary named PacNet India, it said it established this other company as a "cost-effective" way to legally issue payments to residents of India.
Suspicious emails
U.S. authorities have dug up some very telling emails sent by PacNet employees, which they say show clear attempts to help scammers access the banking system.
In one, sent in 2010 about the notorious Maria Duval psychic scam, which the U.S. government has deemed a massive case of mail fraud, a PacNet employee explained to someone involved with the scheme that PacNet would have to use a pricier workaround to keep depositing checks from Canadian consumers.
Want updates on our investigations? Sign up here
"I regret that we are no longer able to deposit your cheques directly with Canadian banks," the employee wrote. "There are only a handful of national banks, and they are increasingly diligent about refusing business that they consider to be high risk. Your promotion types do, unfortunately, fall into the high-risk category. In order to support your ongoing Canadian business, we will deposit your Canadian cheques at a bank outside of Canada at a higher cost."
PacNet says banks have different interpretations of risk and have the right to "refuse business within any particular sector with no regard to the legality of the business." And without the proper context, PacNet says the email could be misinterpreted.
In another email quoted in a U.S. government filing, a PacNet employee told a mailing scheme operator that a man who was "'88 [years old] and completely broke" had asked for his money back and that PacNet had agreed to issue the refund "[i]n order to avoid the risk of this person complaining to his bank..."
PacNet said it has always had a policy to immediately refund customers who may not have understood the offer they received. "This is something service-oriented being painted as something sinister," the company said.
'A readiness to bribe'
Bank accounts have always been key to PacNet's business. It needs as many as possible, all over the world.
That may be why a top executive was allegedly willing to pay for this access.
In a UK court case, a former PacNet consultant who was successfully sued by PacNet for embezzlement alleged that Davis, a president, shareholder and director of a number of PacNet entities, had directed him to send numerous bribes to Russian banking officials. Court records and an email obtained by CNNMoney show that when presented with ways to open a Russian bank account, Davis did indeed authorize the use of a "small bribe" (though we can't independently verify whether it was paid).
PacNet said Davis only authorized a payment of $20 which they considered "an unfortunate mistake which he admits and regrets." But the company said it doesn't know whether the payment was actually made. And it claims that the consultant who made these allegations had embezzled from the company and attempted to use his bribery claims "to justify expenditures of thousands of pounds."
These bribery allegations were investigated by European authorities, according to the financial fraud division of the Irish national police force. While the civil court didn't find evidence of multiple bribes, in one letter obtained by CNNMoney an anti-money laundering solicitor with the Irish government expressed concern that Davis had admitted in court to "a readiness to bribe foreign officials." But it's unclear whether any actions were taken against the company as a result.
Huge shipments of cash
In order to avoid suspicion from authorities, the U.S. government alleges that PacNet made sure U.S. Customs had no idea just how much money it was sending and receiving.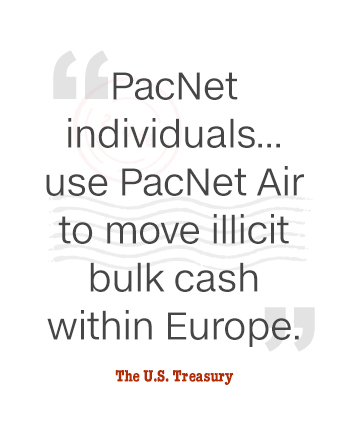 Davis, for example, allegedly directed employees to mislabel customs forms when mailing cash across borders, according to the U.S. government.
A source also told us PacNet often sent cash from its Ireland office to another PacNet company in Canada, where they would convert the currency and deposit the funds. The source told us that employees would regularly send batches of more than 10,000 Euro by FedEx, but were instructed to write "legal documents" on the customs forms.
PacNet said it has "no knowledge of batches of "more than 10,000 Euro" in cash being sent by FedEx" and that it "properly documents and reports cash received and processed on behalf of clients."
A private airplane
PacNet even used a private plane to transport money sent in by victims.
According to authorities, PacNet had close ties to a caging company named Trends, in the Netherlands, which recently had its mailing operations shut down by both the U.S. and Dutch government.
Authorities say Trends served as a "hub" for worldwide mail fraud schemes, using more than 50 Dutch PO boxes which received hundreds of thousands of victims' responses annually -- adding up to at least $18 million in illegal proceeds each year.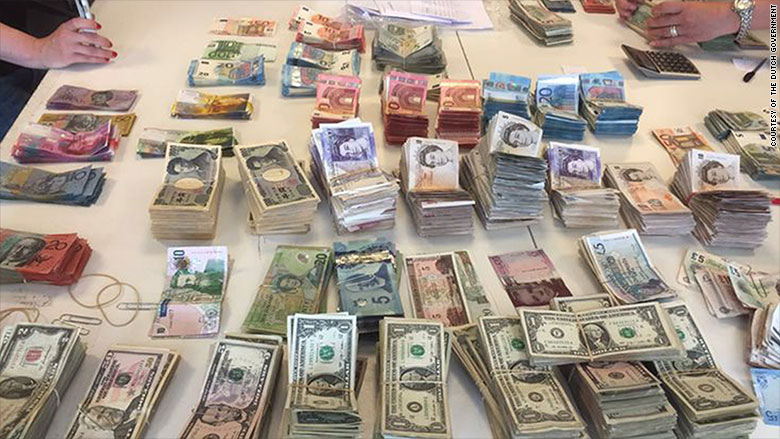 In a settlement agreement, Trends did not acknowledge any wrongdoing. And CEO Erik Dekker previously told us he couldn't comment on the action, but he said "there is not now nor has there ever been a business relationship between Trends and PacNet."
Yet we found that many different scams directed victims to send payments to mailboxes manned by Trends before these same payments were transferred to PacNet for processing.
Sin City's million-dollar mail fraudster
And the U.S. government found that PacNet executives would routinely fly to the Netherlands and pick up currency from Trends, transport it back to PacNet's Ireland office, deposit the money and disburse payments to various scammers.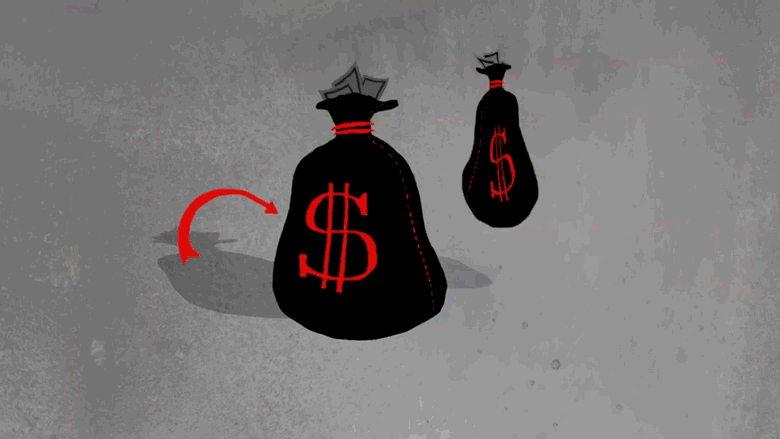 "PacNet individuals, including Davis and Humphreys, use PacNet Air to move illicit bulk cash within Europe," the U.S. Treasury stated.
PacNet denies this. "Any cash handled on any occasion by any part of PacNet has always been properly and legally handled, fully accounted for and reported to appropriate authorities where required," the company said.
This private plane was part of a business called PacNet Air. Based in the Isle of Man, Davis was the head of operations, while Humphreys was the chief pilot, according to an archived version of its website (which was recently taken down).
And if you Google the plane's tail number, you can find sightings of it all over Europe -- from Portugal and the Isle of Man to Kiev and Luxembourg.
PacNet emphasized to us that the used Rockwell Twin Commander it owns is nothing fancy.
"While it is tempting to think of having a plane as a luxury, it is actually much less comfortable than commercial airline travel (no inflight service, or space to move about, for example)," PacNet said. "But within Europe, where face-to-face meetings are frequent and expected, the benefits of not being confined to commercial airline routes and schedules, and the associated line ups and delays, saves hours and days when planning frequent short-haul flights and meetings in other cities, counties or countries, and makes good business sense."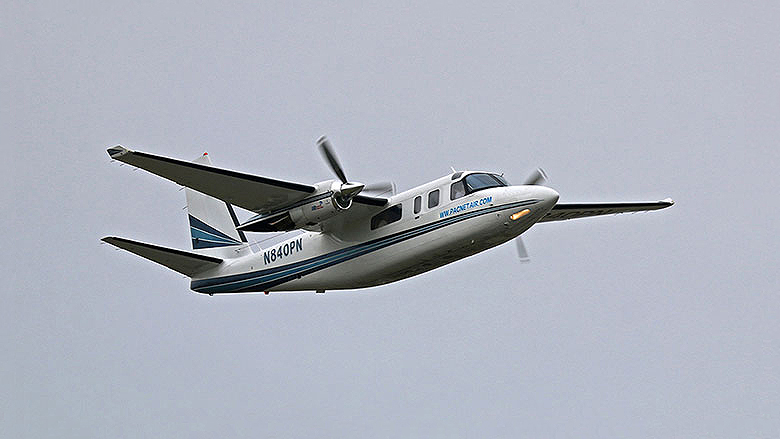 Nondescript mailboxes
PacNet has repeatedly claimed that it has had no involvement in the mailings being sent out by its clients. But we have discovered that this hasn't always been the case.
For a number of years, PacNet had a subsidiary caging business in Ireland (called Cage Eireann) that operated nondescript mailboxes in Ireland and the United Kingdom for its clients, collected and sorted consumer responses and payments and was even able to use PacNet's private plane to transport the mail.
The company was even located in the very same office building as PacNet's European headquarters, in a tax haven near the airport in Shannon, Ireland. According to sources, the company's operations ceased suddenly around 2008 because of legal issues.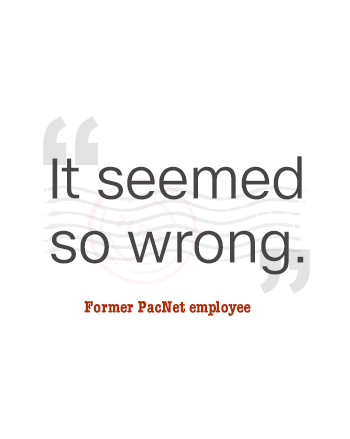 "Once in Shannon, each piece of mail is recorded both manually and electronically, and safeguarded in Cage Eireann's secured premises," according to an archived version of the company's old website.
PacNet acknowledged that it operated this caging business for some time, but said that since its closure nearly a decade ago, the company hasn't been involved with opening or processing mailings (except for assisting a small group of charities).
One former employee who worked for PacNet says she was "sent numerous times to the Cage department for a day to help out since they were short staffed," according to a witness statement filed in the UK court case against the PacNet consultant. While there, she says the caging employees told her they were opening mail for a "client of PacNet that ran a fake lottery."
Related: Massive crackdown on global mail fraud empire
"The client's instructions were to take out the money and throw the forms and letters and anything else in the garbage," she said. "The actual lottery would never take place. It was disappointing that PacNet would have a client like that since it seemed so wrong."
PacNet said this former employee's claims "are a complete fabrication" and that the caging company's only clients involved in lottery offerings do so legally for "official national lotteries." Regarding the allegations that it worked with a client that ran a fake lottery, PacNet said it would never "accept instructions that showed such blatant disregard for fulfilling a promised product."
Yet back in 2002, a UK newspaper reporter connected PacNet and Cage Eireann to one of the mailboxes where the reporter found lottery scam victims were sending their responses. When he confronted Davis at a conference to ask about the business, the reporter wrote that Davis "began to swear" and threaten him with lawsuits.
PacNet called the reporter "aggressive and confrontational," and said Davis doesn't recall threatening him with a lawsuit. The company said it was unfortunate that Davis lost his temper, however.
"We provide legal and legitimate services to many clients in the mail order business," Davis reportedly told the newspaper. "We do not take a moral position on their promotions."