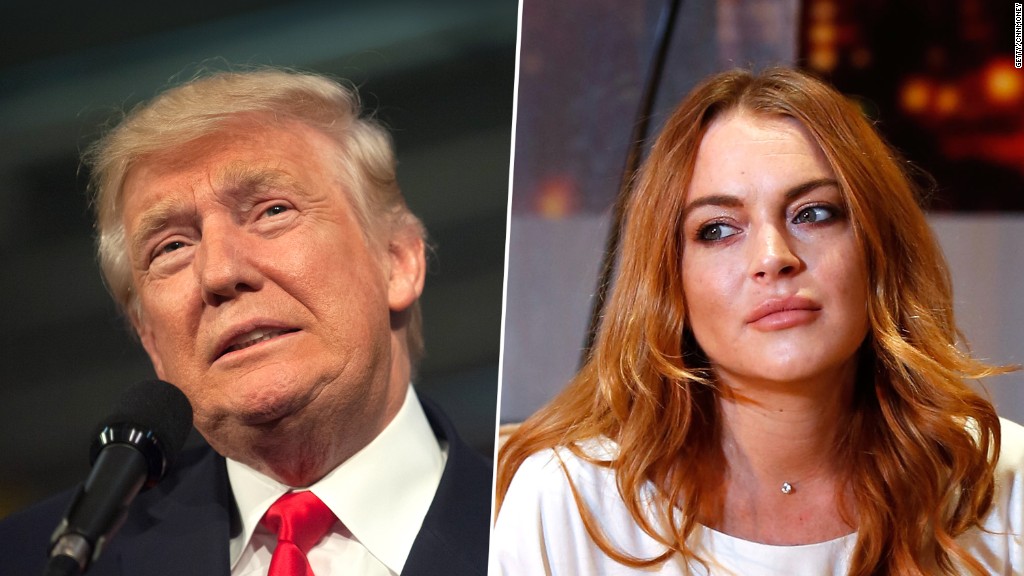 Donald Trump said in a 2004 interview with Howard Stern about Lindsay Lohan that "deeply troubled" women are "always the best in bed," according to a CNN KFile review of the appearance.
In the hours of crude and misogynistic sex talk Trump engaged in when he appeared on The Howard Stern Show, one of the most common topics of discussion were famous women.
Trump and Stern would often rate, rank, and describe in sexual terms female celebrities. In appearances reviewed by CNN's KFile, Trump also told Stern he would pay not to receive oral sex from Rosie O'Donnell and teased a recently-deceased Anna Nicole Smith for her large lips.
A Trump campaign spokesperson did not respond to a request for comment on this story.
The GOP nominee has faced widespread criticism for his past comments on women and sex. Last Friday, a 2005 "Access Hollywood" tape surfaced in which Trump, caught on hot mic, bragged about forcing himself on women and grabbing them by their genitals. Trump issued an apology for the comments in a video statement, but has continuously referred to the exchange as "locker room talk."
CNNs KFile reported on Saturday that Trump, on Stern's show, approved of the radio shock jock calling his daughter, Ivanka, a "piece of ass" and described how he would go backstage at his pageants while contestants were naked. The Trump campaign has not responded to a CNN request for comment on that story.
On Lindsay Lohan:
In an appearance on Stern's show in December 2004, Trump initiated a conversation about actress Lindsay Lohan, who was 18 at the time.
"What do you think of Lindsay Lohan?" Trump asked Stern.
"I think she's hot," responded Stern.
"There's something there right?" Trump said. "But you have to like freckles. I've seen a, you know, close up of her chest and a lot of freckles. Are you into freckles?"
"I'm not into freckles, but the red hair thing I like. I like her on the cover of Entertainment Weekly," said Stern.
"Now does the father wreck, does that bother you a little bit?" Trump asked later in the conversation.
"Howard feels that the father being a wreck is a good thing," interjected co-host Robin Quivers.
"Oh yeah, because first of all, if the father's a wreck like the way he is--" Stern said.
"Right," said Trump.
"Can you imagine the sex with this troubled teen?" said Stern.
"Yeah, you're probably right," Trump said. "She's probably deeply troubled and therefore great in bed. How come the deeply troubled women, you know, deeply, deeply troubled, they're always the best in bed?"
Stern responded, "Because they're looking for love, they're looking for positive affirmation, they're looking for a father figure who will love them and tell them they're wonderful and they'll never be enough. No matter how many times you tell them they're beautiful, no matter how many times you tell them you love them they want to suck it up more. They would drain you like a vampire until your head caved in if they could get more love."
A representative for Lohan told CNN in an email, "Right now, Lindsay is choosing to focus on the positive things happening in her life and has decided to disregard the comments made about her by Presidential nominee Donald Trump. She is focusing on helping children around the world in need and that's where her passion is."
Trump continued in the interview, "Well I have a friend Howard who's actually like a great Playboy, I mean, I don't say this about men, this guy does very well. He runs silent, runs deep as they say, like a submarine. He will only look for a crazy woman. He says, 'Donald, Donald, please, please, I only want the crazy women.'"
"They're desperate," adds Stern.
"What is this guy all about," said Trump. "But for some reason, what I said is true. It's just unbelievable. You don't want to be with them for long term, but for the short term there's nothing like it."
On Rosie O'Donnell:
In a February 2007 episode, Trump took aim at Rosie O'Donnell, who he had a long running feud with, saying he'd pay lots of money to not receive oral sex from her.
"Is there nothing she could do to get back in your good graces? If she came in and blew you?" asked Stern.
"No, I'd pay a lot of money for that not to happen," Trump responded. "That's one of the most unattractive people. She took great offense at the fact I said she better be careful or I, or one of my friends would go and pick up her wife."
On Anna Nicole Smith:
Also in the February 2007 episode, Trump eventually moved on to Anna Nicole Smith, who had died four days earlier.
"It looks like she had the lips pumped," Trump said. "For all of your many women listening why do women have their lips pumped? It is the most disgusting thing to look at these big fat pumped up tires."
Trump's distaste for women with big lips extended beyond Smith. In March 2011, Trump told actress Lisa Rinna on "Celebrity Apprentice" he thought she looked better because her lips had" a little reduction there."
He followed up on the comments on YouTube.
"I give her a little hard time. You know, she had those big puffed up lips, I don't know why women do that, but the lips we're like, gigantic," Trump said in a video on his YouTube blog. "It even affected her speech. And I see it so often in New York, especially in society women. A lot of them are good looking women, and then they show up one day and their lips are five times their size."