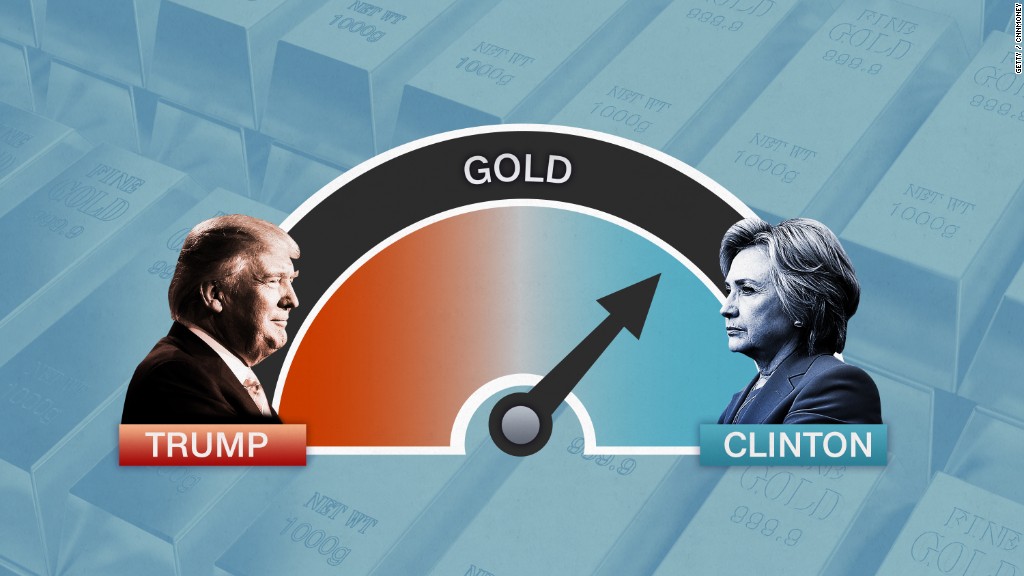 Investors are now saying loudly and clearly: We want Hillary Clinton to win, and we think she will.
Nearly all the "market metrics" point to a Clinton victory.
Investors are no longer gobbling up gold, which usually happens when they are worried. The price has fallen 6.5% since the first presidential debate, as Donald Trump's poll numbers have tanked.
Similarly, the Mexican peso jumped sharply after the release of the Access Hollywood tape of Trump's vulgar comments about women on October 7. The peso has stayed elevated ever since, a bad sign for Trump.
But the biggest indication of just how much sentiment has shifted in favor of Clinton comes from investor polling data.
Sixty percent of investors now say Clinton is the best candidate for the stock market, according to a new E*Trade poll of nearly 1,000 active investors versus only 40% for Trump.
The survey was conducted October 1 through October 10. It's a sharp bounce from the second quarter when E*Trade found only 28% of investors believed Clinton would be best for stocks -- barely ahead of Trump's 25% at the time.
At this point, all the "market metrics" point to a Clinton win, except one. Here's the latest run down from CNNMoney:
Related: Sign up for CNNMoney's morning market newsletter: Before The Bell
Follow the yellow brick road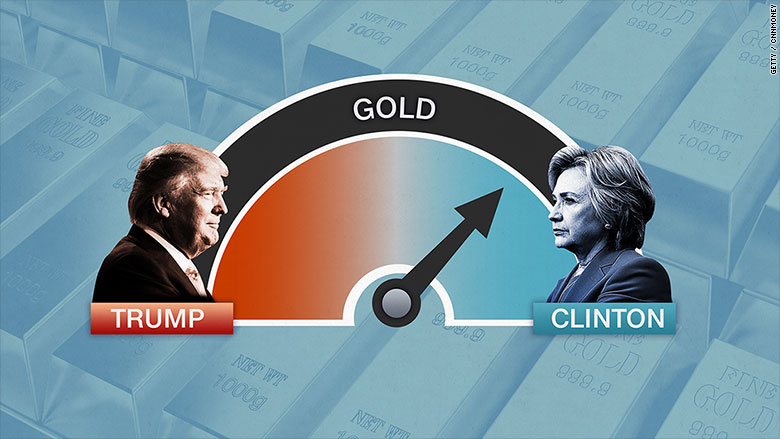 Gold is now trading below $1,300 an ounce for the first time since June. The yellow metal has been sinking ever since the first U.S. presidential debate in late September. It's down 4.5% so far in October.
There are several factors that could be driving gold down. Key among them is that investors aren't as worried anymore about a surprise Trump win along the lines of what happened with Brexit.
Related: The American Dream: Rich are fearful for its survival
'It's the economy, stupid'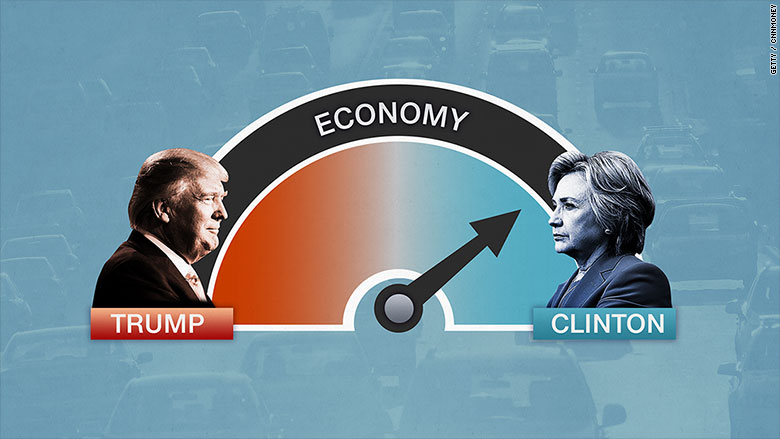 Moody's Analytics has a special model to predict who will end up in the White House based on how the economy is doing. It has correctly predicted the winner every election since 1980.
This year, the model points to a solid Clinton win because of a relatively healthy economy.
Only two factors could change the model enough to point to a Trump victory: if gas prices spike above $3 a gallon, or President Obama's approval rating falls substantially. Neither seems likely to happen. (The U.S. average gas price is sitting at $2.24 a gallon, according to the AAA fuel gauge.)
Investors seem to be happier with the state of the economy too. Today, 45% of investors give the U.S. economy the top "A" or "B" grades, up a lot from only 32% of investors in the second quarter, according to the E*Trade survey of active investors.
Related: Google and Amazon are in a race to $1,000
The Mexican factor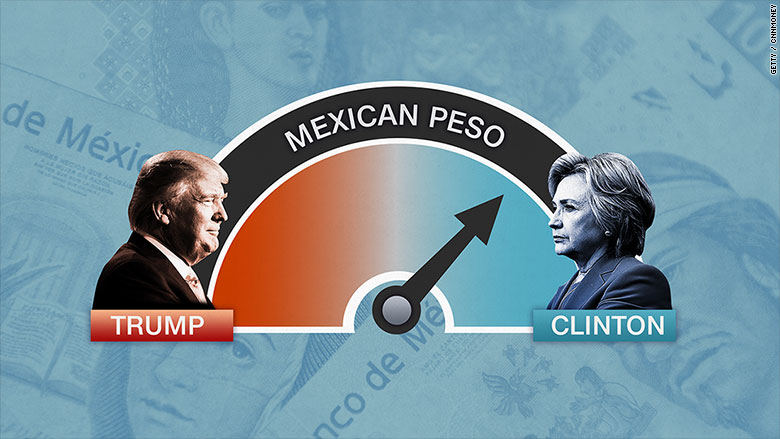 It might sound odd to look at Mexico's currency for clues on who will win the U.S. presidency, but the Mexican peso has become a new proxy for the Clinton v. Trump matchup. At the moment, it's signaling a Clinton victory.
Why? It all comes down to Trump's comments on Mexico. He wants to build a wall between the U.S. and Mexico (that he wants Mexico to pay for), renegotiate NAFTA and come down hard on U.S. companies that move factories, and supposedly jobs, south of the border.
So every time investors think Trump's chances of winning improve, the Mexican peso falls. And when Wall Street believes Trump doesn't have much of a shot at the White House, the Mexican peso rises.
The Mexican peso jumped 2% the weekend that the "Access Hollywood" tape came out and the second presidential debate. It has stayed at that higher level ever since then. Poll after poll now shows Clinton with a solid lead nationally.
Related: Hillary Clinton might lose Ohio because she badmouthed coal
The 1 metric pointing to Trump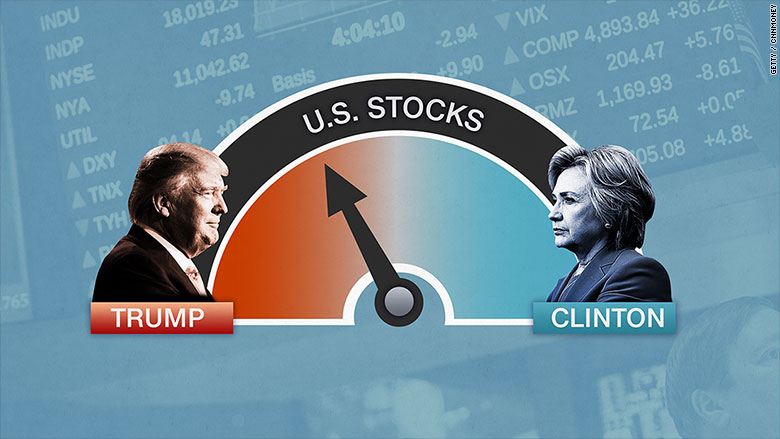 There's just one market metric pointing to Trump: the S&P 500 test developed by Sam Stovall, a market expert at CFRA Research.
How the broader market performs between August 1 and October 31 has been an incredibly reliable predictor of who ends up in the White House. If the S&P 500 (the broadest U.S. stock market gauge) goes up in that critical three month period, Clinton to win. If it falls, expect a Donald Trump victory.
Right now, the stock market is signaling a Trump win. The S&P 500 is about 2% below where it was on August 1.
"I remind investors that these type of studies should be viewed as a guide and never gospel," Stovall told CNNMoney.
Of course, politics is hardly the only factor driving the stock market. There's a lot more attention on the Federal Reserve's possible December rate hike and the deluge of corporate earnings. If anything, the political factor influencing the broader market is concern that Clinton will win AND the U.S. Senate or House could go to the Democrats. Investors prefer divided government, which leads to fewer changes in laws.
Related: In Florida, it's retirees versus Latinos this election
--CNNMoney's Patrick Gillespie and Paul R. La Monica contributed to this report.