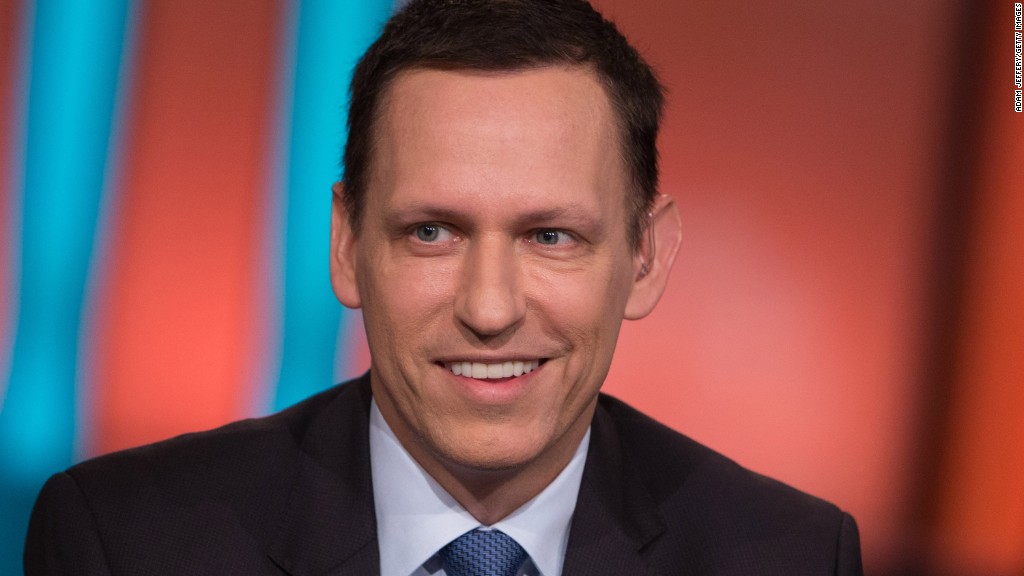 Elite startup accelerator Y Combinator doesn't plan on purging billionaire Peter Thiel from its roster of part-time partners.
Over the weekend, news broke Thiel was donating $1.25 million to Donald Trump's campaign. Thiel, who cofounded PayPal and Palantir, has been a vocal supporter of Trump. In July, he gave a speech at the Republication National Convention, but this is the first time that he's directly funded Trump's campaign.
Thiel, who was an early backer of Facebook (FB) and is its longest serving board member, was also responsible for another controversial investment: He secretly financed the Hulk Hogan lawsuit that later killed media site Gawker.
The timing of the donation drew criticism from some in the tech industry, who quickly turned their attention to Y Combinator, where Thiel has been a part-time partner since March 2015.
The three-month accelerator program, based in Mountain View, California, has graduated companies like Airbnb, Dropbox, Reddit, Zenefits, and Twitch.tv. Part-time partners hold office hours where they make themselves available to founders who are part of the YC family.
"The lack of congruence with a registered Trump delegate in your YC inner circle is deafening," tweeted David Heinemeier Hansson, partner at 37Signals and creator of Ruby on Rails.
Erica Baker, an engineer at Slack and team member at Project Include, tweeted "anyone who is supporting this man who is an existential threat to me and mine is not someone who cares about me."
On Monday, Project Include, an organization aimed at increasing diversity in Silicon Valley, said it was cutting ties with Y Combinator because of its continued connection to Thiel.
"Thiel's actions are in direct conflict with our values at Project Include," read a post from Ellen Pao, who cofounded Project Include. "Giving more power to someone whose ascension and behavior strike fear into so many people is unacceptable. His attacks on black, Mexican, Asian, Muslim and Jewish people, on women, and on others are more than just political speech; fueled by hate and encouraging violence, they make each of us feel unsafe."
Related: Silicon Valley engineer: 'We're in a really precarious moment with race relations'
But YC is stuck between a bit of a rock and a hard place, it seems.
Paul Graham, who cofounded the organization and ran it for nearly a decade, sussed out the difficulties in cutting professional ties with someone who has different political beliefs.
Graham said a part-time partner is like an employee."Would you fire an employee who donated a lot of money to Trump and spoke at the convention?" he asked.
Graham, who stepped down as YC president in 2014, hasn't been shy about his own political leanings.
A recent tweet referred to Trump as a troll. Still, Graham wrote: "How would you feel if companies run by Republicans did the same and fired employees who were big Hillary supporters?"
Sam Altman, who took over from Graham, is of a similar mindset.
"Diversity of opinion is painful but critical to the health of a democratic society. We can't start purging people for political support," tweeted Altman, who has previously compared Trump to Hitler.
In a post on Monday, Altman wrote, "The only two vocal Trump supporters I am close to are Peter Thiel and my grandma ... This has been a strain on my relationship with both of them—I think they are completely wrong in their support of this man."
He made a distinction between Trump's words and Thiel's support of Trump: "If Peter said some of the things Trump says himself, he would no longer be part of Y Combinator."
Altman said he is, however, working on new project to "stop Trump" but declined to comment further.
Thiel's donation comes at a precarious time for the Trump campaign. Over the past 10 days, Trump has been caught in a heated crossfire with a number of women who have alleged various degrees of sexual assault.
Related: 145 tech leaders: "Trump would be a disaster for innovation"
The allegations came after a 2005 tape surfaced, where Trump made offensive and misogynistic comments about women. Critics have said that Trump's comments exemplify rape culture, the act of normalizing and overlooking violence against women. Trump has denied any wrongdoings.
Baker, who has long been vocal about Silicon Valley's diversity failings, tweeted: "Let no person who claims to give a damn about diversity and inclusion in one breath even begin to support & apologize for Thiel in another."
In addition to his involvement with YC, Thiel is also a cofounder and partner at Founders Fund and has individually backed startups like Reddit and Asana.
Alexis Ohanian and Dustin Moskovitz, founders of Reddit and Asana, respectively, have both been vocal in their anti-Trump stances.