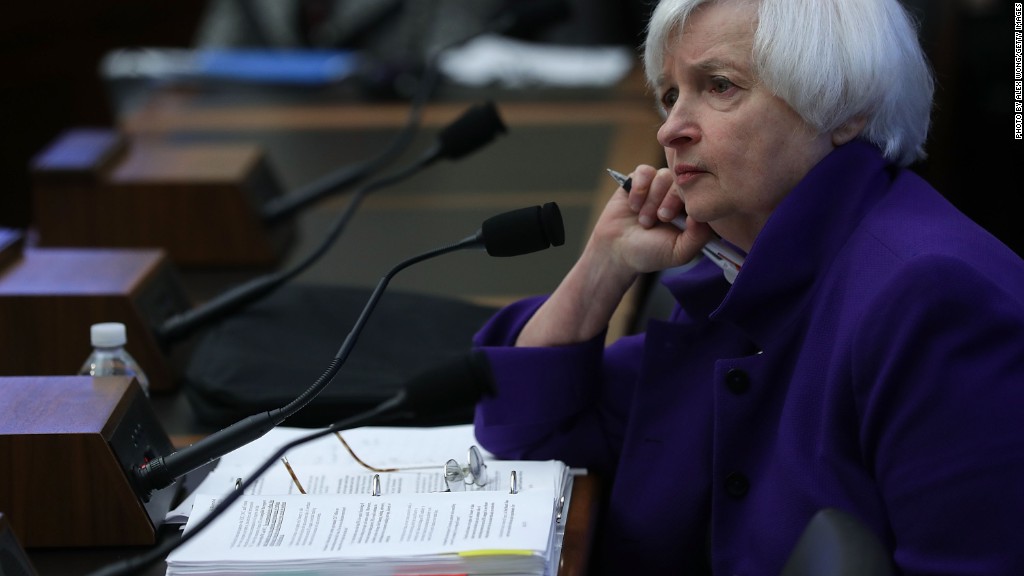 Good news for investment bankers at Goldman Sachs! The so-called Vampire Squid's bonus pool got a heck of a lot bigger in the third quarter thanks to its booming bond trading and underwriting businesses as well as a rebound in the stock market.
Goldman Sachs (GS) set aside $3.21 billion in the third quarter for salaries, benefits and expected bonuses for its employees. That's 36% more than how much it set aside in the same period a year ago.
Overall, Goldman employees are averaging $263,610 in compensation for the first nine months of 2016. (Cue the snickers from Donald Trump supporters and WikiLeaks fans about how Goldman can afford to pay Hillary Clinton even more for speeches.)
And if the uptick in compensation continues, employees might wind up with more in their pockets by the end of this year. But so far, Goldman employees are still making less than this time a year ago. The average compensation per Goldman employee was just under $290,000.
And Goldman bankers, traders and executives are bringing in considerably less cash than they did 10 years ago -- back when Wall Street was really booming. The average compensation during the first three quarters of 2006 was more than $540,000.
Business news -- personalized. Download the new CNN MoneyStream app
Now, I hear all you amateur Itzhak Perlmans out there playing a sad tune for Goldman employees on your tiny Stradivarius violins. More than a quarter of a million dollars over nine months is certainly nice work if you can get it.
But Goldman and other big banks still need to pay handsomely to attract talent.
The blemishes on the reputations of investment banking giants over the past decade have pushed many talented younger workers to flock to Silicon Valley instead of Wall Street.
Related: Big banks thriving despite Wells Fargo scandal
Why go work for Goldman, Morgan Stanley (MS) or JPMorgan Chase (JPM) when you can make the world a cooler place at Facebook (FB) or Google and still make serious coin doing so?
Heck, even the former CFO of Morgan Stanley, Ruth Porat, left the banking world last year to become the CFO of Google parent company Alphabet (GOOGL).
But the strong results from Goldman show that Wall Street isn't dead yet. Goldman reported overall revenues of $8.2 billion in the third quarter, up nearly 20% from last year. Profits soared almost 60% to $2.1 billion. Both sales and earnings topped forecasts.
Shares of Goldman rose 2% in early trading on the news. Goldman's solid numbers follow similarly good earnings from rivals JPMorgan Chase, Citigroup (C) and Bank of America (BAC) in the past few days. Morgan Stanley will report its results on Wednesday.
Bank stocks overall have rebounded sharply in the past few months, and that has helped to lead the overall market higher. Fears of the U.K.'s Brexit hurting Wall Street giants have started to fade.
Investors also don't seem to fear that the Wells Fargo (WFC) fake account scandal or worries about how much Deutsche Bank (DB) will have to pay U.S. regulators to settle charges stemming from the subprime mortgage crisis will hurt the broader sector either.