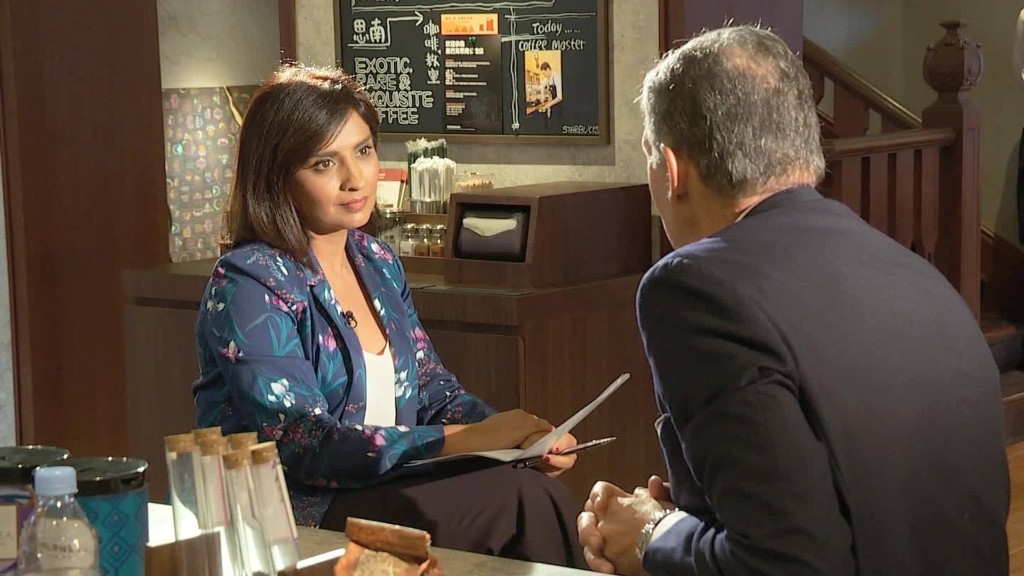 Starbucks CEO Howard Schultz is unfazed by China's slowing economy.
Even with China growing at its slowest pace in 25 years, Starbucks is planning to open more than one new store a day for the next five years in the world's second largest economy.
"I think if you look at the 45 year history of our company ... one of the things that we've done really well is that we've always played the long game," Schultz told CNN in an interview in Shanghai on Wednesday.
By 2021, Starbucks (SBUX) aims to have nearly 5,000 stores across China.
Related: China's economy holds steady -- but for how long?
It's been a long road already for the coffee giant in the world's most populous nation, where it opened its first store 17 years ago.
"We had to educate and teach many Chinese about what coffee was -- the coffee ritual, what a latte was," Schultz said. "So in the early years, we did not make money."
His critics on Wall Street and elsewhere said Starbucks "was never going to succeed in China," he recalled.
But his patience paid off.
"If you look five years ago, most of our business, believe it or not, was expats and tourists in China," he said. "Today, it's mostly Chinese."
Related: Hillary Clinton will win U.S. election, says Starbucks CEO
Schultz expects China to eventually overtake the U.S. as the company's largest market, although he hasn't said exactly when. (It's already No. 2.)
"One of things I think we've done very well is we've invested significantly ahead of the growth curve -- in people, in systems," he told CNN. "We just finished a fantastic year in China where the results are as strong as they've ever been."
Such talk is enviable for huge U.S. firms that have failed to get into China -- like Facebook (FB) and Netflix (NFLX) -- or been pushed out -- like Uber and Google (GOOG).
Schultz says it helps that Starbucks is selling coffee, and not active in a more sensitive market.
"We're not in a high tech business, so we're not trying to change behavior in terms of technology," he said.
Related: Billionaire says Chinese real estate is 'biggest bubble in history'
Other big American brands that had enjoyed years of success selling food and drink in China are now faring less well.
KFC, which is owned by Yum Brands (YUM), is spinning off its China business and bringing in outside investors. McDonalds (MCD) is also looking for a partner to take over the franchise of its China stores.
"They have other challenges ... I can't speak for them," Schultz said, ruling out the possibility of Starbucks following a similar path.
"Whether we're in a small city or a large city, we think that the way in which we can be successful is if the stores are operated by Starbucks people," he said. "We believe that the future of Starbucks in China is still very early."
-- Reed Alexander contributed to this report.