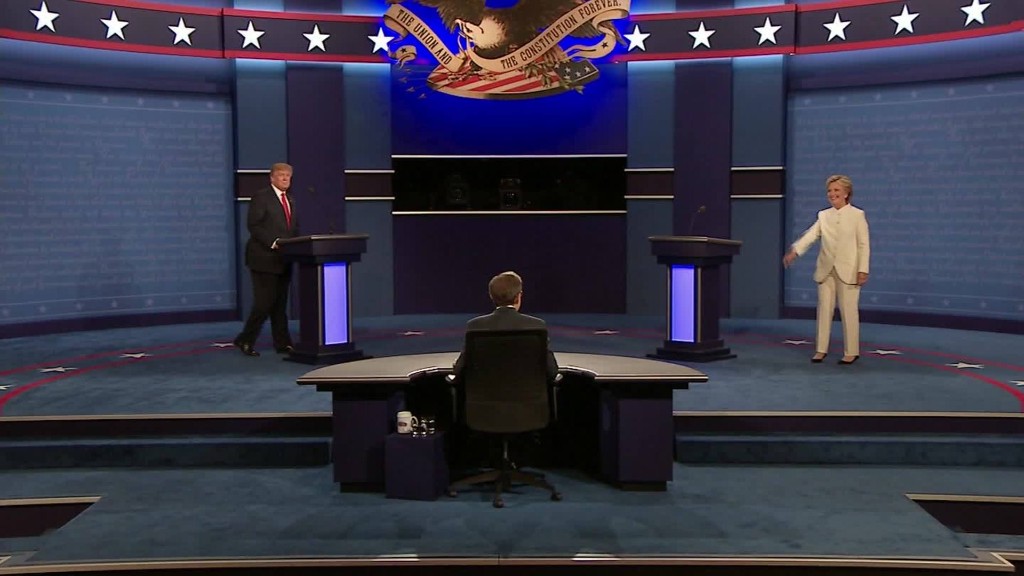 Chris Wallace delivered a sterling performance as moderator of the final presidential debate on Wednesday night, maintaining order and focusing on substantive issues that matter to American voters.
In an otherwise nasty and vitriolic campaign season, the "Fox News Sunday" host pressed Hillary Clinton and Donald Trump on matters pertaining to the U.S. economy, America's foreign policy and the Supreme Court, while also addressing pressing questions about both candidates' fitness to lead.
Wallace was widely praised for his performance by fellow journalists, political operatives on both sides of the aisle and even a few celebrities.
"Chris Wallace did a good job. Taking no shit, like a veteran teacher monitoring detention hall," Stephen King, the author, tweeted.
"Gotta say, Chris Wallace is a pro," wrote Emily Nussbaum, The New Yorker's television critic. "Cool demeanor, asking clear follow-ups."
"If Chris Wallace keeps this up, and refuses to get into the muck, he will have run the best presidential debate in recent memory," Avik Roy, the Forbes opinion editor and President of the Foundation for Research on Equal Opportunity, tweeted halfway through the debate.
Wallace also pressed both candidates on some of their most vulnerable points. He asked Clinton about her deleted emails, the Clinton Foundation and sexual assault allegations against her husband, and asked Trump about the sexual assault allegations against him and his unwillingness to accept the results of the election.
Neither candidate took issue with Wallace's performance during the debate -- a rarity in any political debate -- and both could be seen shaking his hand afterward and commending him on his performance.
Wallace was the first Fox News host ever to moderate a general election presidential debate, and his presence on the stage was seen as an opportunity for Fox News to rise above its reputation for catering to a more conservative audience.
"I take it very seriously," Wallace said on his program last Sunday. "This is not a TV show. This is part of civics, the constitution, if you will, in action, because this is helping millions of people decide who we're going to elect as the next president."
Related: Donald Trump refuses to say whether he'll accept election results
Wallace took his role very seriously indeed. Rather than starting with a question about the latest controversy in the news, he launched into a serious discussion about the future of the Supreme Court.
"Chris Wallace intends to have a serious discussion," Bret Stephens, the Wall Street Journal deputy editorial page editor, tweeted early in the debate. And later: "So far the winner of this debate is Chris Wallace."
"It's interesting that when the moderator asks about a policy issue and lets the candidates talk, you can tell where the candidates stand," wrote Michael Grunwald, a senior writer at Politico Magazine.
Wallace also received praise from other current and former Sunday morning show hosts, including CBS "Face The Nation" host John Dickerson and former NBC "Meet The Press" host David Gregory.
"Wells done by Chris Wallace," wrote Gregory, now a CNN political analyst. "I would have liked fewer topics and more engagement, but tough questions for both. Kept order. He's a pro."