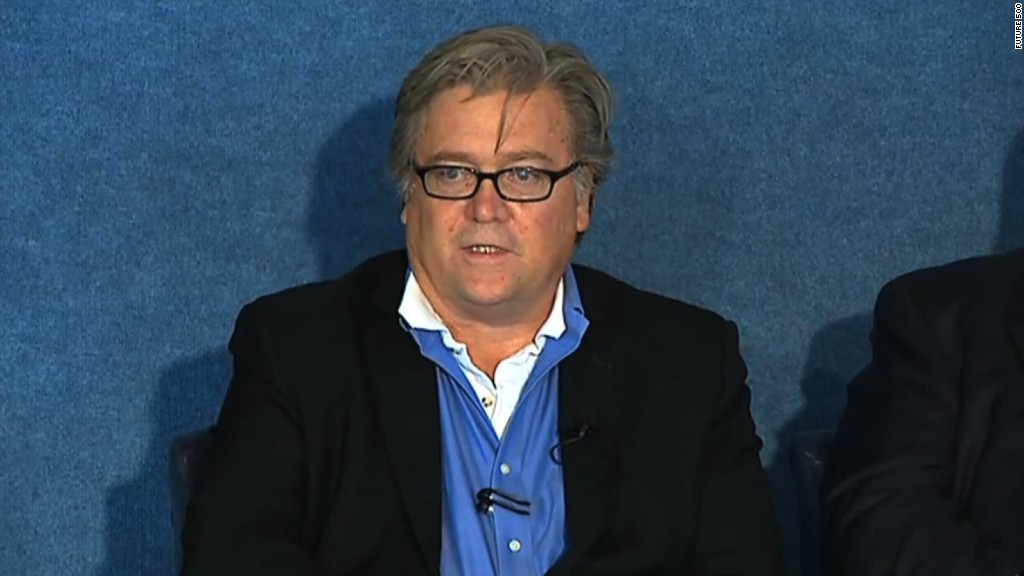 Trump campaign CEO Steve Bannon says Donald Trump is "the master of the head fake."
According to Bannon, the news that President Obama's Trump-supporting half-brother Malik Obama is attending Wednesday's debate is "just an appetizer."
Trump will be bringing guests who "expose Bill and Hillary's sordid past," Bannon told CNN as he arrived in Las Vegas for the debate late Tuesday night.
When asked who comes up with the ideas to invite these guests, Bannon said, "We're a team."
Bannon, a longtime conservative media executive, was the chairman of the far-right Breitbart News until August, when he took leave from Breitbart to become the CEO of the Trump campaign.
He has not granted any on the record interviews since taking the job. But he gladly answered questions while walking toward baggage claim in Vegas. Along the way, he was approached by a fellow flyer who asked for a selfie.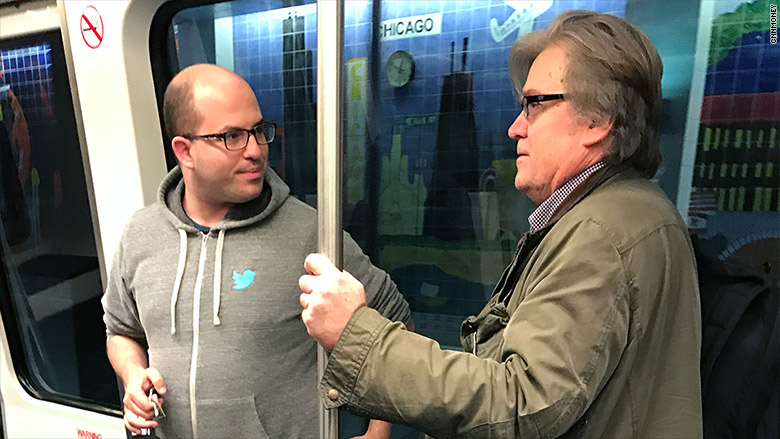 Bannon said Trump is in good spirits heading into the debate -- despite a huge deficit in national polls.
"Right now he really, really thinks he's going to win," Bannon said.
And, like Trump, Bannon has lots of opinions about the media coverage of the race.
"What the media misses is the amount of anger that's out there. Trump didn't create that," Bannon said.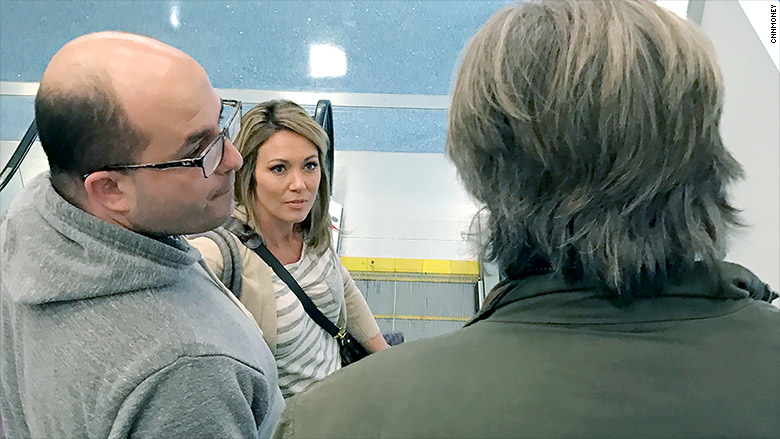 He suggested that a visit to a Trump rally would confirm this.
The pro-Trump Breitbart web site is an outlet for those passions. The site has teed up storylines for Trump before past debates.
Related: Trump and the Breitbart election
Ryan Lizza, writing in The New Yorker this week, asserted that "Trump and Bannon have given up on trying to defeat Clinton. They seem more interested in creating a platform for a new ethno-nationalist politics that may bedevil the Republican Party—and the country—for a long time to come."
Bannon disputed that on Tuesday night, saying "the media thinks this is an ethno-nationalist movement" akin to the National Front in France, but it's "much more of a populist movement."
Bannon did not deny talk about a potential "Trump TV" network or streaming service after the election. When asked if there is anything to the rumors, Bannon responded with a smile and said, "Trump is an entrepreneur."
The question came up again later, and he answered in exactly the same way: "Trump is an entrepreneur."
Without answering directly, Bannon pointed out Trump's social media prowess on Facebook and Twitter. "Look at the engagement. It's incredible," he said. "They'll go live on Facebook and get a million viewers."
The speculation about "Trump TV" presumes that the GOP nominee will lose on election day. But Bannon said Trump is confident of victory.
If Clinton does prevail, will Trump refuse to concede the race?
Bannon addressed the question by returning to his point about the rallies. "You hear the crowds: 'Lock her up. Lock her up.'"
And he defended Trump's talk of a "rigged election," which has been rejected by voting experts and some GOP leaders.
"There IS voter fraud," Bannon said. Widespread, "large scale" voter fraud as Trump has claimed without evidence? "I know there is voter fraud."