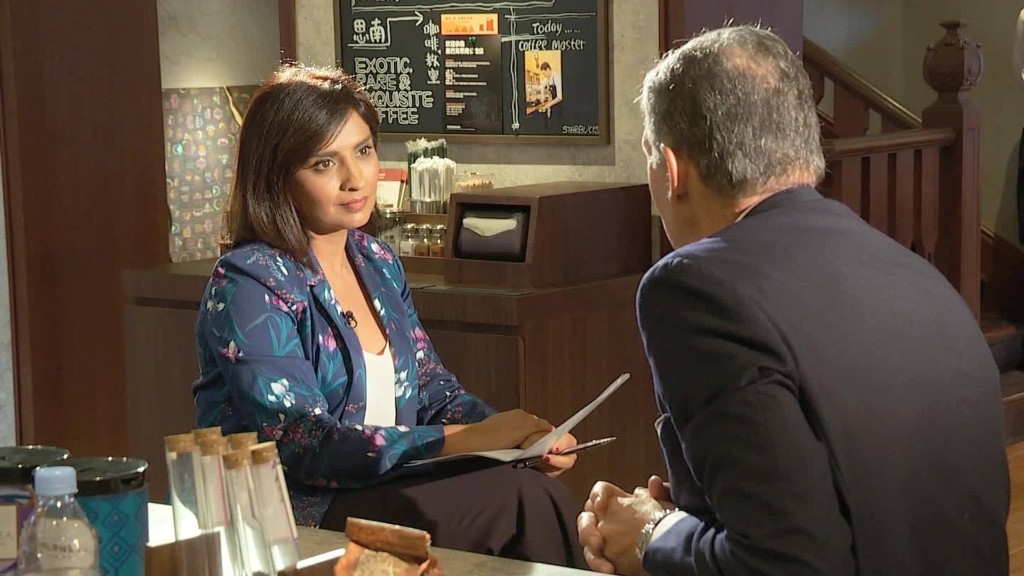 As far as Howard Schultz is concerned, the U.S. presidential election is now a foregone conclusion.
"I am confident that Hillary Clinton will become the next president of the United States," the Starbucks (SBUX) CEO told CNN in Shanghai on Wednesday.
He's not alone in already ruling out a Donald Trump victory next month. PaddyPower, a top Irish betting site, said Tuesday that it was paying out $1.1 million to those who bet on Clinton.
Calling himself a "life-long Democrat," Schultz endorsed Clinton last month. He also backed Barack Obama for president in 2008 and 2012.
Related: Starbucks CEO endorses Hillary Clinton
Schultz was on a list of prominent business leaders -- including Apple (AAPL) CEO Tim Cook and Microsoft (MSFT) founder Bill Gates -- considered by Clinton as a potential running mate. (She eventually chose Virginia Sen. Tim Kaine.)
Asked Wednesday whether he would've been interested in joining Clinton's ticket, Schultz said, "I'm going to have to dodge that question."
"I'm not seeking political office at this time in my life," he told CNN. "I know Hillary and Bill Clinton well. I've been with them -- I have great respect for them. I don't think this was my time to be in the political arena."
This year's race for the White House has been especially bitter, typified by the nasty personal exchanges between Trump and Clinton at last week's presidential debate.
"We have gone through a tough slog in which we have witnessed things which most Americans are not proud of," Schultz said.
Related: Clinton camp considered Tim Cook, Bill Gates for running mate
The U.S. is now "in need of a moral and economic transformation," he added. "I think we are in need of civility, of unity, and the kind of authentic leadership that will unite the country, and what we do not need is division and vitriolic statements in which we are creating hatred or bigotry of any kind."
The Starbucks chief also said he expects that things will settle down after the election and that Clinton "will do a great job."
"We will get back to what's most important -- and that is the promise of America," he said. "The American Dream and the aspiration, the idea of what America is all about."
Those are ideas that Schultz, who grew up in subsidized housing in Brooklyn, takes very seriously.
Related: Howard Schultz blasts 'bombastic' American politics
"I am a living proof of the American dream," he said. "A kid from the other side of the tracks that has succeeded far beyond my station in life."
But he said that "right now, unfortunately, we are leaving many Americans behind."
He reeled off a list of grim statistics about food insecurity, youth unemployment among African Americans and Hispanics, homelessness, student debt and the dysfunctional tax system.
Related: Starbucks employees get a raise
"We need to walk in the shoes of those people who are not being represented and do not have a voice," Schultz said.
One suggestion he offered for the next administration is for young people to be required to carry out a year of public service.
"There is a great, great need for our elected officials in Washington to understand, more than ever before in my lifetime, that whether you are a Republican or a Democrat, you are an American." Schultz said. "And the American people are relying on all of us to do everything we can to raise the level of opportunity and aspiration for everyone."
-- Reed Alexander contributed to this report.