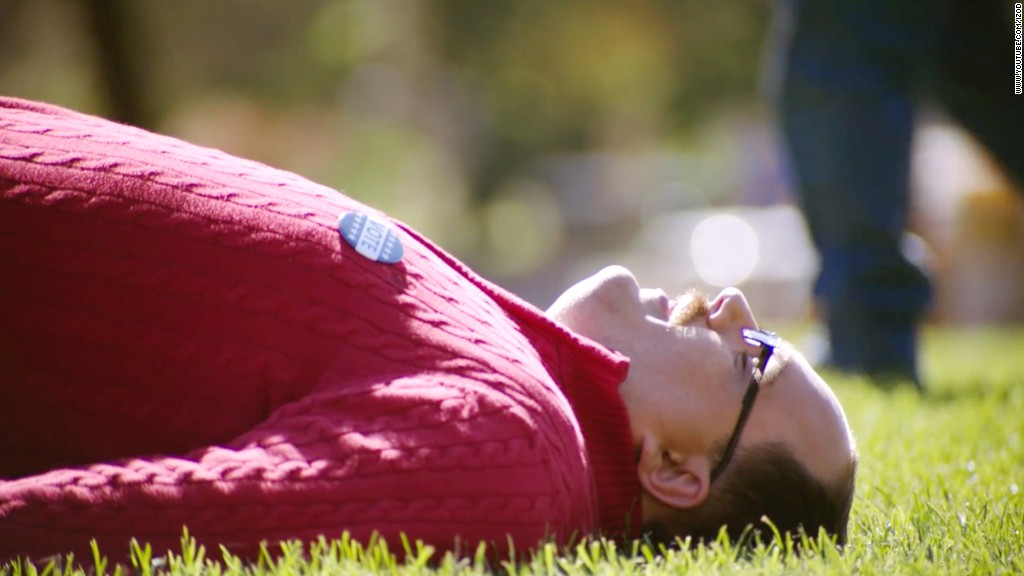 Ken Bone's brush with stardom isn't over yet.
Bone is the undecided voter in the eye-catching red Izod sweater who asked a question during the second debate, which then went viral. Now Izod is climbing on board the everyman phenomenon by featuring Bone in a new get out the vote commercial.
In the spot called "Ken Bone's Fifteenth Minute," Bone encouraged people to "get out and vote. Get out and make your voice heard. It's all about being part of the political process."
Bone also said Americans want "devoted leaders" in office, and that people need to vote in order for that to happen.
"It's really important that we don't give up on the political process," he added.
The commercial appears on Izod's YouTube channel, and a shorter version will run on TV.
Related: Ken Bone leaves seedy comment trail on Reddit
The ad campaign asks viewers this question: "If you had fifteen minutes, what would you say? Wearing an IZOD red sweater is optional, but recommended...we want you to be comfortable."
The Izod commercial comes after it was revealed that Bone had posted creepy comments on Reddit about photos of nude women, and confessed to committing felony insurance fraud.
The ad was posted to YouTube on Thursday, well after the Reddit comments became public.
The company learned about the Reddit posts after the crew had already arrived on location to film the spot, according to Izod executive Mike Kelly.
"Ultimately, we spent time with Ken and fell in love with the message and wanted to still get behind the message," Kelly said, "which we felt was bigger than him."
Related: Ken Bone sells out for Uber
Bone has already partnered with Uber on a similar get out the vote promotion. He wasn't paid for that spot but instead received Uber credit.
"I don't think I'm going to continue to be internet famous forever," Bone said in the ad. "I really do expect at the end of the election, that it winds down. And when it's over, it's over, and I'm happy to have played my role."