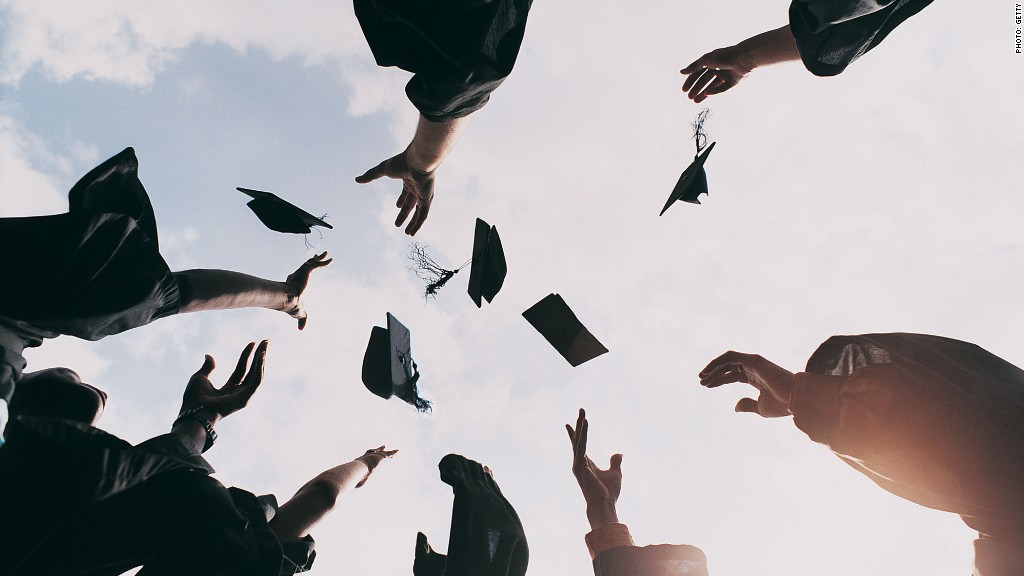 Here's a college degree that's going down in price.
Schools with top MBA programs are flocking to offer more affordable, online versions -- and the University of Illinois recently launched one of the cheapest yet.
It costs students less than $22,000 total. That's about one-third of the price for the university's traditional, on-campus program.
It's an affordable bill compared to both traditional MBA programs and competing online programs.
Temple University's top-rated online MBA program charges nearly $60,000 for the degree, according to U.S. News and World Report. At the University of North Carolina, the online degree costs about $100,000.
Getting an MBA online isn't for everyone. But people who want to get one -- without quitting their jobs and taking on a lot of debt -- are signing up.
The University of Illinois launched the program, which it's calling an "iMBA," in January. About 265 people have enrolled and are, on average, 37 years old with 12 years of work experience. Most live in the U.S., but nearly 18% are abroad.
The college has partnered with Coursera, a company that has been putting a variety of courses from institutions like Stanford and UPenn online since 2012. Anyone with internet access can enroll in those courses, and more that 22 million people have taken advantage of the service to date.
But the online MBA with the University of Illinois is the first accredited degree program Coursera has offered.
"We're catering to people who typically wouldn't be able to come into an MBA program at this stage in their life, but still need it to advance their careers," said Nikhil Sinha, the Chief Business Officer at Coursera.
Related: Students are graduating with $30,000 in loans
Gautam Ramnath is one of those students. He's an independent consultant, and his wife's foreign service career requires the family to move every two or three years.
When researching MBA programs, the Illinois native was looking for a school that was affordable, mobile, and had a good "brand" name. He believes the University of Illinois iMBA has all three.
Ramnath speaks highly of the classes, which are made up of video lectures, live class sessions, quizzes, and group assignments.
"We have these brilliant live sessions where I'm looking at my classmates in what looks like a Brady Bunch mosaic screen," he said.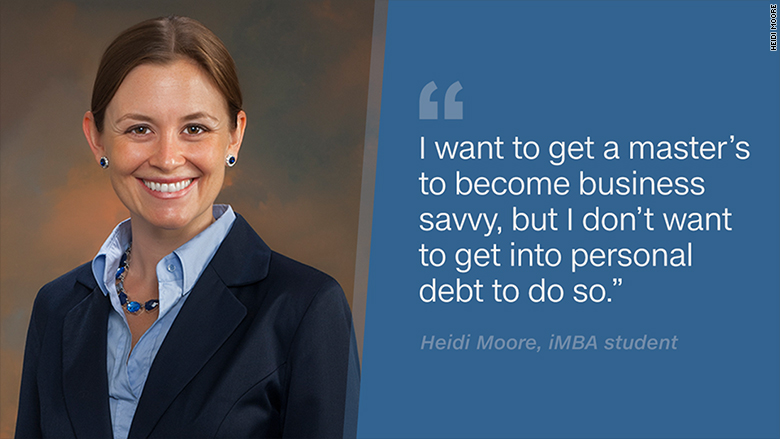 When colleges first started putting classes online, that wasn't always the case.
"About 10 years ago, online programs were really the stepchild of course offerings," said Chioma Isiadinso, a former Harvard Business School admissions officer and CEO of the admissions consulting firm Expartus.
But over the past decade, there's been drastic improvement as colleges began to tailor their programs to an online audience, aiming to recreate the interactive experience students get in the classroom.
"There was a stigma attached to an online MBA years ago, but today employers are not asking how you got the degree. What's more important is where you went and what skills you learned," Isiadinso said.
Related: How to pay off your student loans faster
Still, the online aspect of the Illinois program made Heidi Moore, a systems engineering manager at Lockheed Martin Aeronautics, nervous at first. But she's been pleased with how many ways there are for her to communicate with her professors and classmates.
The price point for the iMBA and the flexibility of the program are what really caught her eye. With a bachelor's from Purdue in Aviation Technology, she wanted to get a more business oriented degree, but she said it wouldn't be worth the cost of putting her career on hold to do it. She'll finish the iMBA in three years, while continuing to work full time.
"I want to get a master's to become business savvy, but I don't want to get into personal debt to do so. To me, that's a contradiction," said Moore.
Related: Would you get free tuition under Hillary Clinton?
Both Moore and Ramnath say they've already been able to use skills learned in class on the job.
The iMBA program is currently accepting applications for classes starting in January 2017. You must have a bachelor's degree. Submitting GRE or GMAT scores is recommended, but not required. Coursera declined to provide the acceptance rate at such an early stage, and said it expects the program to grow rapidly.
Coursera and the University of Illinois have also partnered to offer a Master of Computer Science in Data Science, which began this fall. The total cost, like the iMBA, is under $22,000.