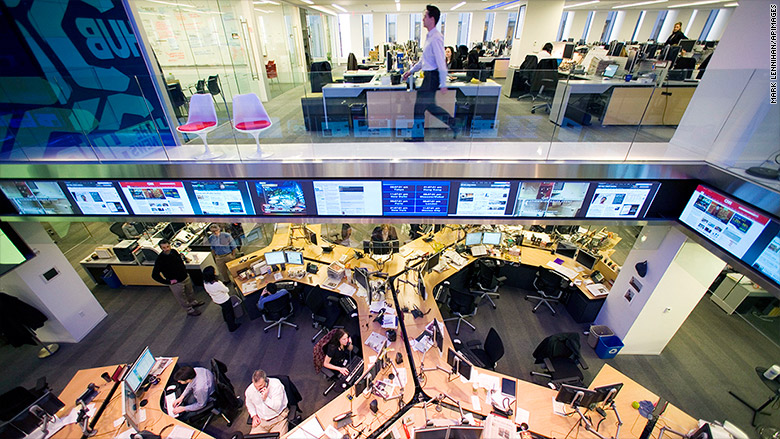 The Wall Street Journal is seeking a "substantial number" of buyouts in an effort to "limit" layoffs, the newspaper's editor-in-chief Gerard Baker said Friday.
In a memo sent to staff, Baker said that all news employees worldwide are eligible for an "enhanced voluntary severance benefit."
The benefit, he said, is designed to "limit the number of involuntary layoffs."
The announcement came two days after the newspaper announced a substantial "revamp," that would likely include consolidation of sections.
"We are seeking a substantial number of employees to elect this benefit, but we reserve the right to reject a volunteer based on business considerations," Baker wrote in the memo, which was provided to CNNMoney.
"I regret of course the need for such a move and I appreciate deeply the dedication all of you continue to show through challenging times," he added. "Thanks to your hard work, the news department continues to produce world-class journalism every day and I'm confident this process is the right one to set us on the right footing for renewed growth in the years ahead."
The enhanced buyout package will be available through October 31.
Such announcements have become commonplace in a news media industry plagued by economic uncertainty. They've become relatively frequent at the Wall Street Journal, too.
The paper was hit by extensive layoffs last year as part of a reorganization of its coverage areas and a renewed focus on its digital coverage.
The grim news didn't end with Baker's memo on Friday. Shortly after it was sent out, Wall Street Journal employees received another email -- this one from the editor of Barron's, Ed Finn.
Barron's, like the Journal, is owned by Dow Jones.
"The email Gerry Baker just sent about wsj buyouts says that dj is offerings 1.5x the standard buyout package," Finn wrote in the email, according to media reports. "Are we planning to go to the employees we are laying off at Barron's next week and offer them 1x the standard package. That could create some problems. Please advise."
Finn intended to forward his email to a select group of individuals, but instead wound up relaying the message to the entire Wall Street Journal newsroom.