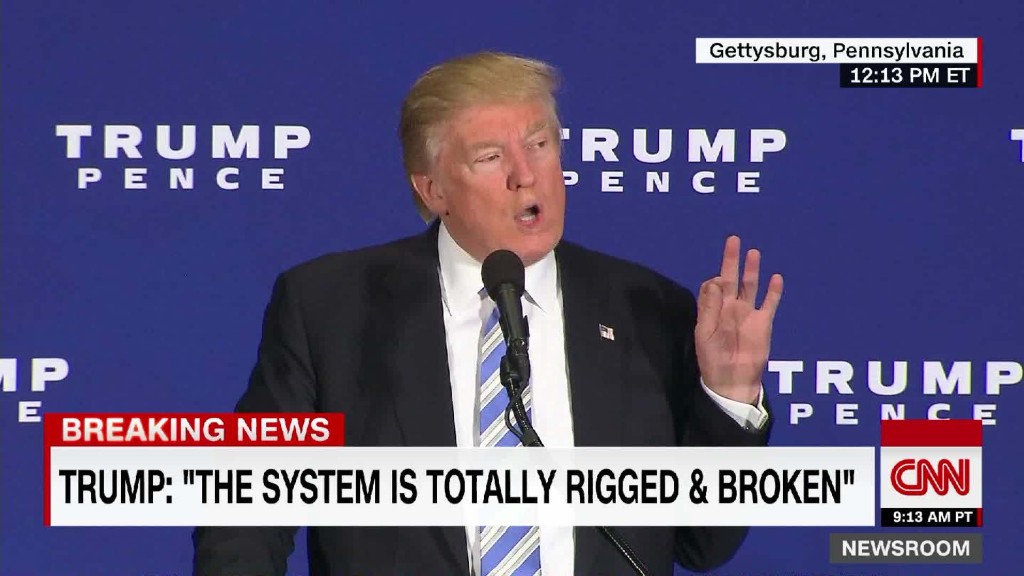 Donald Trump is trying to turn media consolidation into a campaign issue.
"As an example of the power structure I'm fighting, AT&T is buying Time Warner and thus CNN, a deal we will not approve in my administration because it's too much concentration of power in the hands of too few," Trump said during a speech on Saturday.
AT&T and Time Warner are reportedly in advanced talks about a potential deal. No acquisition has been confirmed yet, but an announcement could be imminent. (Time Warner is the parent company of CNN.)
Any merger would have to be reviewed and approved by federal antitrust regulators.
Related: AT&T in talks to buy Time Warner
Trump also said that if he is elected, his administration would look at breaking up the 2011 merger of Comcast and NBCUniversal.
The comments shocked some regulatory experts. Republicans are usually supportive of mergers and acquisitions while Democrats are generally more skeptical.
But Trump's pledge to block the possible AT&T-Time Warner (TWX) transaction breaks with precedent and places him far to the left of President Obama, whose administration approved the Comcast (CCV) deal with numerous conditions.
"It is wholly inappropriate for a president (or a candidate) to tell the attorney general how to decide a case before the Justice Department has a chance to make a recommendation," Andrew Jay Schwartzman, an attorney who specializes in telecommunications and media policy, told CNNMoney.
Related: Trump makes closing argument and blasts accusers
Trump's comments came in the context of an anti-media tirade. The GOP nominee has been fiercely critical of what he says is biased news coverage of his campaign.
On Saturday, he said "they're trying desperately to suppress my vote and the voice of the American people."
So he took aim at the companies, channeling a media critique made by Bernie Sanders during the Democratic primary.
First he blasted the potential AT&T-Time Warner deal, which was met with applause by his supporters in Gettysburg, Pennsylvania. Then he complained about Jeff Bezos, the CEO of Amazon (AMZN) and the owner of the Washington Post.
Trump wrongly said that Amazon "through its ownership controls the Washington Post."
In fact, Bezos owns the Post separately from his role at Amazon, though some partnerships between the two entities have been forged.
Maybe not coincidentally, Bezos slammed Trump earlier this week, accusing the candidate of "eroding our democracy."
Trump on Saturday renewed his attack against Amazon for not paying higher amounts of taxes.
Related: Trump's war against Bezos and Amazon
The candidate also said Comcast's acquisition of NBCUniversal "concentrates far too much power in one massive entity that is trying to tell the voters what to think and what to do."
To applause, Trump said, "Deals like this destroy democracy."
NBC has been in Trump's crosshairs lately because a unit of the company, "Access Hollywood," found an old videotape of Trump talking in vulgar terms about sexual assault. The tape was leaked to the Washington Post earlier this month.
Trump said of Comcast-NBCUniversal, "We'll look at breaking that deal up, and other deals like that. This should never, ever have been approved in the first place."
The deal was approved, with some restrictions, by the Obama administration in 2011.