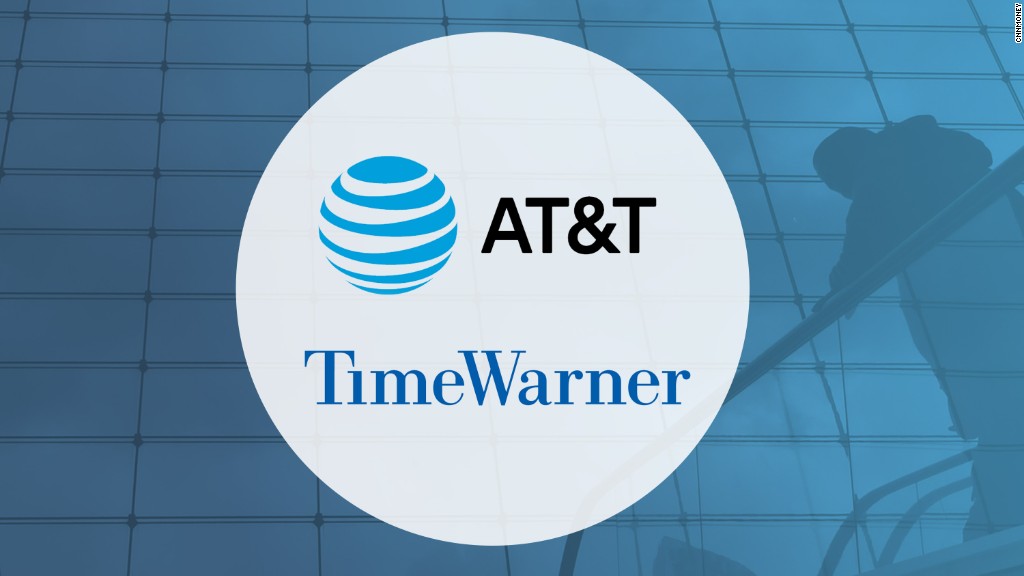 AT&T has never owned a news division before. Now, assuming its $85 billion deal to acquire Time Warner passes regulatory muster, it will take control of CNN, one of the world's biggest news organizations.
Journalists at the network, myself included, immediately had questions about how AT&T will approach its role as a steward of news.
AT&T CEO Randall Stephenson has already given some thought to this subject.
"Ensuring the public that CNN remains independent from an editorial perspective is critical," Stephenson said in an email shared with a group of top journalists and media CEOs on Sunday.
Stephenson's email described CNN as "an American symbol of independent journalism and First Amendment free speech."
In a phone interview with CNNMoney Sunday afternoon, Stephenson elaborated: "We are fully appreciative and cognizant of that kind of independence."
"I think you can begin to destroy a brand like CNN if you begin to meddle in its independence," he said.
So "we're going to be very cautious," he said, referencing Time Warner CEO Jeff Bewkes. "I think Jeff has set a perfect model for how we operate, oversee and manage a brand like CNN."
Bewkes, who will remain CEO through the transition to AT&T's ownership, said CNN has "the biggest news-gathering budget" and "the biggest commitment to global news," both of which underpin the success of CNN's business.
Other corporate sources I interviewed this weekend said AT&T's message to Time Warner about CNN can be summed up this way: "Keep doing what you're doing" and "invest even more in digital video."
Related: Why AT&T wanted Time Warner
The news organization is already hugely profitable thanks to the fees that cable systems pay to carry it and commercial commitments from advertisers.
CNN is a pivotal part of Turner, which is one third of Time Warner. The other two divisions are HBO and Warner Bros.
Owning "news" is different from owning TV channels or movie studios. It comes with special responsibilities. As I outlined in an essay on CNN's "Reliable Sources" Sunday, owning a news division means employing people in war zones; facing legal threats from the subjects of stories; and enduring all manner of protests and accusations of bias; and resisting the urge to meddle in stories that affect corporate interests.
If that's the potential downside, there are many potential upsides. News divisions hold a special place in people's lives. CNN, at its best, is a public service, trusted by millions of people in key moments like election night.
Stephenson's email sought to ensure people that AT&T recognizes that responsibility.
It was triggered by a message from Tom Johnson, a former CEO of CNN, to dozens of media colleagues, including Bewkes; the publisher of The New York Times; the editors of several newspapers; CNN anchor Christiane Amanpour; and NBC anchor Tom Brokaw.
"In my opinion, the most important element involved in the proposed AT&T/Time Warner combination will be the critical need for AT&T to protect the news and editorial independence of CNN Worldwide and its news division," he wrote.
Johnson added that "Ted Turner did that splendidly when his Turner Broadcasting owned CNN" and the executives who brought Turner into the Time Warner fold, including Bewkes, "did that superbly" as well.
Related: The Time Warner story: Consolidation, de-consolidation and re-consolidation
One of the people copied on Johnson's email, former AT&T executive Jim Cicconi, then shared with the group an exchange he had just had with Stephenson.
Stephenson said "my board and I are not confused" by CNN's role and mission.
"When I commented publicly yesterday that my intention is to keep Time Warner operating as a separate wholly owned subsidiary of AT&T with similar autonomy to today, it is because we must protect the creative talent throughout the Time Warner business," Stephenson wrote. "The talent must fundamentally believe they will be afforded the exact same creative license they have today. This is particularly important as it applies to an institution as culturally significant as CNN."
The AT&T-Time Warner combination means CNN reporters would be covering lots of businesses that are connected to its parent company, including the wireless phone business. Every time there's an Internet outage or an iPhone controversy, AT&T will be right in the middle of it.
So Stephenson's comment about recognizing the risks of meddling in news coverage is significant.
Journalists at other networks already feel queasy when, for instance, Disney uses the morning newscast on ABC to promote its theme parks and movies.
Stephenson said in the phone interview that the $85 billion deal is predicated on having the most "premium, premium content," and he views CNN as the "most premium news content in the world."
"We'll undoubtedly want to be working with the CNN folks on how we can get their content rendered and delivered for our customers in a mobile environment," he said.
CNN has already been working on that, just like other news organizations have. Speaking generally, Stephenson said AT&T wants to own Time Warner so that it can move "a whole lot faster," without having arm's-length negotiations with the owners of programming.