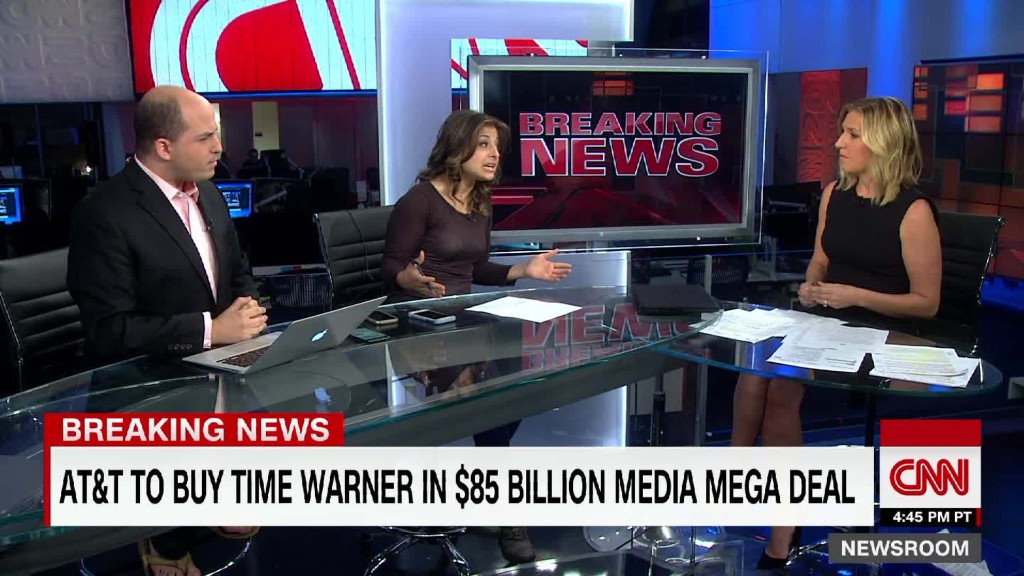 After 18 months of buying up legacy Internet companies and startups, Verizon suggested that the shopping spree might be over for now.
"We believe we have the right assets," Verizon CFO Fran Shammo said on an earnings call Thursday morning, when asked about its acquisition strategy. "There is nothing large out there that we need to be successful at this point in time."
The list sounds impressive: Verizon (VZ) has committed more than $9 billion to buy AOL and Yahoo (YHOO). It has also snatched up businesses in the buzzy Internet of Things and connected cars markets.
But just hours after the call ended Thursday, it was reported that Verizon's rival AT&T (T) was working on a deal that would instantly dwarf all those investments.
Related: Why AT&T wants Time Warner
On Saturday, AT&T announced an agreement to buy Time Warner, parent company of CNN, TNT, HBO and Warner Bros., for $85 billion. With debt included, the deal totaled $109 billion.
AT&T's massive purchase highlights a clear difference in the survival strategies of the two telecom companies: AT&T is now willing to bet everything to overhaul itself. Verizon is more comfortable taking baby steps.
"What Verizon is doing is very small. In the grand scheme of things, Yahoo and AOL are minuscule," says Craig Moffett, an industry analyst with MoffettNathanson.
Both Verizon and AT&T are responding to similar tailwinds in the wireless industry: Everyone already has a smartphone and unlimited data plans are once again becoming the norm, limiting sales growth.
"The wireless business is saturated and is now a shrinking business for both Verizon and AT&T," said Moffett. "Most of the rest of what they own is also shrinking."
As a result, the telecoms are looking for growth elsewhere.
Verizon invested in AOL and Yahoo with the goal of building a billion-user media business that could rival Facebook (FB) and Google (GOOG) for advertising sales online and on smartphones.
AT&T, on the other hand, is betting on a TV and movie powerhouse that will almost immediately boost its revenue once the acquisition is completed.
In short, analysts say, Verizon is trying to build on top of its waning wireless business while AT&T is trying to aggressively diversify away from it.
Even if Verizon wanted a Time Warner of its own, it could be handicapped by several factors, according to Walt Piecyk, an analyst with BTIG. Verizon is saddled with a heavy debt load from buying out Vodafone in 2014. Its CFO is about to retire. And there may not be another media asset for sale comparable to Time Warner (TWX).
Verizon may not be interested in this approach anyway. "Verizon appears to believe in their current strategy," Piecyk says.
Related: AT&T, Time Warner deal faces tough regulatory fight
The jury is out on which approach will work best.
AT&T will almost certainly face tremendous regulatory scrutiny to get the Time Warner deal done. Donald Trump has already pledged to block the deal if he is elected president.
And of course, there's the elephant in the room: the last time a three-letter company starting with "A" bought Time Warner, it didn't go so well.
On the other hand, it's unclear how much Verizon can gain by being a distant third in the online advertising market to Facebook and Google.
Worse still, Verizon is trying to figure out what to do with Yahoo in the wake of a massive security breach. Yahoo was supposed to bring Verizon into the billion-user club; instead it's been the source of a billion headaches.
Even small bets can be risky.