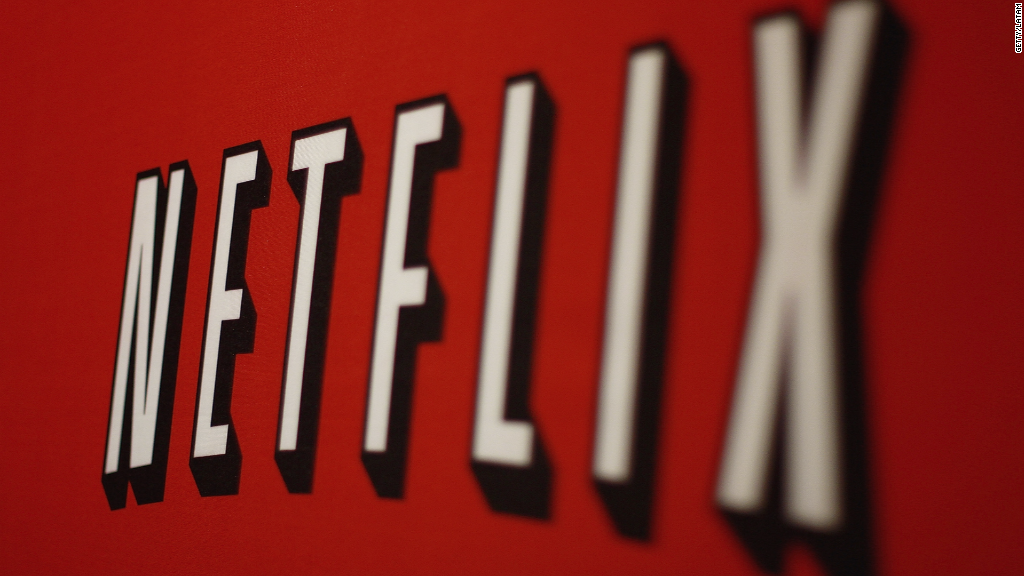 Netflix is once again a Wall Street darling after reporting strong earnings and solid international subscriber growth.
But could that make the red hot company a takeover target in the rapidly changing media world?
Shares of Netflix (NFLX) surged nearly 20% since its earnings release and they are now up about 12% this year as a result.
The rebound is vindication for CEO Reed Hastings, who faced criticism earlier this year about how much the company was spending on all of its original content.
The new programming wasn't boosting earnings, revenue and subscribers as much as Wall Street wanted.
That no longer seems to be a concern. Netflix has huge buzz again thanks to shows like "Stranger Things," "The Get Down," "Luke Cage" and the third season of "Black Mirror' -- the BBC sci-fi anthology with a rabid cult following.
Still, Netflix is going to have to keep spending gobs of cash to develop new shows and keep its subscribers wanting more.
And with the media world now poised for another potential round of consolidation thanks to AT&T's (T) proposal to buy Time Warner, some think Netflix might be wise to partner up with a larger, deep-pocketed ally. (CNNMoney is owned by Time Warner (TWX).)
DJ Kang, a former hedge fund analyst who is now head of Asia for consumer research firm ValuePenguin, thinks that Netflix makes more sense as a takeover target than Twitter (TWTR) for the likes of Google (GOOG) owner Alphabet, Apple (AAPL) or Disney (DIS).
Related: Media titans, including Reed Hastings, weigh in on AT&T-Time Warner deal
Kang argues that Netflix would help Disney find new ways to keep growing at a time when concerns about the impact of cable cord cutting on Disney's ESPN empire are running rampant.
Kang believes Netflix could be a good fit for Apple since it would make it even bigger in digital media, particularly for mobile. The same rationale can be had for a Google purchase. Netflix could be married with YouTube so to speak.
Kang also doesn't rule out the possibility of media mogul John Malone, who controls Liberty Media (LMCA), to make a run for Netflix either. Malone has been vocal in his praise of Hastings.
And Liberty -- through a convoluted web of investments -- has stakes in various media companies, such as Time Warner, Viacom (VIAB), Charter Communications (CHTR), Sirius XM (SIRI), Discovery Communications (DISCA) and many more.
But will Netflix want to sell? The company no longer seems as vulnerable as it did a few months ago now that the stock has rebounded.
Related: Chelsea Handler gets political on Netflix show
Netflix also would not be a cheap acquisition. The company's market value is currently $54 billion. Assume that a buyer might have to pay a hefty takeover premium to convince Hastings to sell and the price tag could easily top $70 billion.
JJ Kinahan, chief market strategist at TD Ameritrade, said that Apple has to be considered a potential acquirer given how much cash it has -- a staggering $237.6 billion -- and the fact that it is already making big moves in media with iTunes.
"There can't be a single media or tech company out there who isn't thinking about the idea of Apple buying them," Kinahan said.
Mariann Montagne, a senior analyst at Gradient Investments, isn't sure Apple would want to buy Netflix.
But she does think that Netflix would be wise to entertain the thought of a sale given how rapidly the media world is changing. Her firms owns stakes in Netflix, Apple and Alphabet.
"I don't think Netflix needs to be sold but there is the potential of a deal," Montagne said. "When stories come out, we listen carefully. We don't dismiss the idea of Netflix being taken over."