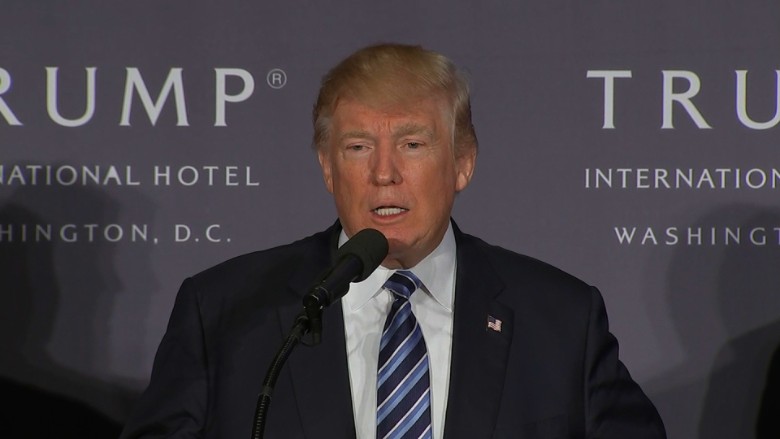 Is there any chance Donald Trump could take legal action against NBC for the leak of the "Access Hollywood" tape?
Bill O'Reilly asked him that question on Thursday night, and Trump did not rule it out.
"You'll see, you'll see, you'll see after the election," Trump said.
Trump claimed that the tape represented an "illegal act" by NBC.
Legal experts might beg to differ. But the GOP nominee's comments on Fox were striking -- if only because he continues to keep the "Access" tape in the news.
The vulgar tape of Trump and Billy Bush talking about women -- recorded in the run-up to a promotional 2005 segment for "Access Hollywood" -- resurfaced in early October.
Related: Billy Bush officially leaves NBC in the wake of 'Access Hollywood' tape
After an NBC producer recovered the tape, senior network executives became involved in the talks about how and when to broadcast it. Legal questions were reportedly a concern, but executives had made the decision to go ahead and air it on "Access Hollywood" and NBC's newscasts.
But the network was ultimately scooped by the Washington Post, which obtained a copy of the tape on October 7 and posted it online. It is unknown how the tape leaked.
The tape shocked many listeners, caused some Republicans to distance themselves from Trump, and seemed to hurt him in some polls.
O'Reilly asked him on Thursday, "Do you think you would be ahead if not for the 'Access Hollywood' stuff?"
"I just don't know. I think it was very negative, it was locker room talk," Trump said.
Trump could have stopped his answer there, but he continued: "The microphone was not supposed to be on, not that I make that as an excuse for myself, but certainly it was an illegal act from NBC."
Trump said it was "absolutely" illegal because "that was a private dressing room."
Trump and Bush were on board an NBC-branded bus when they were recorded. They were there to tape a TV segment.
Trump only alluded to possible legal action after O'Reilly asked, "Are you going to take any action after the election?"
Trump's answer was "We're going to find out soon enough."
Trump has a reputation for talking about possible lawsuits but not following through. While he does, in fact, sometimes sue people, he frequently does not.
Earlier this month, Trump aides said he was preparing a lawsuit against The New York Times for publishing accounts from two women who accused him of unwanted advances.
Related: New York Times to Donald Trump: We won't retract
The lawsuits, however, have not materialized.
"He's making these threats to sue, I think, to try to chill the media," Bloomberg's Timothy O'Brien said on CNN's "Reliable Sources."
After O'Brien published a book about Trump, the businessman sued for libel in 2006. Trump lost the case.
Trump had a dispute with NBC when he first entered the presidential race in the summer of 2015, after the network cancelled its planned airing of the Miss USA pageant, a venture it co-owned with Trump. But the dispute went into private arbitration, and the two sides eventually reached a deal.