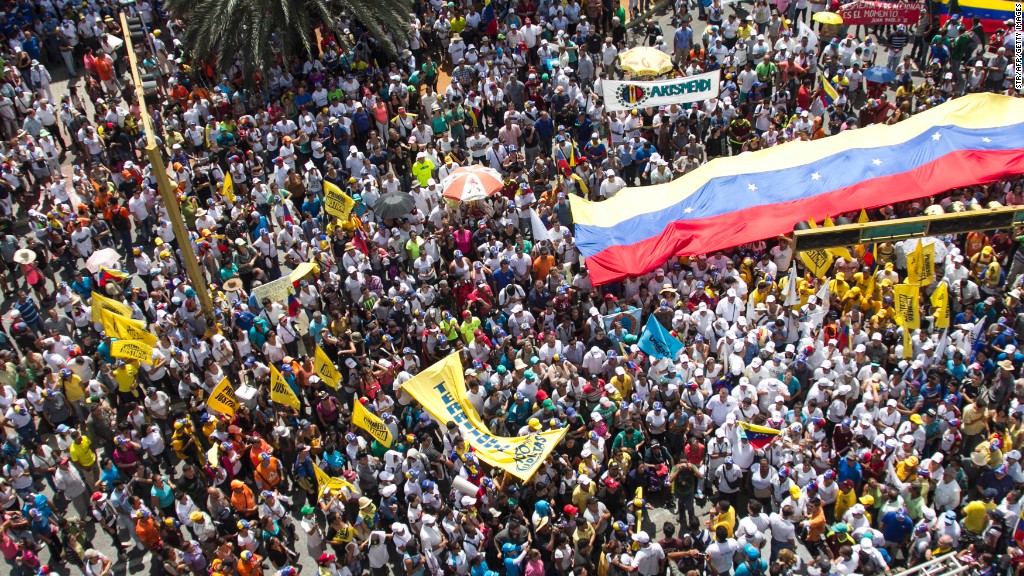 Venezuela's President Nicolas Maduro just increased the nation's minimum wage by 40%.
But that's still not much in a world where inflation is expected to soar by nearly 500% this year and 1,660% next year, according to forecasts by the International Monetary Fund.
Venezuela's minimum wage, including food subsidies, is rising to 90,812 bolivars a month.
That's just $67 a month, according to the popular, unofficial exchange rate on DolarToday.com. The previous wage was 65,065 bolivars.
On the government's highest exchange rate (it has three), the new minimum wage is worth $138.
It is the fourth time Maduro has increased the minimum wage this year. Food stamps and worker bonuses make up most of workers' total "wages" in Venezuela.
Related: Venezuela protests: Officer killed, dozens injured
The raise comes one day before opposition leaders, who want to oust Maduro, planned a nationwide strike of businesses. Leaders in Maduro's party said businesses that participate in the strike would be seized by the armed forces, which support Maduro.
He didn't leave them out of the pay raise. Venezuela's military members are getting a 20% wage hike.
Opposition leaders said the threats against the strike are "an abuse of power and another example of authoritarianism by the government." In addition to Friday's strike, they summoned their supporters to participate in another protest on Nov. 3.
Thursday's wage increase likely won't help ordinary Venezuelans put more food in the fridge. Venezuelans have struggled with extreme food shortages this year, and only recently have the shortages eased as the government has stopped enforcing its strict price controls.
However, the easing of price controls has caused food prices to skyrocket in many parts of Venezuela so much that people can't afford the food.
Related: 4 reasons why Venezuela is the world's worst economy
Tensions fired up last week when Maduro denied the opposition party any chance to call a referendum vote on him. On Sunday Maduro supporters stormed the National Assembly, controlled by the opposition. Members of the country's National Guard surrounded the National Assembly during Thursday's session and kept pro-Maduro protesters out of the legislative palace.
On Wednesday, huge protests across the nation called for Maduro to resign.
After meeting with Pope Francis at the Vatican, Maduro said he would meet with opposition leaders on Sunday to try to find common ground.